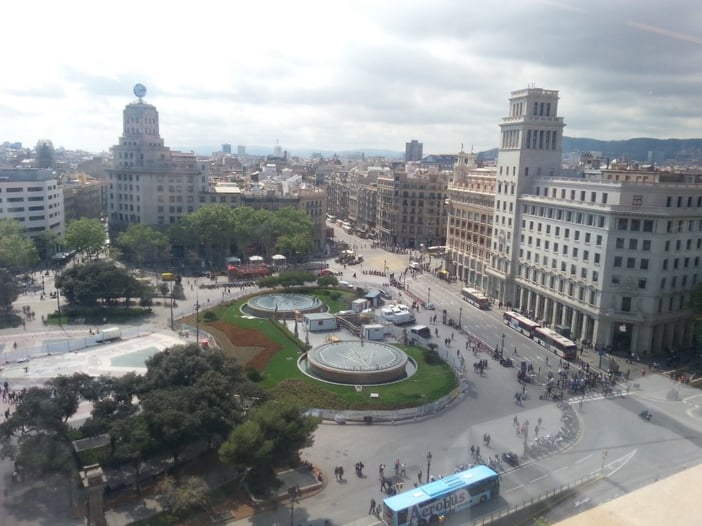 A photo of Barcelona, Spain taken during an on-site AIRINC cost of living survey.
Limited accommodations in Barcelona
I arrived in a busy and bustling Barcelona for my May 2017 survey of the city. While preparing for my trip, accommodations were difficult to find and, once I arrived, I found my hostel overbooked. In the end, I booked a last-minute home-share and was lucky to find that the listed apartment (which had no pictures) was an acceptable base for my stay… although it was a top-floor walk-up!
Overcrowding and overbooking have become commonplace in Barcelona, which attracted thirty-two million visitors last year. This number dwarfs the 1.6 million native and expatriate residents of the city. As could be expected, the demand for accommodations is having a serious impact on the availability of rentals.
How is the rental market adjusting?
Landlords have found that home-share arrangements for short-term rentals are more lucrative than long-term leases, which is impacting the long-term rental supply. This is true in many cities across the globe, but especially for Barcelona, which is the fourth most popular tourist destination in the world after London, Paris, and Rome. Real Estate sources quoted that the vacancy rate was less than 1%, and explained that the city was geographically incapable of extending farther to accommodate the growing populations of both residents and tourists.
Residents of the city place tourism second only to unemployment in their list of major concerns. During my survey, I saw stickers stating "Tourism Kills the City" and online news articles often mention the discontent of the local population. In an attempt to curb the unsustainable rise in tourism, the city passed a law in January to limit the number of hotel rooms and tourist apartments, and has put a halt on new licenses for tourist apartments. More steps have been proposed, but it may be years before any positive impact is seen in the availability of expatriate housing in the city.
---

Trending now:
5-Days-in-Rome: Glimpse an AIRINC Cost of Living Survey in Action! [video]
---
Want to learn more about international housing?
AIRINC's International Housing Guide gives you online access to housing and utilities budgets tailored to meet your needs. The International Housing Guide illustrates specific housing options available at different budget levels and provides comprehensive housing market information, including rental costs by housing type and location as well as details on leases, furnishings, utilities, and expatriate residential areas.