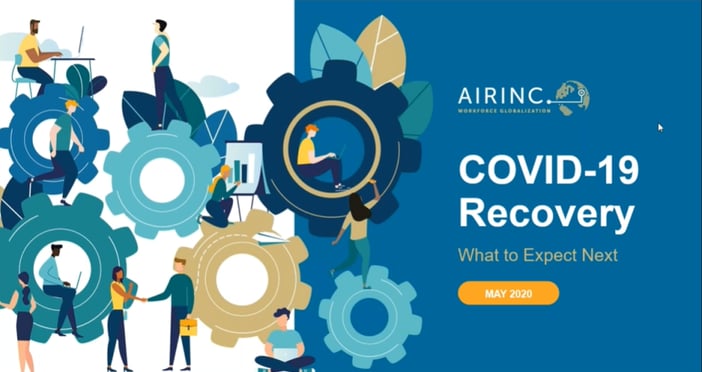 AIRINC APAC recently hosted an online panel discussion to understand how organizations are coping and realigning their global mobility programs in the wake of changes caused by COVID-19.
The session featured:
The discussion was moderated by Fred Schlomann, Vice President at AIRINC APAC, and Lorraine Jennings, AIRINC's partner for the Australia and New Zealand markets.
The discussion engaged participants through
4 key pillars:
1. Talent – Will the profile of mobile talent change?
2. Policy – What changes need to be made to policy offerings?
3. Immigration and tax – Are you prepared for changes in regulations?
4. Operations and organizational design – How will the mobility function need to changein the context of a post-COVID world.
Key Takeaways from the COVID-19 panel discussion
1. Talent: The panelists agreed that the need for assignments and transfers will not dissipate, but the appetite and volume for assignments has altered due to changing business needs, interruptions in the flow of talent across international borders, and tighter emphasis on duty-of-care.
The travel restrictions brought on by COVID-19 have forced companies to look at alternative solutions in search of talent, such as developing local/regional talent in order to bridge the gap. Companies are also carrying out stricter reviews regarding limits on Mobility to involve only critical assignments.
As employee safety is key to any assignment and as different countries continue to struggle with new infection numbers, this situation requires a stronger framework for duty-of-care. Companies are considering alternative policies, such as using commuter assignments, so that families do not need to relocate. The panelists agreed that companies must strive towards finding a balance between the needs of the business versus assignees' safety and well-being.
As companies look for ways to drive cost-containment and financial stability, new strategies will be used in order to meet talent goals and objectives.
2. Policy: A poll was conducted during the session to see if companies were looking to introduce any cost-cutting initiatives. 68% participants confirmed that their organizations are looking into some form of cost reductions in their mobility programs.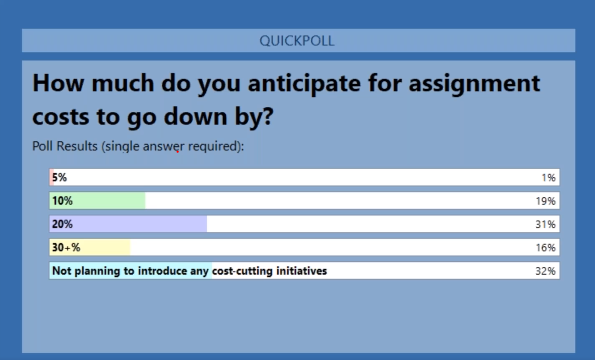 The moderators asked the panelists if they were considering additional policies that would support non-traditional work arrangements, such as virtual assignments. While many companies have quickly implemented working from home arrangements to meet mandatory lockdown rules, the panelists did not consider this as the impetus to introduce virtual assignment policies.
The consensus was that virtual assignments are difficult to manage and could pose challenges around tax compliance and could create permanent establishment (PE) issues. While remote work technology platforms have created more options, the panelists agree that for certain critical roles, being physically present at the host location is pivotal to assignment success.
While the panelists didn't expect their organizations to make complete overhauls of their current global mobility policy suites, they are seeing temporary, often ad-hoc changes to meet current requirements as the situation posed by COVID-19 is still unprecedented.
The panelists collectively agreed that they are open to finding new solutions, and being flexible will give them small wins for now.
3. Tax and Immigration: The most immediate concern relates to when countries will re-open to international travel. As countries emerge from lockdown status, the outlook on recovery is still very unclear. What the panelists find to be most effective amidst the daily change is increased communication. Global mobility teams need to communicate more than ever with their business partners and service providers. This ensures being prepared to initiate new moves once things open up.
COVID-19 has also highlighted the need for better internal tracking systems as many companies faced challenges in knowing where some of their assignees were physically located during the crisis; this was true particularly for frequent and extended business travelers, fly-in fly-out employees, and commuter assignees.
Our panelists noted that companies should also expect stricter enforcement from tax and immigration authorities. As countries will be looking for new ways to collect more additional tax revenues, our panelists felt that countries will be implementing more robust processes around compliance for tax and immigration.
4. Operations & Organizational Design: According to our panelists, their companies are not at the stage of considering a redesign of their mobility policies due to the uncertain outlook; the full impact of COVID-19 has not yet been fully understood. They are however making decisions that will enable them to be increasingly agile in maneuvering through the constantly changing landscape.
This pandemic has firmly highlighted the importance of global mobility's role as a key partner for the business, by providing strategic mobility solutions and advice. While the panelists emphasized that flexibility and implementing solutions-on-the-fly is key to managing mobility in the short-term, they also realize that global mobility teams must have a clear strategy going forward.
Access the recording
Click below to access the recording for this exciting panel discussion. If you have any questions about your program and the coming recovery, please reach out to your client engagement representative today or click here.
---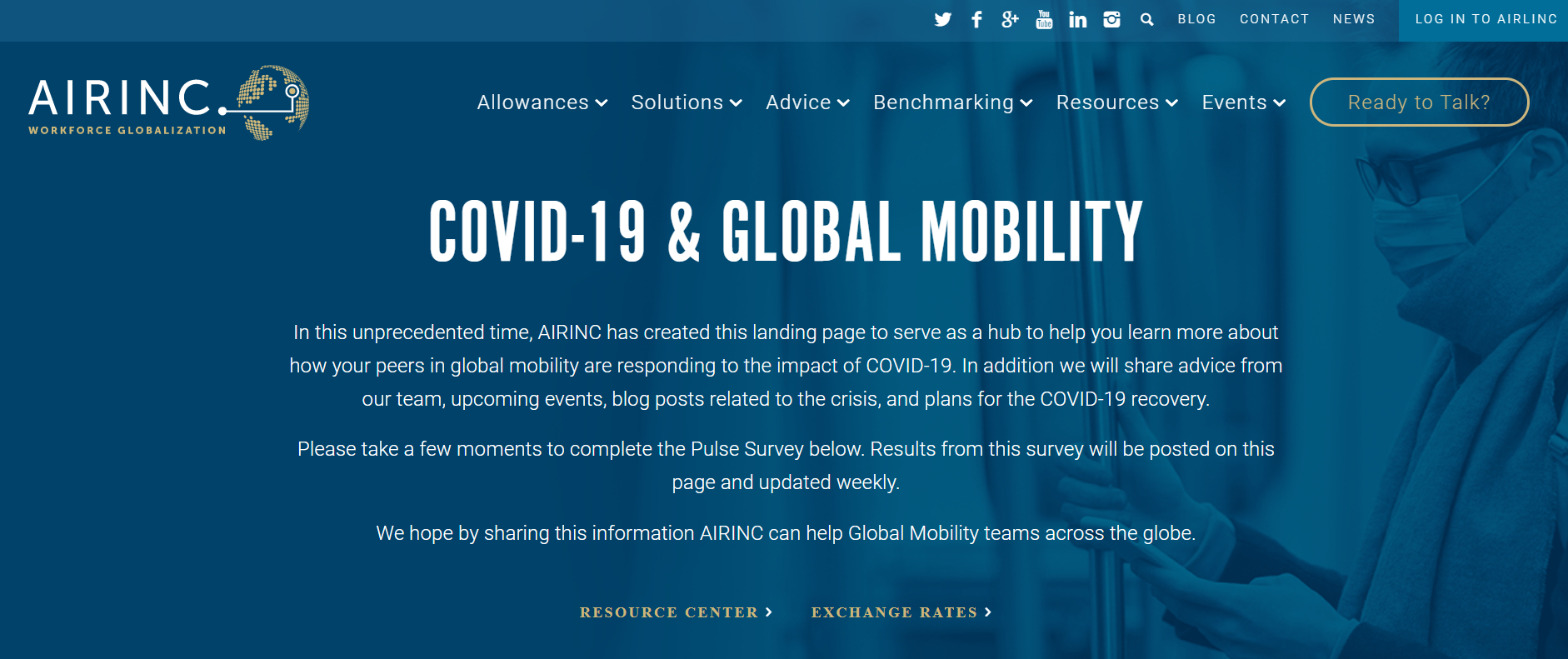 Visit AIRINC's COVID-19 Global Mobility landing page to read the best Mobility-related sources aggregated into one place.
---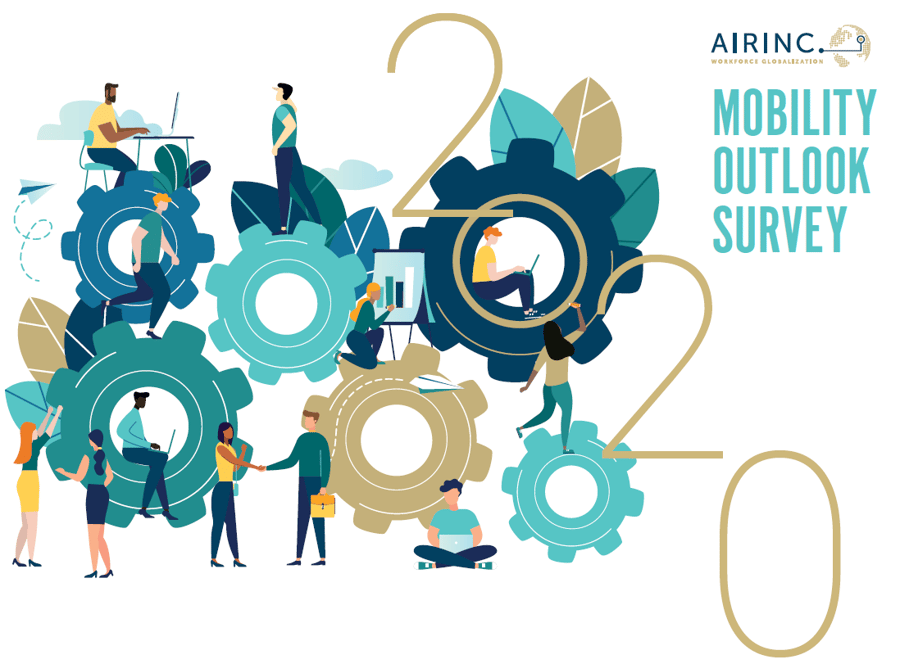 ---
About AIRINC
Listen | Partner | Deliver. For over 60 years, AIRINC has helped clients with the right data, cutting-edge technology, and thought-leading advice needed to effectively deploy talent worldwide. Our industry expertise, solutions, and service enable us to effectively partner with clients to navigate the complexity of today's global mobility programs. As the market continues to evolve, AIRINC seeks innovative ways to help clients address new workforce globalization challenges, including mobility program assessment metrics and cross-border talent mobility strategy. Our approach is designed with your success in mind. With an understanding of your goals and objectives, we ensure you achieve them. Headquartered in Cambridge, MA, USA, AIRINC has full-service offices in Brussels, London, and Hong Kong. Learn more by clicking here.
---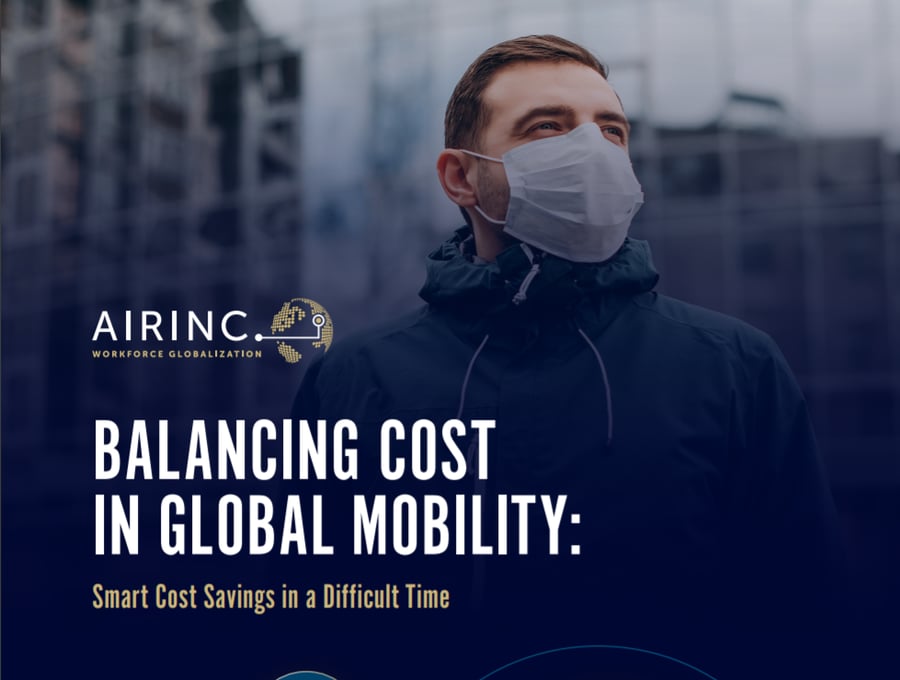 ---