You're Invited! Thursday, October 26 | 03:00 PM - 6:00 PM | NYC | Register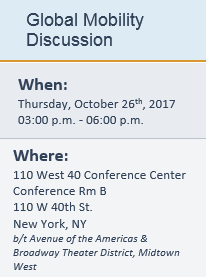 Please join us for afternoon refreshments and a discussion on understanding cost estimates and their impact on policy choice. Space is limited - make sure you reserve your spot today!
According to a recent survey, 66% of companies don't perform a cost estimate for their relocations or assignments even though 61%* of companies identify controlling costs as the number one pressure from business stakeholders. It's not hard to understand why this is the case, when looking at the traditional costs and turnaround times of the estimates you receive — running multiple cost estimates for different scenarios for the same move can easily take a month and cost you thousands of dollars! During the presentation, our global mobility teams will discuss:
Cost estimates and the impact they have on choosing policies
The importance of accurate and timely data in your estimates
How to ensure your delivery of an assignment or relocation stays on budget
How to track actual spend vs.estimates spend—a foundational pillar in calculating ROI
Don't miss this opportunity to discuss these trends and more, and see how your peers are responding to the latest challenges in Global Mobility!
*Source: AIRINC 2017 Mobility Outlook Survey
Register in advance for this upcoming event!
Questions?
Please contact Michelle Curran