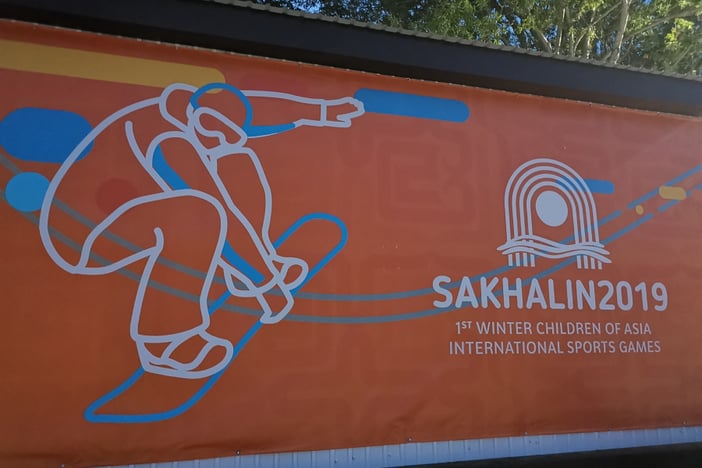 An advertisement in Yuzhno-Sakhalinsk, Russia. Photo taken by AIRINC Surveyor Philli Wong.
Sakhalin Island and the impact of a governmental push for tourism
I recently surveyed Yuzhno-Sakhalinsk, a city in the far east Russia, for the third time. Given the city's size, it is easy to notice any changes. Sakhalin Island is developing in accordance with the government's plan to promote tourism, which would also increase recreation options for expatriates.
My housing sources said a road is under construction to ease the traffic between downtown and the southern suburbs, where the expatriate compound and major shopping mall are located. The commute would be shortened to about 10 minutes. There are also various new apartment projects. However, the long-term population of Sakhalin is stagnant, and expatriate arrivals have lessened, so there is an oversupply in the property market.
---

Trending now:
5-Days-in-Rome: Glimpse an AIRINC Cost of Living Survey in Action! [video]
---
A new terminal at the airport
On my last day, I observed the new airport terminal, which is under construction to accommodate the growing needs of tourism and business. This need is obvious, since the current international terminal is tiny. Four check-in counters cram the first floor with only three customs counters on the second. There is only one boarding gate and the waiting lounge doesn't have enough room to accommodate passengers of one flight. Should I return for a fourth time, it will be interesting to see how Yuzhno has adapted to these changes.
---


Enhancing Employee Experience!
Riding the COLA-Coaster: 2 Proactive Communication Strategies for Cost-of-Living
---
Want to learn more about international development?
AIRINC's cost of living surveys cover the world, helping our client engagement teams stay up-to-date on the latest changes impacting Global Mobility. Click below to learn more:
---

Featured video!
What does a cost-of-living survey in action look like?
---