Due to pressures on external reserves and a foreign exchange supply crisis driven mostly by low oil prices, the Central Bank of Nigeria abandoned its fixed rate policy on June 20, 2016. The old policy, which had pegged the naira to the dollar, was dropped in favor of a flexible and multiple market model, implying a floating exchange rate regime. The announcement triggered a significant devaluation of the official rate, from 199 NGN to 1 USD in June just before the change to approximately 305 NGN to 1 USD today. This rate is primarily meant to serve businesses.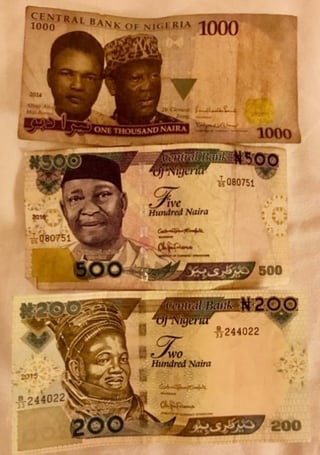 Nigeria also has a very active parallel market, not to be confused with a black market. A parallel market trades foreign currencies and runs at the same time as a country's official currency market. The parallel market in Nigeria came into existence in 1982 when there was an increasing demand for foreign currency at a time when supply was shrinking. While it has been illegal at times in the past, it is a legal practice today and is overseen by the central government of Nigeria. Bureau de Change Operators are given a special license by the government and special places where they can operate to buy and sell foreign currency at rates that differ from the Central Bank of Nigeria exchange rates. The parallel market rates are mostly cash-based and serve the retail end of the market for buyers and sellers of foreign exchange who do not wish to transact through banks. Today's parallel market rate is approximately 480 NGN to 1 USD.
There is also an illegal black market in operation in Nigeria, consisting of sellers willing to sell currency above the government-controlled parallel market exchange rate. However, the government has been cracking down with the threat of jail time, making exchanges on the black market riskier for both buyers and sellers.
During our special November 2016 on-site survey of Lagos, we observed that all elements of business across the country are being influenced by these multiple rates, and businesspeople are constantly thinking in terms of USD to NGN exchange rates that change wildly every day. During our survey in Lagos, the parallel market rate went as high as 470 NGN to the dollar and then as low as 390 NGN to the dollar the day after the U.S. presidential election.
Want to learn more? The above excerpt is taken from Data Points, AIRINC's quarterly newsletter. More mobility data highlights are now available on our website at www.mobilitydatapoints.com.
Data Points brings you the latest updates from our Housing, Goods & Services, and Tax departments based on our expert international surveys, which are conducted by our global data collection team on-location.
This quarter's cost-of-living surveys were conducted primarily in Europe, Asia, and mainland Southeast Asia.