How does this compare to other cities you have surveyed? What surprised you most?
Port Vila, Vanuatu's capital city, is one of the more remote cities I've surveyed. It lies on the southeastern side of the Island of Efate, the third largest yet most populous island in Vanuatu. Port Vila is approximately three hours by flight northeast of Brisbane, Australia. The city itself has a population of approximately 44,000. As a survey city, Port Vila was small and enjoyable, with a friendly, laid-back population.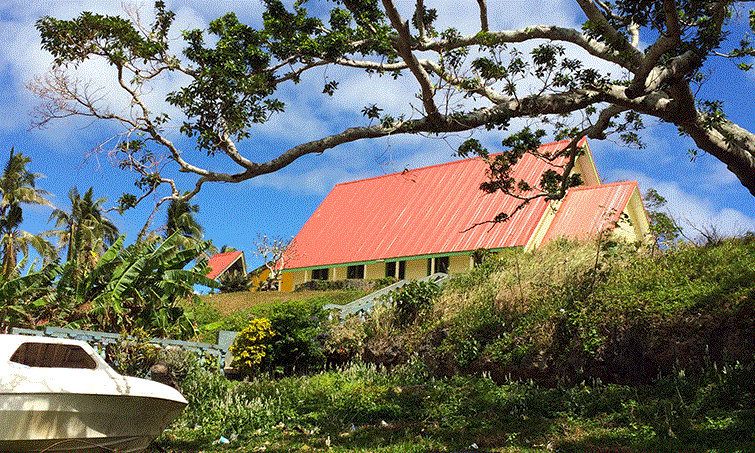 Port Vila church
Before the survey, I was led to believe that Cyclone Pam, which overwhelmed Vanuatu in early March of 2015, had all but swallowed up Port Vila. Reports after the cyclone noted that over 90% of Efate's structures were damaged. The devastation was quite evident – destroyed homes were stacked into corrugated tin piles on the side of the road and huge crater-like pot holes punctured the streets – but I'm happy to report that the city is intact and functioning, and is improving each day.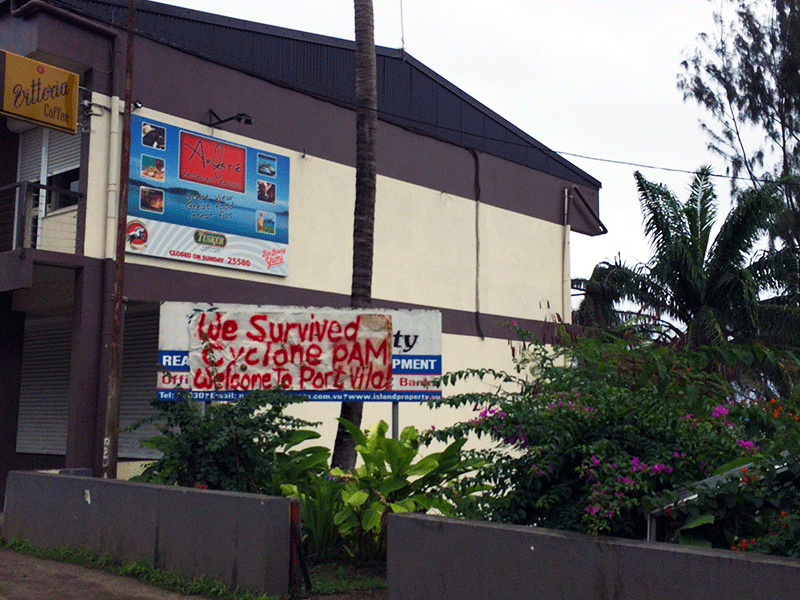 "We survived Cyclone Pam" sign
Was it easy or difficult to get around (distances, traffic, and public transportation)? Were there significant language issues, such as being able to read signs and labels on products or asking people for help? Other challenges (climate, pollution, etc.)?
I faced only minimal challenges getting around Port Vila. It is small and easily navigable. Vanuatu's three official languages are English, French, and Bislama, and I was able to interact with everyone in English. I was able to ask for assistance when I needed it and was easily understood. Most labels and signs were in English, too.
I got around primarily by way of Port Vila's relatively simple and hassle-free casual bus system. While there is no official public transportation in Vanuatu, there are a series of privately owned mini-buses identified by the letter "B" on their license plates. Rides typically cost 150 Vatu ($1.30 USD) and there are no set routes. Simply hail a bus with a raise of the hand, tell the driver where you'd like to go, and hop in. I also walked around a lot. This was somewhat challenging due to the sometimes non-existent sidewalks, simple dirt stretches, or aged and cracked concrete. Fortunately, I kept my eye on the terrain ahead and did not roll an ankle.
Driving in Vanuatu is also an option. Without traffic, the drive from Bauerfield International Airport (VLI), north of the city, to the bottom of the island by Nasama Resort, south of Port Vila center, takes no more than twenty minutes. Driving in Vanuatu is easy and on the right side of the road. However, road quality and signage leave something to be desired, as most roads go unnamed. When I did use taxis, I found myself using prominent landmarks when giving directions – "Please drop me next to the Parliament Building!"
Were there any special safety concerns in Port Vila?
Although violent crime rates are low and I felt little danger walking around the streets in day or nighttime, I was informed of the increasing frequency of street crime and home burglary in Port Vila. Security precautions such as alarm systems and affixing iron bars on the windows and doors must be taken.
On another note, Vanuatu has been ranked number one twice on the Happy Planet Index (HPI), which considers human well-being and the environmental footprint. This index was created by the New Economics Foundation (NEF) as an alternative to the well-established indices such as Gross Domestic Product (GDP) or Human Development Index (HDI). While the HPI has its skeptics and critics, I did find Port Vila to be a very happy and environmentally-friendly place to be.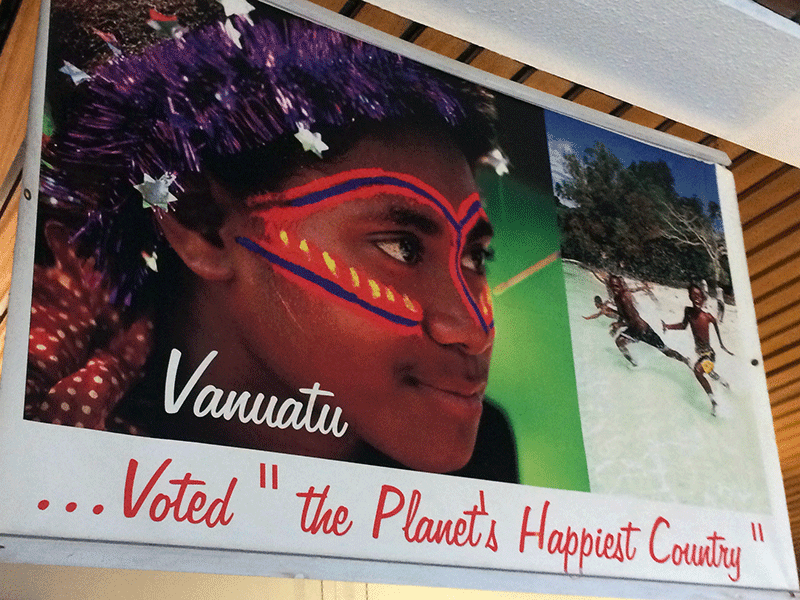 Vanuatu voted the planet's happiest country
Were there any challenges connected with pricing the market basket or evaluating the rental market (shortages, lack of quality goods, waiting lists for accommodation, etc.)?
The act of surveying was easy – I was always granted permission to price selected outlets – but it was certainly a challenge to find the full AIRINC market basket because availability of goods and services in Port Vila is very limited. Most grocery stores have inconsistent inventory of food items, even during the best conditions. Certain staple food items like eggs, flour, or sugar could be missing for the better portion of the week. Au Bon Marche, one of Port Vila's main supermarkets, had a moderate selection of imported food products from many French brands. Surprisingly, Vanuatu boasts an impressive cattle industry, so cuts of steak at the butcher were grass-fed, farm-fresh, and organic.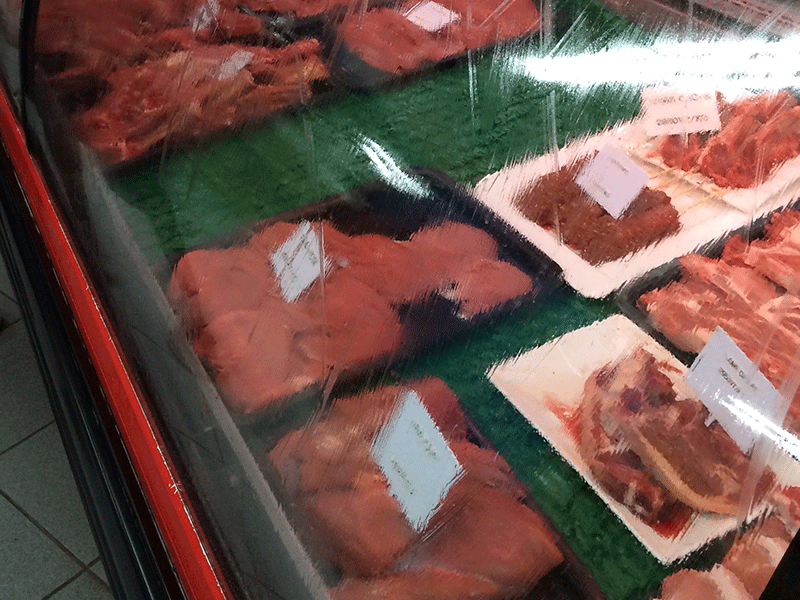 Butcher selection in Port Vila
Fresh produce is rather limited in the grocery stores, so most people prefer to shop at the open market in the town center, where there's an abundance of locally sourced fresh fruits and vegetables.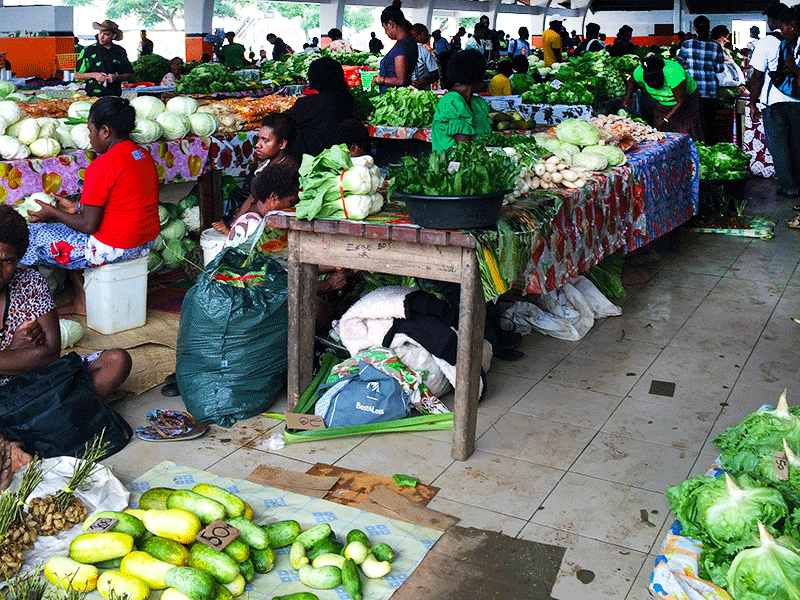 Open market in Port Vila
Brand name and international clothing options are nearly non-existent, and electronics and home furnishings are limited in quality and quantity as well.
The availability of expatriate housing in the Port Vila rental market has always been limited. Since Cyclone Pam hit in mid-March that has only worsened – most of the construction efforts have been diverted to rebuilding destroyed or compromised homes.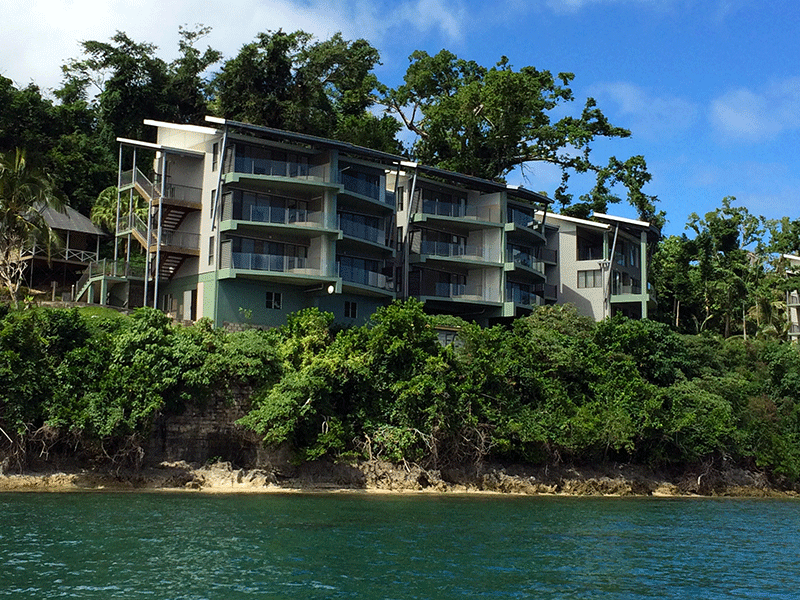 Expensive housing on the water in Port Vila, Vanuatu
What were some of the personal highlights of your trip?
The very act of the plane landing in Port Vila was a personal highlight of mine! Landing in Vanuatu can be difficult because the island is often shrouded in clouds and fog and many of the airlines flying into Vanuatu don't have autopilot software for Port Vila.
Our first landing attempt was cut short because the visibility was too low. While circling, the visibility worsened and we were diverted to Nadi, Fiji. Unable to get visas for an overnight stay in Fiji, we were rerouted back to Brisbane (of course, landing in Port Vila at night was not an option). After 18-plus hours of travel, we had no new ground underneath our feet to show for it.
When the tires finally hit the runway the next day in Port Vila, I predictably clapped my hands in enthusiasm and joy along with the rest of the passengers. Other than the arrival debacle, I was pleasantly surprised at the friendliness of the Vanuatuans, and the quality and taste of the locally grown beef.
---
AIRINC is able to collect consistent and unbiased cost-of-living data by sending its own staff to conduct onsite pricing surveys in cities around the world where organizations send their international assignees. Upon the conclusion of each quarterly survey cycle, AIRINC spotlights a selected location where a survey was conducted in a feature called "News from the Road." These reports are not official AIRINC survey reports but rather personal insights from members of the AIRINC data collection team.
---