How does Ljubljana compare to other cities you have surveyed? What surprised you most?:
Ljubljana, Slovenia is more picturesque and exciting to look at than most of the other cities I have surveyed. From the moment I left the airport I could see mountains, cottages, and farmlands that resembled those of story books and fairy tales. Outside the city center I was surrounded by beautiful scenery – red-roofed cottages, green grass, and winding rivers – all against the backdrop of the Julian Alps. I was surprised to find that the region is blessed with an abundance of locally grown organic produce and produces excellent quality leafy vegetables and pumpkin seed oils. I always ordered these local specialties in restaurants!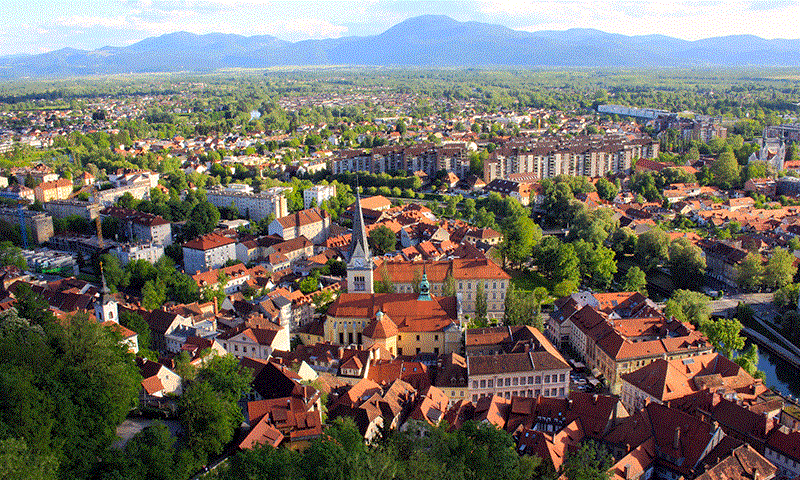 An aerial view of the old town area of Ljubljana
Was it easy or difficult to get around (distances, traffic, and public transportation)? Were there significant language issues, such as being able to read signs and labels on products or asking people for help? Other challenges (climate, pollution, etc.)?:
The fact that Ljubljana's central area is small and compact makes it more walkable than many other large and sprawling cities I have surveyed. I mostly walked to meetings and to the outlets I surveyed instead of taking public transportation, though taxis are everywhere and public buses also run frequently. It takes at most thirty minutes to walk from one end of the old town area to the other.
Ljubljana is also a bike-friendly city, with designated bike lanes next to most roads, though I didn't notice them at first and accidentally stood in the bike lane while waiting to cross the street! Many signs were in both English and Slovene, and it was not difficult to guess the meaning of words on the signs written only in Slovene. The relaxing atmosphere of the city and the high level of English fluency among local people also made it relatively easy for me to conduct the survey.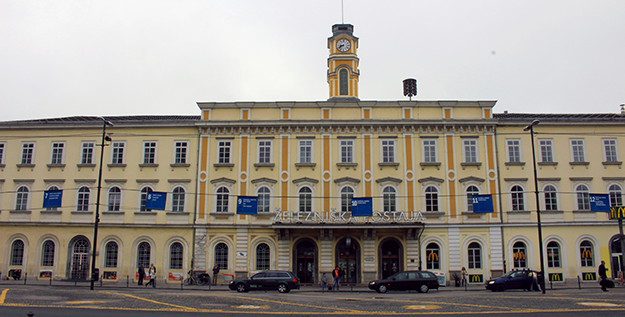 Main bus and train station
Were there any special safety concerns in Ljubljana?
Ljubljana is very safe, day and night, so there were no special safety concerns. The city is barely crowded during the day, and with even fewer people on the streets in the evenings, I felt safe walking around then as well.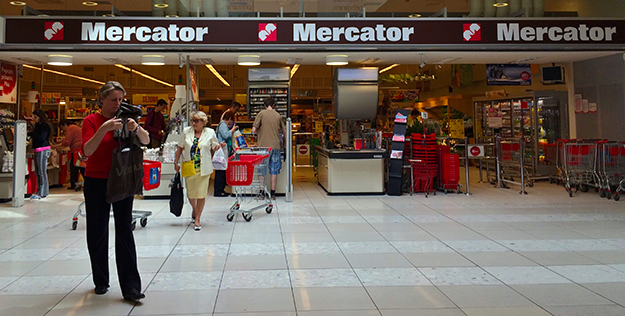 Mercator, one of the many surveyed supermarkets, carried many target market basket items.
Were there any challenges connected with pricing the market basket or evaluating the rental market (shortages, lack of quality goods, waiting lists for accommodation, etc.)?
There weren't any significant shortages of any of the goods and services in our market basket. Many of the target international brands are available on supermarket shelves. Many target clothing brands are also available, but the variety of clothing items is somewhat limited, since most of the brands are found only in department stores rather than in individual brand stores. Most restaurants and retail shops are in the old town area, but there are also some in mega shopping malls or commercial centers not far from the city center.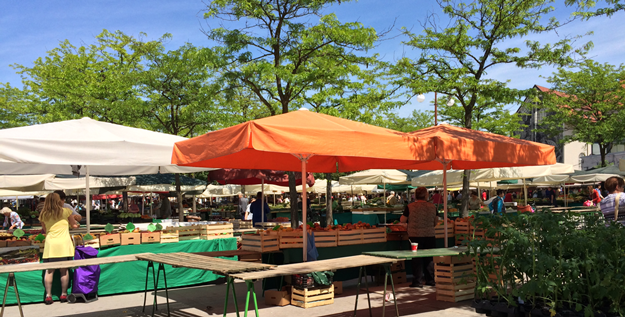 Saturday markets sell fresh local produce.
What were some of the personal highlights of your trip?
On my down day I traveled to Lake Bled in the northwestern part of Slovenia, not far from Ljubljana. There is a castle in the middle of the lake that can be reached only by boat. I walked around the lake and watched families on Sunday outings.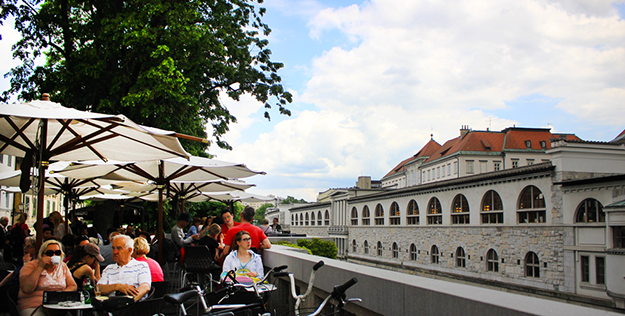 Ljubliana Locals enjoying coffee by the river in Old Town
---
AIRINC is able to collect consistent and unbiased cost-of-living data by sending its own staff to conduct onsite pricing surveys in cities around the world where organizations send their international assignees. Upon the conclusion of each quarterly survey cycle, AIRINC spotlights a selected location where a survey was conducted in a feature called "News from the Road." These reports are not official AIRINC survey reports but rather personal insights from members of the AIRINC data collection team.
---