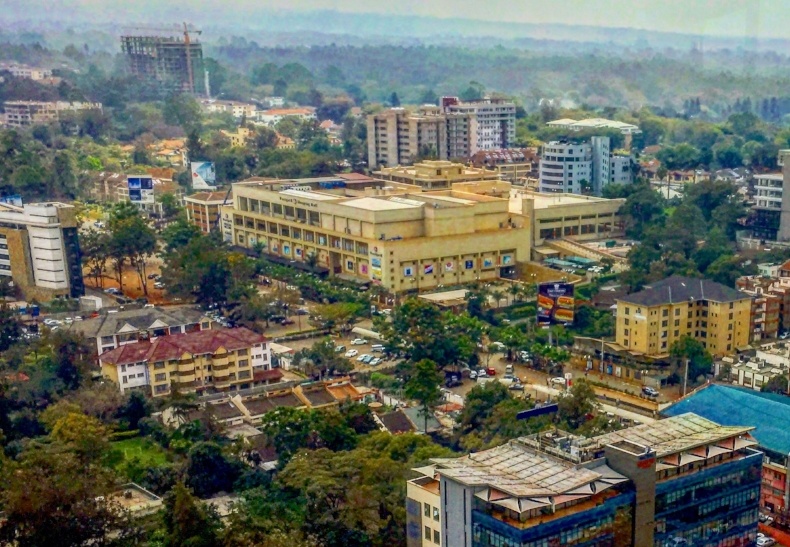 Aerial view of the Westgate Mall in Nairobi, Kenya. Photo taken by AIRINC surveyor Andrew Morollo.
Tall Metal Railings and Thick Bulletproof Glass
AIRINC's most recent survey of Nairobi closely coincided with the 5th anniversary of the Westgate Mall attack when members of the extremist Islamic group al-Shabaab took siege of the building, which resulted in 71 deaths. During my survey, I found the Westgate mall fully operational. Tall metal railings and thick bulletproof glass now line the front side of the mall and security guards with sniffer dogs control the main entrance. Bags must be screened before entering, but otherwise it seemed like business as usual. I saw international fast food chains such as Pizza Hut, KFC, and Subway, and the South African supermarket chain Shoprite, Africa's largest food retailer, is getting ready to open its first supermarket in Kenya at the Westgate Mall.
Security Remains a Concern
Kenya does remain a security concerned country. The recently opened Two Rivers Mall is the largest shopping complex in Kenya and is located near the upscale neighborhoods of Runda, Nyari, Gigiri, and Muthaiga. Two Rivers installed the digital barrier system, known as the ThruVis TS4C, the same security system used in Washington D.C. during the last U.S. presidential inauguration. It is considered the world's most advanced compact people-screening system. The system is used exclusively at the Two Rivers Mall and the Jomo Kenyatta International Airport.
Another popular mall with the expatriate community is the recently revitalized Village Market mall in Gigiri. Village Market was recently expanded with the addition of the new Trademark Hotel, and Carrefour will open a new supermarket by the end of 2018.
Evaluating Hardship Locations
Understanding the challenges of living abroad allows you to effectively recruit and retain talent. Click below to start a conversation about your hardship needs today:
This post is taken from On-site Insight, AIRINC's in-house global mobility blog. On-site Insight provides AIRLinc subscribers with an exclusive "behind-the-surveys" insight into new and existing expatriate locations based on commentary and photos from our global research team. Included is information on general living conditions as well as changing costs for both goods and services and housing and utilities, along with much, much more! To find out more, click here.
---
Subscribe for more frequent updates!
---