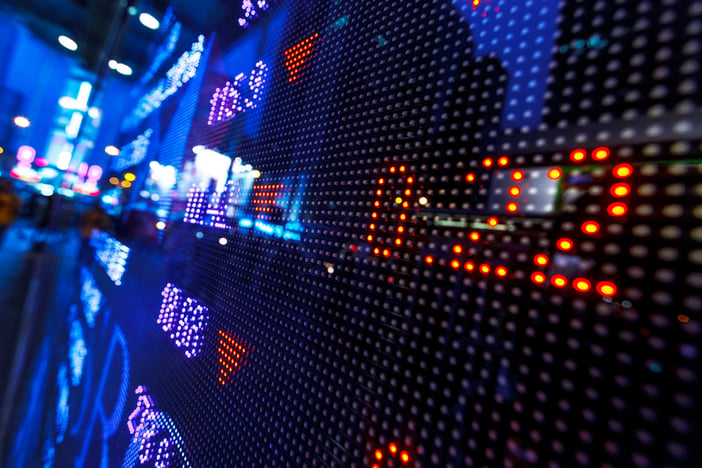 Tumult in the Global Economy
2020 continues to be tumultuous for the global economy, as impacts of conditions throughout the year come due, and new issues emerge to impact markets. Below find our summaries of some of the month's biggest changes in foreign exchange.
Currencies Losing Value against the USD:
---
SRD – Surinamese Dollar
We covered the Surinamese dollar in our recent round-up on fixed exchange rates. The Surinamese dollar has been pegged for years, but in late September a surprise devaluation cut the value of the currency nearly in half. In the long term, Suriname stands to benefit from the same boon as Guyana (offshore oil discoveries), but in the short term, the country is saddled with a legacy of financial mismanagement and debts which went into default this summer.
In July, the country elected a new President, Chan Santokhi, who had campaigned on economic reforms. Under the previous administration, many populist policies had emulated those of neighbor Venezuela, to similar disastrous effect to national accounts and public trust. While the new administration is tasked with economic recovery, the actual steps have proved unpopular. Prior to the devaluation, the new administration had done away with gas subsidies and increased the cost per liter 66%.
VES – Venezuelan Bolivar Soberano
Continued depreciation is not unexpected in Venezuela. The central bank has ordered supplies for printing new paper money, possibly 100,000 VES bills. This is an unfortunate echo of 2017, when extreme depreciation pushed the bank to produce 100,000 bills of the now-defunct bolivar fuerte (VEF). If printed today, a 100,000 VES bill would be worth a bit less than a quarter. The economy is increasingly dollarized but the majority of local wages continue to be paid in bolivars. For dollar transactions, change under $1 is often given in bolivars, as U.S. coins aren't circulated. More and more bolivar transactions are done digitally, as physical cash is scarce. The country is continuing to face difficulty in managing the coronavirus pandemic and continued gasoline shortages.
BRL – Brazilian Real
Brazil's real is the most depreciated major currency in 2020, having fallen nearly 30% year-to-date. Brazil relies heavily on foreign investment, and 2020 has seen many investors flocking to less risky markets. Domestic spending has been high in Brazil, which has helped support some aspects of the economy but has stoked worry that the government may exceed its spending ceiling. The government has unveiled plans to create an additional social welfare system, but the plan itself contains a spending cap that would be surpassed under the current terms. At the same time, officials in the Finance Ministry have been adamant about the end of emergency aid payments.
The potential for a budget crisis and the deep divide in public statements from different sectors of the government and central bank have scared off investors. This has caused depreciation despite some temporary gains over the month in response to positive economic news including confidence in a rebound of Brazil's industrial sector and announcement of a bilateral trade agreement with the United States.
TRY – Turkish Lira
The Turkish lira depreciated rapidly at the beginning of 2020 but steadied over the summer. Unfortunately, that firming has been only temporary as the lira has seen an acceleration of value loss despite interventions, including a rise in interest rates meant to inject stability in September. There are many contributors to the current slide: unconventional monetary policy, lack of trust discouraging investment, acknowledgment that foreign reserves have been disastrously depleted, and speculation Turkey may face international sanctions.
In early October, Birol Aydemir, an opposition politician and former head of Turkstat, alleged that national statistics including GDP, employment, and inflation may represent manipulated figures. This ties into a long-standing worry that has put downward pressure on the currency—that the central bank and government agencies are politically compromised. The central bank has burned through foreign exchange reserves this year in an attempt to prop up the lira, and reserves have reached their lowest levels in about 15 years.
Fears of sanctions against Turkey are also rising, which is a multifaceted issue. Regional tensions are on the rise and tensions between Turkey and Greece and Turkey's role in the current Nagorno-Karabakh conflict are being scrutinized internationally. The looming U.S. presidential election is also taking its toll. While Turkey has faced rebukes and criticism from U.S. government entities, the relationship between the current U.S. president and Turkish President Erdogan has remained friendly. A presidential transition in the United States would increase the likelihood of U.S. sanctions on Turkey. All of these factors are working together to depress the lira.
---
Currencies Gaining Value against the USD:
---
HTG – Haitian Gourde
Even experts in Haiti are perplexed by the dramatic appreciation of the gourde. Appreciation in this case is a sign of deep imbalance in monetary policy and can be incredibly damaging as it represents overvaluation of the currency. The impacts of appreciation are complicated and deeply felt due to the largely dollarized economy. While some prices of goods have dropped, such as gasoline falling from 179 to 174 HTG, these reductions do not meet the appreciation seen in the currency.
Currency appreciation stands to make investment in Haiti unattractive and positions Haiti's vital export market as uncompetitive. This is a direct threat to the textile manufacturing industry, the backbone of Haiti's economy. The dramatic change in the currency has had broad impacts across the country beyond economic ones, as security has continued to deteriorate and political tensions are on the rise.
---
How can you stay up-to-date on currency changes?
Due to the drastic impact from COVID-19 on global currencies, we have set up a dedicated Exchange Rate landing page that is updated weekly.
Click below to see it now and subscribe to our blog to stay updated on changes around the world that impact Global Mobility, including your cost of living allowances:
---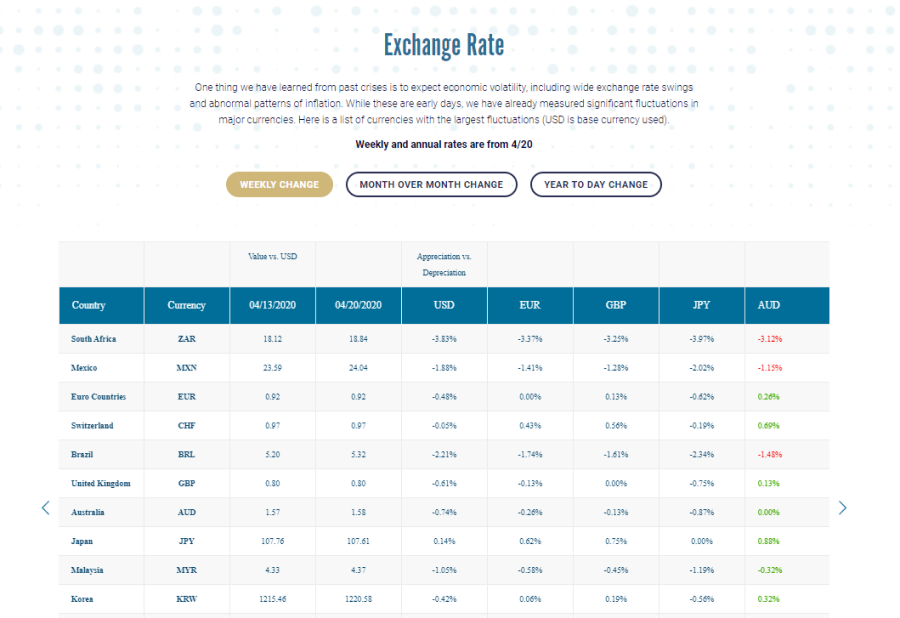 Table above taken from AIRINC's COVID-19 landing page with weekly exchange rate updates.
---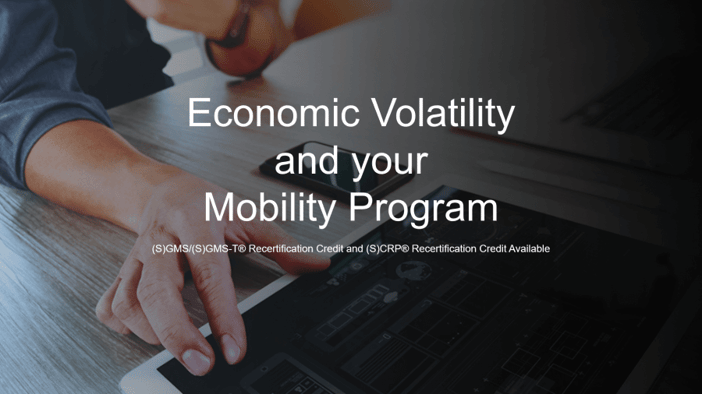 ---
About AIRINC
Listen | Partner | Deliver. For over 60 years, AIRINC has helped clients with the right data, cutting-edge technology, and thought-leading advice needed to effectively deploy talent worldwide. Our industry expertise, solutions, and service enable us to effectively partner with clients to navigate the complexity of today's global mobility programs. As the market continues to evolve, AIRINC seeks innovative ways to help clients address new workforce globalization challenges, including mobility program assessment metrics and cross-border talent mobility strategy. Our approach is designed with your success in mind. With an understanding of your goals and objectives, we ensure you achieve them. Headquartered in Cambridge, MA, USA, AIRINC has full-service offices in Brussels, London, and Hong Kong. Learn more by clicking here.
---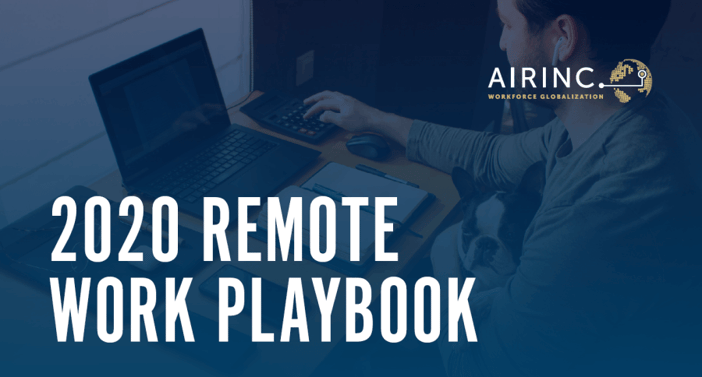 ---