Jasper Events Virtual Mobility Forum
AIRINC was a proud sponsor at the recent Virtual Mobility Forum (VMF) organized by Jasper Events. Long considered to be one of the top organizers of global mobility events in the Australia-New Zealand region, this year's Jasper Events Virtual Mobility Forum expanded participation to included mobility professionals from across the entire APAC region.
Focusing on the theme of "The Future of Work," the organizers planned a full-day interactive conference using a virtual meeting platform designed to facilitate sharing and interaction between all the event participants.
While AIRINC has been involved in numerous virtual conferences in APAC this year, it was refreshing to see how easily our virtual booth was being accessed by conference attendees (photo of our booth shown below). We also took advantage of the platform to schedule one-on-one meetings to catch up with clients and prospects who were interested in our solutions.
---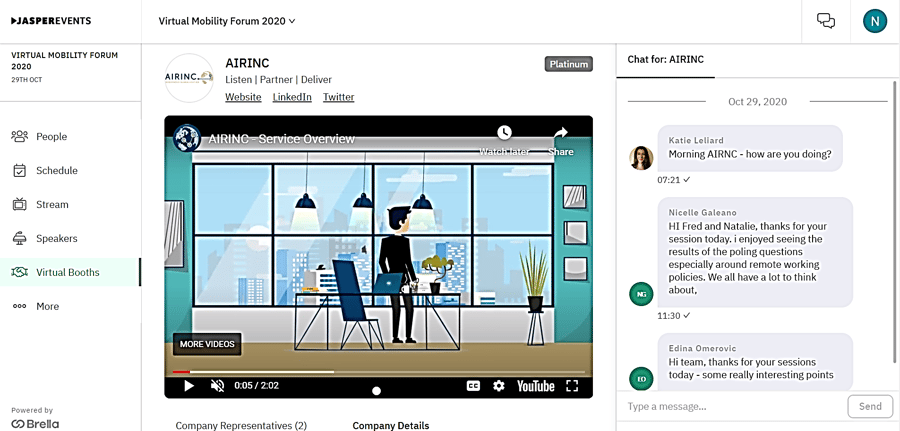 ---
In line with this year's theme on "The Future of Work," AIRINC facilitated two panel discussions: the first on "Remote Work Arrangements for Cross-Border Jobs" and the second on "Pay Packages for a Distributed Workforce." The topics were specifically selected to help companies evaluate options around managing remote work arrangements post COVID-19.
Remote Work Arrangements for Cross-Border Jobs
During this panel discussion, we reported on the findings from AIRINC's recent benchmark, "The Future of Remote Work and COVID-19's Impact on Mobility."
A short poll with participants showed that 88% are expecting remote working arrangements to increase in the future, while 12% foresee the numbers to remain the same. None of the participants think that remote working requests will decrease. These results are similar to our global findings, although 2% of global survey respondents believed that these requests will eventually decline when the threat of COVID-19 abates.
---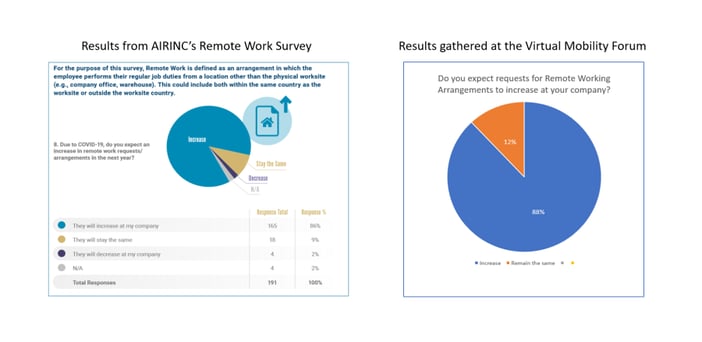 ---
For our second poll, we asked participants if their companies currently have an established remote work policy. 21% of participants affirmed that they have a policy in place, as compared to the 34% in our global survey. About 53% of ANZ companies do not currently have a policy covering remote work arrangements but are looking to develop one soon. This number is significantly higher than our global findings, where only 32% of companies are planning to develop a new policy.
Domestic remote work arrangements are not new for global and ANZ companies. Many companies have a domestic remote working policy, but the pandemic has led companies to consider expanding it to include remote working from anywhere. Similarly, with global companies, we foresee that ANZ companies will start to review the policy to include core philosophies around remote working. The core philosophies will largely be differentiated based on employee- versus employer-driven.
While our global survey indicates that 7% of companies do not permit remote work and do not plan to develop a formal remote work policy, in ANZ no companies opposed this practice. This further indicates that remote working is now seen as a viable option.
---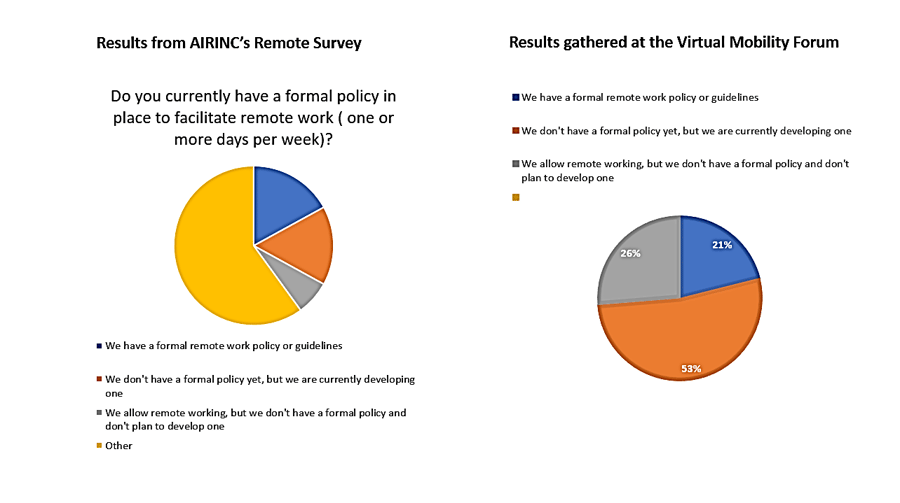 ---
During the session, we also explored the feasibility of virtual assignments and were keen to understand if ANZ companies shared similar sentiments with other global companies. From the poll results, about 42% of ANZ companies indicated that they do not intend to use or have plans to develop a virtual assignment policy. This number is consistent with AIRINC's global survey where 37% of companies have ruled out the use of virtual assignments.
---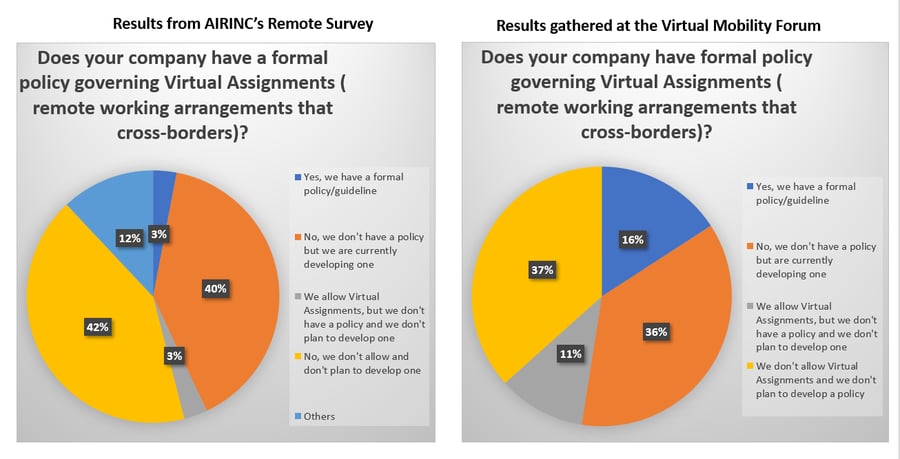 ---
On the other hand, 40% of ANZ companies mentioned that they do not currently have a policy covering virtual assignments but are currently looking into developing one. This is also consistent with our global findings, where 36% of companies were keen to develop a virtual assignment policy.
From the AIRINC global survey, we found that some job roles and industries are not suited for virtual assignments. For example, many jobs in the manufacturing and mining industry require employees to be on-site physically. For approximately 40% of companies globally and in ANZ, however, virtual assignments are under serious consideration as a way to address global mobility post-COVID-19.
Pay Package$ for a Distributed Workforce
In our second session, we addressed the challenges of compensating employees who are working remotely. In particular, the rise of remote work arrangements has caused companies to reassess their approach to paying remote employees due to the many questions raised by these arrangements.
---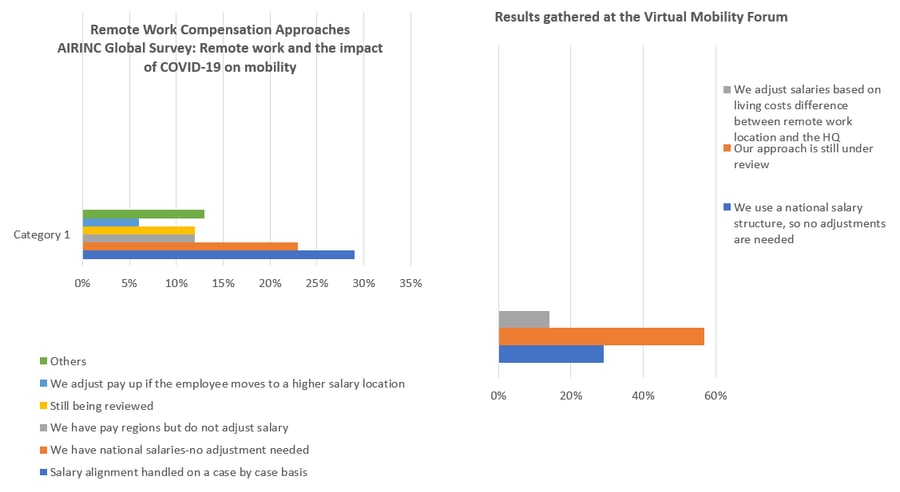 ---
We asked participants to share the approach their companies are currently using to pay remote workers. 57% of attendees indicated that they are still reviewing which approach will work best for them.
For those companies that have selected an approach, 29% noted that their companies are using a national salary structure and no adjustments are required. About 14% mentioned that salaries are currently being adjusted based on living cost differences between the remote work location and headquarters.
While the future remains uncertain, we do anticipate that companies will increasingly need to adapt their Total Rewards strategy to address remote work arrangements.
Observations
COVID-19 has had a profound impact on the nature of work. Where and how we work has changed. While technology has propelled the success of remote work arrangements, new complexities around governance and compliance have arisen during the pandemic.
Overall, we find a lot of similarities exist between mobility professionals in the ANZ region and the rest of the world. The pandemic has accelerated the need for organizations and global mobility managers to be more strategic in their approach to cross-border moves. As companies respond to the pandemic by implementing cross-border remote work arrangements, they are also understanding and adapting to the new risks and considerations that are now part of the global mobility landscape.
Contact us to learn more about how companies are adapting to the new remote work environment, and how we support them with our data and advice.
---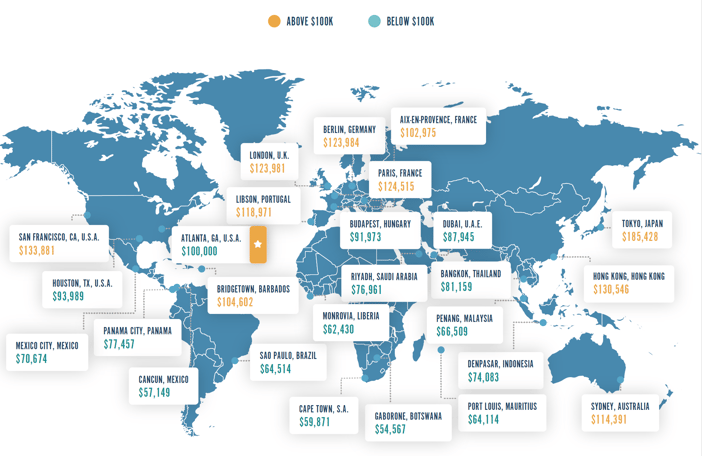 ---
About AIRINC
Listen | Partner | Deliver. For over 60 years, AIRINC has helped clients with the right data, cutting-edge technology, and thought-leading advice needed to effectively deploy talent worldwide. Our industry expertise, solutions, and service enable us to effectively partner with clients to navigate the complexity of today's global mobility programs. As the market continues to evolve, AIRINC seeks innovative ways to help clients address new workforce globalization challenges, including mobility program assessment metrics and cross-border talent mobility strategy. Our approach is designed with your success in mind. With an understanding of your goals and objectives, we ensure you achieve them. Headquartered in Cambridge, MA, USA, AIRINC has full-service offices in Brussels, London, and Hong Kong. Learn more by clicking here.
---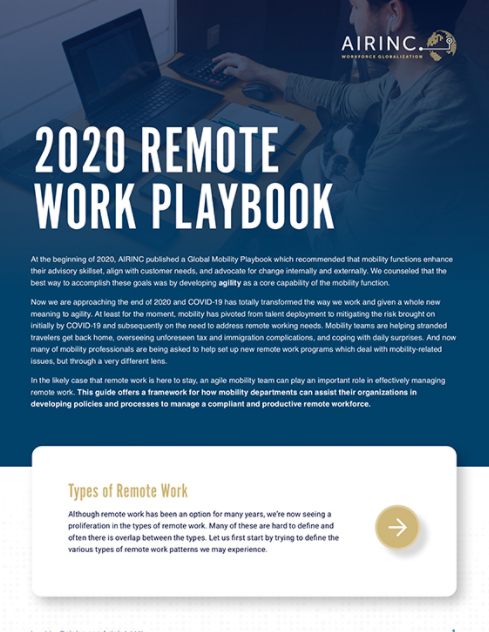 ---