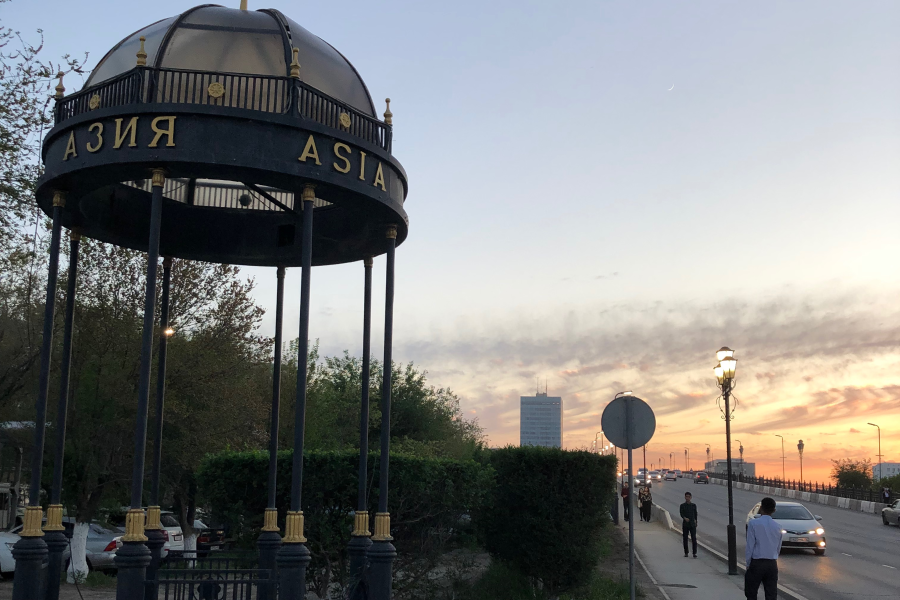 The Eurasia Bridge in Atyrau, Kazakhstan. Photo taken by AIRINC Surveyor Rose Allen.
Cities by the Sea
During my recent survey, I visited two small cities in Kazakhstan near the Caspian Sea. Oil is the main industry in this region, and these cities are no exception.
The first of these cities I visited was Aktau, which directly overlooks the Caspian Sea. The city was originally built as an oil camp decades ago and even now the city feels rural. The air in the city is dry and roads are not particularly walkable. For me, the highlight of the town was the walkway along the sea that overlooks the city's rocky beaches.
There is little access to entertainment, medical care, or shopping for expats, and the flights out are limited, usually requiring layovers in other cities. Flights to major regional airports, Moscow and Istanbul, only occur a few times per week. That being said, there is a thriving expat community and more local English speakers than I experienced in other areas of Kazakhstan. There is a unique address system in Aktau that harkens back to its origins as an oil camp; the city is divided into micro-districts, and buildings within each micro-district are numbered, so an address of 10-10-10 would be micro-district 10, building 10, unit/apartment 10.
---

Recent post:
Traveling with Public Transit Apps in Central Europe
---
The continental divide at the Ural River
My next stop was Atyrau, which is a small, similarly isolated city. The city is located at the delta of the Ural River, but is set back from the Caspian Sea without direct access. Atyrau has a larger population than Aktau, so it has a little more access for goods and there is some more modern architecture.
I found access to entertainment, imported goods, and expatriate-appropriate services to be similar to Aktau–limited. While the city has an international airport, the destinations are also limited here. Flights to Moscow and Istanbul are only a few times per week, but it is slightly more connected that Aktau with a few flights per week to both Amsterdam and Frankfurt. A feature of the city is that it straddles the continental line–over the Ural River is the Eurasia Bridge and one can walk or drive between the continents of Europe and Asia here.
These small cities showed me a particular kind of expatriate life in Kazakhstan. Some assignees consider it peaceful, while others consider it boring. In both cities, entertainment is limited, international goods are scarce, and getting in or out relies on limited flight schedules.
---

Related:
The Past and Present Capitals of Kazakhstan
---
Want to learn more?
Many factors impact expatriate life in cities around the world. If you'd like to learn more about cost of living and expatriate life in Kazakhstan or anywhere around the globe, click below:
---
Long-Term Assignments 2019 Benchmark Report
---