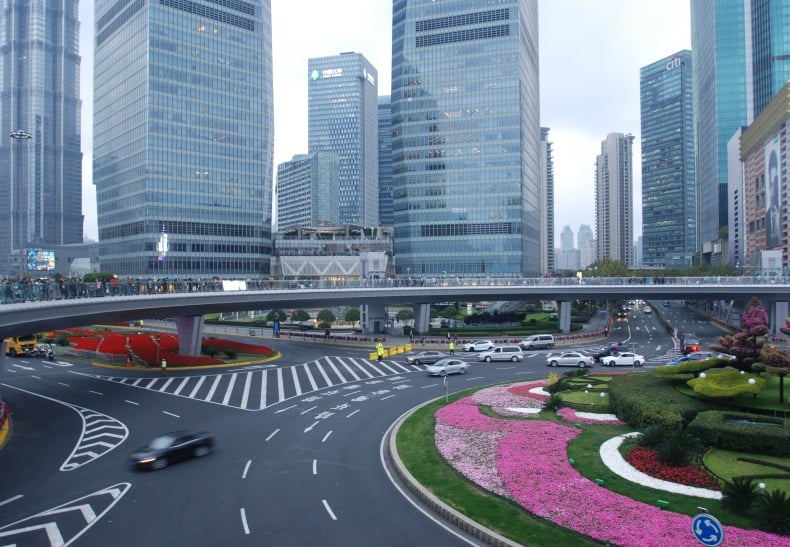 Shanghai, China as seen during AIRINC's recent cost of living survey. Photo taken by AIRINC surveyor Samuel Pearl Schwartz.
Top Marginal Tax Rate Remains at 45%
The Chinese government enacted amendments to the individual income tax law and implemented them in two phases – October 1, 2018 and January 1, 2019. The changes that went into effect October 1, 2018 amended tax rates and tax brackets, and increased the monthly basic deduction.
The increased basic deduction applies to both Chinese nationals and foreign nationals, so there is no longer a higher basic deduction for foreign nationals. The top marginal tax rate remains at 45%. The net effect of the tax changes on October 1st is a reduction in the income tax.
China's Tax Changes for 2019
The individual income tax changes effective January 1, 2019 include expanded additional deductions such as:
Medical expenses
Education costs for dependents
Qualifying private pension insurances
Qualifying housing costs
Continuing professional education
Elderly care
Taxpayers will be expected to submit documentation for itemized deductions that are claimed. Other tax law changes implemented with the tax reform include consolidating the types of income, redefining the concept of tax residency, and introduction of a national taxpayer identification number.
---

You may also like:
Where can you make the most money and keep it? [Infographic]
---
2021 Expiration of Exempted Allowances
The new deductions are available for both domestic and expatriate employees. Previously, foreign employees were entitled to exclude certain allowances (housing, education, home leave). Under the new law, expatriates can still apply those tax exempted allowances, but only until the end of 2021. During the transition period (2019-2021) expatriates can either continue to exclude the qualifying tax-exempt allowances or utilize the new itemized deductions and treat the allowances as taxable.
China's 5-year rule, now a 6-year rule
The five year exemption period for worldwide taxation has been extended to six years for foreigners living and working in China. Expatriates that have no domicile and are living in China for 183 days or more per calendar year are considered tax residents. If a foreign individual is a tax resident in China for over six years, they will be taxed on global income (income sourced outside China and paid by overseas employers).
However, expatriates can be exempted from Chinese taxation on their overseas income if they stay in China for no more than six years, or leave China for at least 31 consecutive days before the six-year term ends. Under the previous five-year rule, foreigners were subject to tax liability on worldwide income if they lived in China for more than five consecutive years. However, there was a well-known loophole for expatriates to "reset the clock", by spending at least 31 consecutive days, or 91 cumulative days, abroad in a tax year.
Under the new regulations, expatriates can still reset their six-year tax residency status by leaving the country for at least 31 days at a time, but it is unclear at this point whether the 91 cumulative days abroad still qualifies.
---

Featured post:
Are you relocating or assigning an employee within the same country?
---
Social Security Reform
Finally, the reform has mandated that all Chinese jurisdictions must collect social security as of January 1, 2019. This change is intended to crackdown on employers that were taking advantage of inconsistent enforcement and varying common practices to under-report employee salary information to reduce costs to the employee and employer. Under the new regulations, sudden increases in reported wages will likely trigger payroll audits.
Employers caught with past and/or current under-reporting may be subject to repayment of unpaid fees, potential increase in social security rates, requirement to increase employee salaries, and being listed as a 'dishonest party' under the social credit system. Representatives and senior managers of a 'dishonest party' company may be barred from travelling on high-speed trains, purchasing non-primary residences, and staying in luxury hotels.
Companies with employees working in China should understand these changes and integrate them into payroll and administration procedures.
Where should you start?
Utilize the best advisers at the best price:
---

Get connected:
Global Mobility Insights for your Inbox
---