All charts provided by AIRINC Data Researcher Yimkwan Tsang.
Price Compare: Kikkoman Soy Sauce
The AIRINC Research Department conducts surveys of the costs of consumer goods around the world, which is divided into four main regions – Americas, Asia Pacific, Europe, and the Middle East & Africa. Our surveys capture the cost of living for expatriate workers, so our market basket targets include trusted international brands and imports, and we collect prices in outlets frequented by international assignees.
Among condiments in our Food at Home category, we collect prices of soy sauce—specifically targeting Kikkoman brand in an 150ml container, which is widely available. Below is a chart of the cost of this product across the world. In over 80% of the countries we surveyed, the Kikkoman soy sauce costs between $2-5 per bottle.
---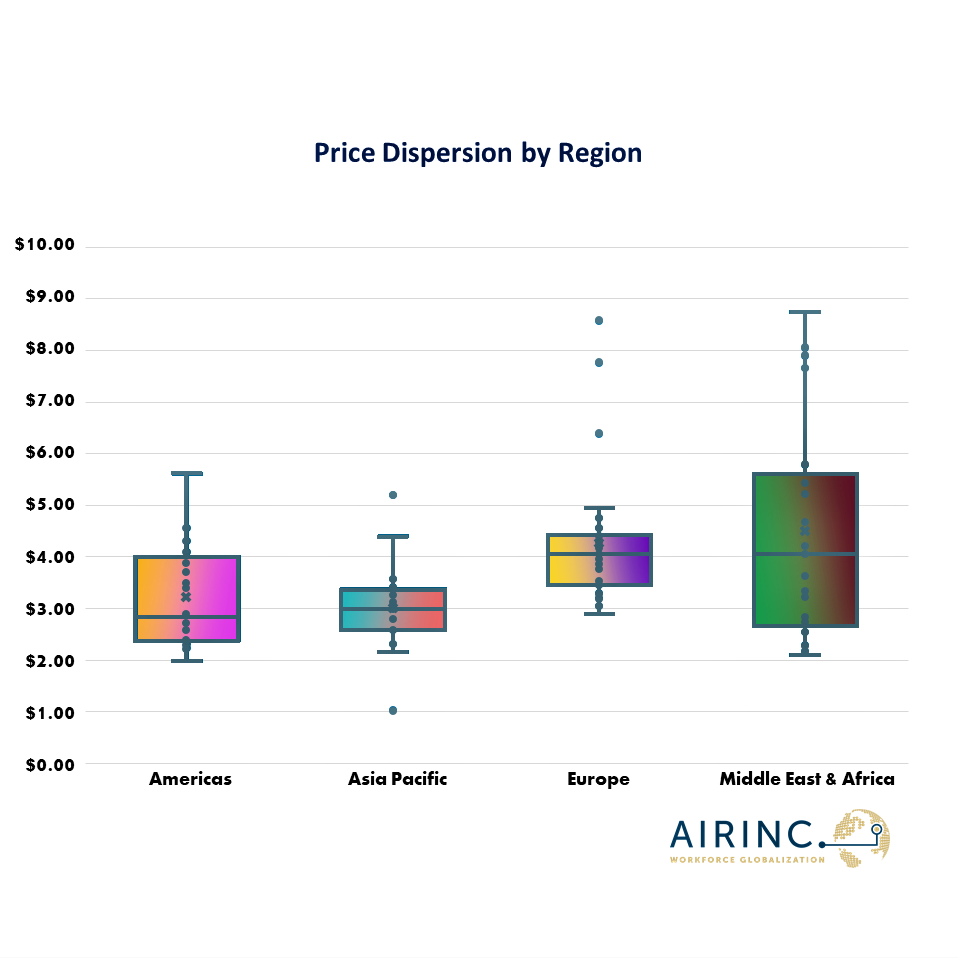 ---
Across AIRINC's regions, the Middle East & Africa has the largest price deviation, which is due to the diverse economies of its subregions. In the Middle East, wealth from oil production and high demand from large expatriate populations correlates with high availability of goods and lower prices on some imports. Kikkoman soy sauce averages $2.58 in the Middle East subregion, while the average price in Africa is more than double that at $5.45. Weaker currencies, shipping costs, and lower demand for imports correlate with lower availability and pricier specialty goods in many cities in Africa. North America had the most consistent pricing, with most surveyed cities across the U.S. and Canada having the product priced between $2 and $3 dollars without major outliers.
---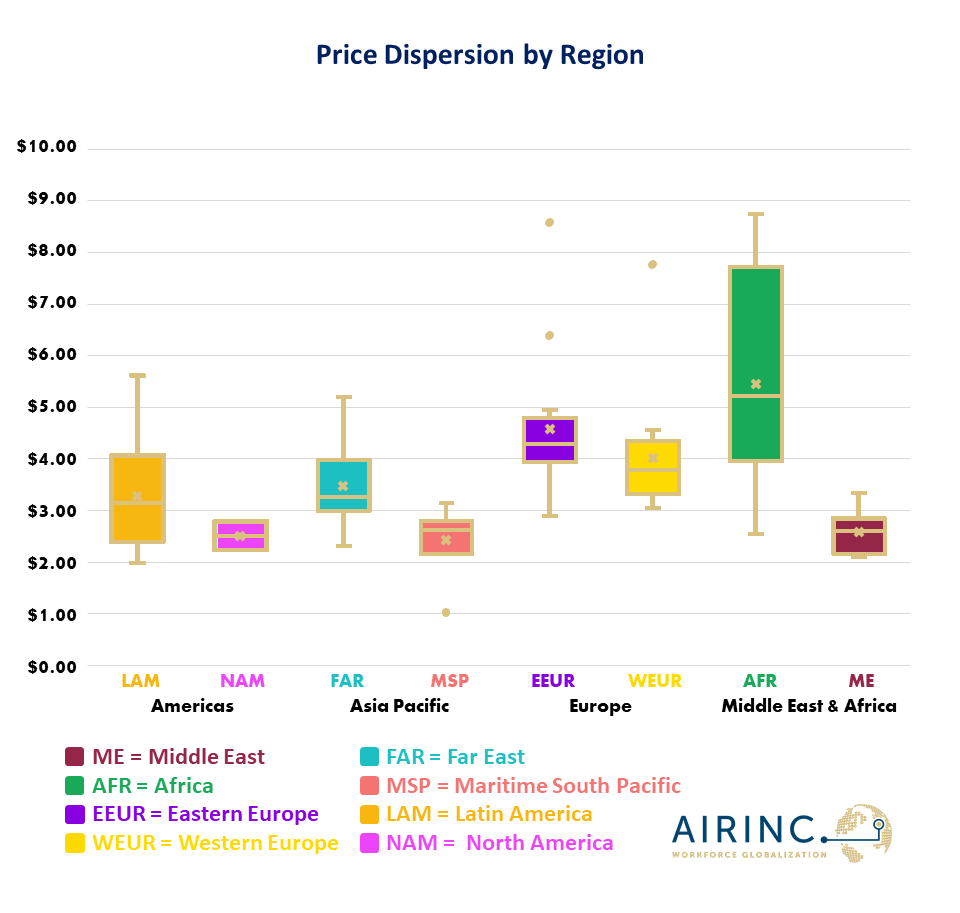 ---
The location with the most expensive surveyed average price for Kikkoman soy sauce was Brazzaville, Congo. In February 2020, the average price was $8.73 (5143 XAF), with samples priced at the main expatriate outlets in the city, Hypermarché Géant Casino and Park n Shop. Kikkoman is a fairly new brand to find in Brazzaville – prior to 2016, only Chinese brands such as Haday or Suzi Wan were available, when soy sauce could be found at all during our surveys.
Furthermore, prices tend to vary within the same country. For example, the intra-country price in South Africa has one of the larger price deviations across all AIRINC surveys.
The Philippines had our lowest survey price at just $1.03 (52.25 PHP). Kikkoman soy sauce has been readily available at low prices for decades at outlets like Rustan's Supermarket, and it is desired by both assignees and Filipinos. Over the last twenty years, we can see slight variations in collected prices that correlate with exchange rate fluctuations.
---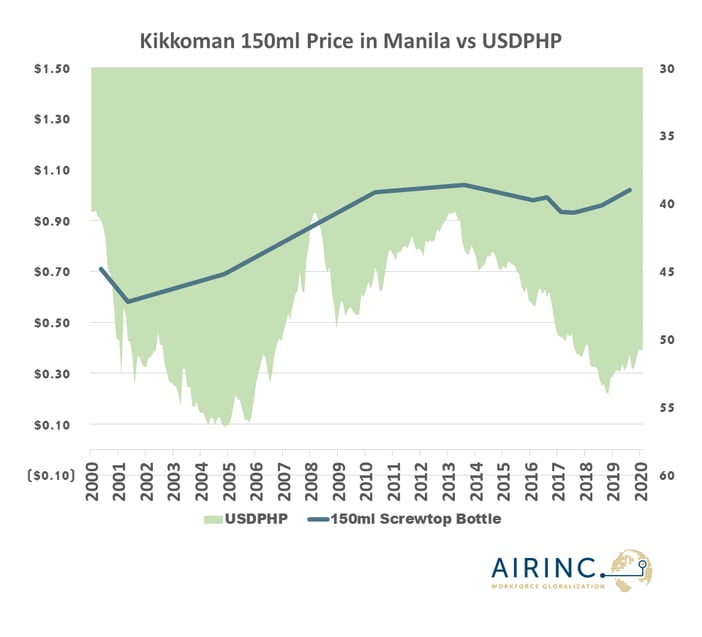 ---
We hope you enjoyed this deep dive into Kikkoman soy sauce. AIRINC surveys over 350 goods and services commonly used or consumed by expatriates, from bacon to bus fares, manicures to multivitamins, shoes to sake, and much more. We've been in the global mobility industry since 1954.
With decades of data, an incredible team of experts, and clients across industries, we are equipped to provide trusted solutions, reliable advice, and excellent service whether your company is small or large. Whether you are new to international assignments, looking for a new data provider, or looking for advisory services, we are happy to help. Connect with us!
---
On-site Insight:
This post is part of AIRINC's On-site Insight series. On-site Insight provides readers with an exclusive "behind-the-surveys" perspective of new and existing expatriate locations based on commentary and photos from our global research team. Included is information on general living conditions as well as changing costs for both Goods & Services and Housing & Utilities, along with much, much more.
Contributors to this article:
---
Meleah Paull
– AIRINC Goods & Services Analyst
Email: mpaull@air-inc.com
Meleah joined AIRINC in 2015 as a surveyor and became an analyst in 2017. Her primary responsibilities include conducting international pricing and housing surveys and analyzing the returned data. She received her B.A. in International Studies from the University of Washington and her M.A. in International Affairs from The George Washington University. In addition to English, Meleah speaks some Italian and Slovene. She is based in Cambridge, MA.
---

Morgan Grenier– AIRINC Goods & Services Analyst
Email: mgrenier@air-inc.com
Morgan graduated with a BA in Communications and Journalism from Simmons College, where she received a Gold Medal from the Columbia Scholastic Press Association. She joined AIRINC in 2016 as a Goods and Services Analyst. In this role, she aids in the quarterly analysis of survey data and evaluates hardship for AIRINC's Hardship Database.
---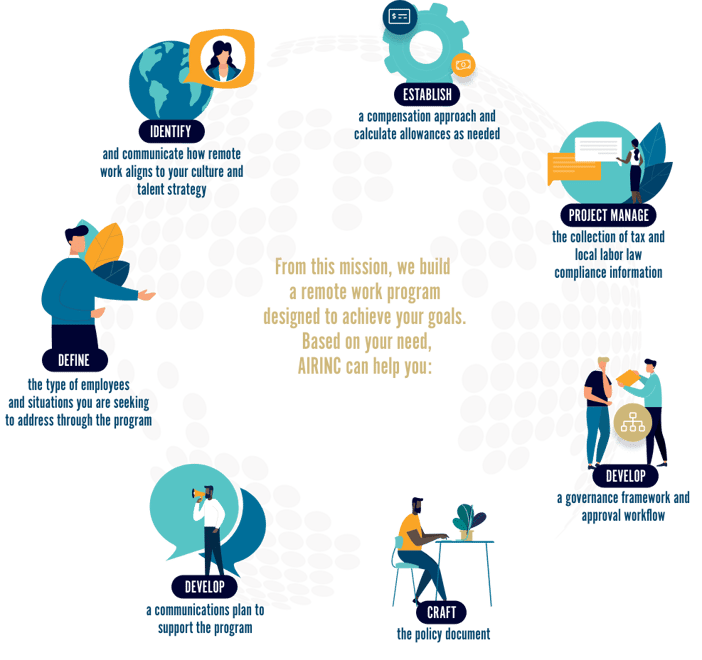 ---
About AIRINC
Listen | Partner | Deliver. For over 60 years, AIRINC has helped clients with the right data, cutting-edge technology, and thought-leading advice needed to effectively deploy talent worldwide. Our industry expertise, solutions, and service enable us to effectively partner with clients to navigate the complexity of today's global mobility programs. As the market continues to evolve, AIRINC seeks innovative ways to help clients address new workforce globalization challenges, including mobility program assessment metrics and cross-border talent mobility strategy. Our approach is designed with your success in mind. With an understanding of your goals and objectives, we ensure you achieve them. Headquartered in Cambridge, MA, USA, AIRINC has full-service offices in Brussels, London, and Hong Kong. Learn more by clicking here.
---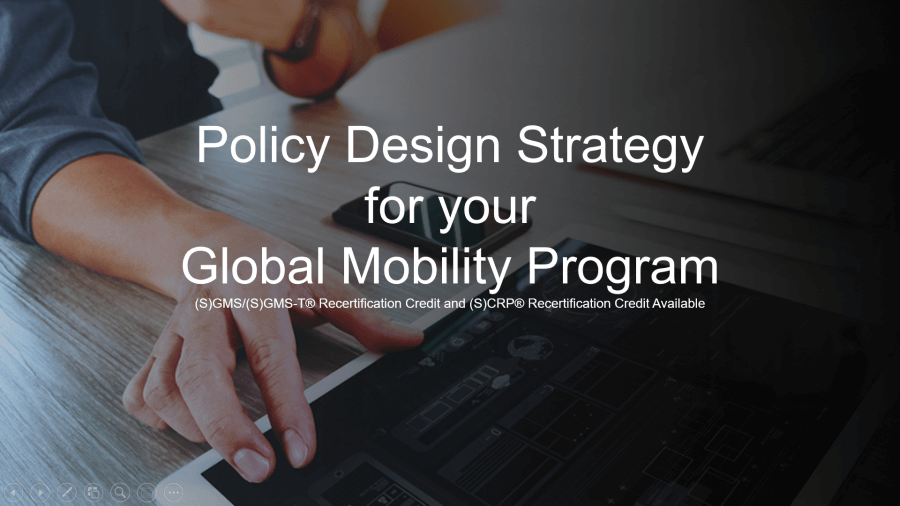 ---