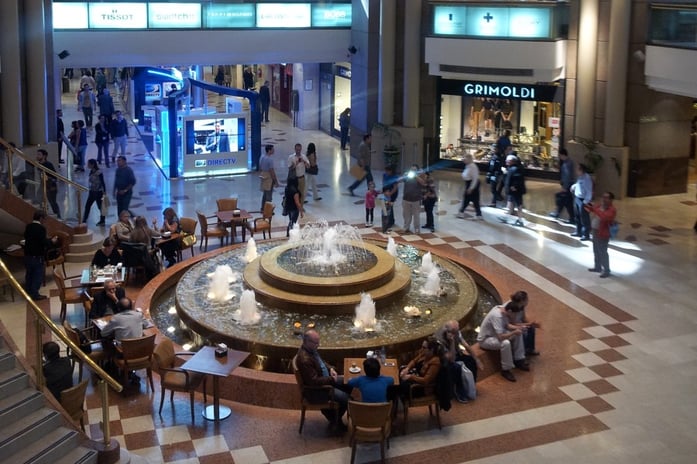 Galerias Pacifico, a shopping center in Buenos Aires, Argentina. Photo taken during a recent AIRINC survey.
Primary elections and the financial response
On August 11th, Argentina held primary elections ahead of the general election scheduled for October 27th. Center-left candidate Alberto Fernandez and running mate former President Cristina Fernandez de Kirchner defeated center-right President Mauricio Macri. This result created uncertainty about the future of Argentina's economic policy.
Many investors pulled their money out of Argentina, and ratings agencies such as Fitch and Standard & Poor's downgraded their credit rating. The peso experienced rapid and significant devaluation against the dollar, losing roughly 20% of its value in a matter of days. In an effort to stabilize the peso, Macri re-instituted currency controls that had been eliminated in 2015.
---

You may also like:
Currency and Payment in Zimbabwe
---
AIRINC's recent on-site survey
AIRINC was onsite in Buenos Aires subsequent to the primary elections. We found high inflation throughout our market basket due to the rapid depreciation. AIRINC's market basket is largely comprised of international brands, and a significant portion of the market basket comes from imported items, which are sensitive to exchange rate fluctuations. AIRINC will continue to monitor the situation and we will conduct another pricing survey this November.
---

Trending now:
Domestic Mobility: Should I stay, or should I go?
---
AIRINC's Data Points: Your Global Mobility News
Want to learn more? The above excerpt is taken from Data Points, AIRINC's quarterly newsletter. Data Points brings you the latest updates from our Housing, Goods & Services, and Tax departments based on our expert international surveys, which are conducted by our global data collection team on-location.
---

Our 2019 Mobility Outlook Survey confirms that 58% of firms are seeking ways to improve employee communications regarding the potential financial impacts of assignments/transfers.
Download the 2019 AIRINC Mobility Outlook Survey!
---
Have you seen AIRINC's latest cost-of-living survey results?
---