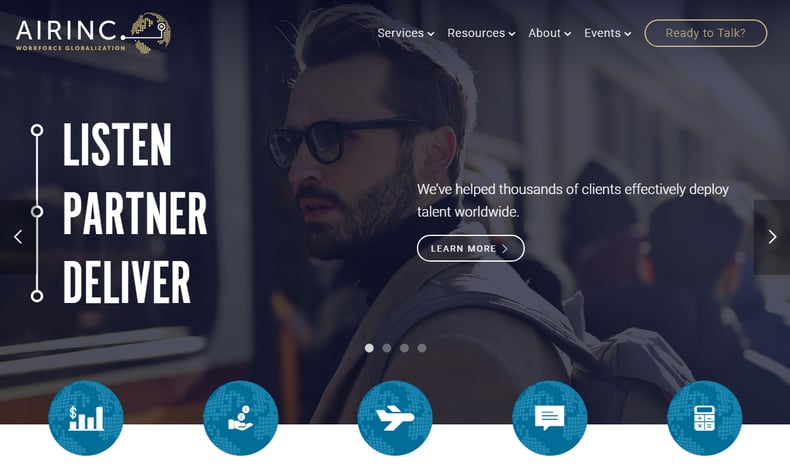 Listen. Partner. Deliver.
We've always advertised ourselves as being different, but it's challenging to explain that uniqueness unless you've experienced it. Once a client has worked with us, then they see the disparity between us and their previous provider. As we've grown and adapted to the evolving Mobility landscape, clients have said we did not realize you do that, this solution was even better than expected, and why did we wait so long to transition to AIRINC? We are at our best when organizations know what it's like to work with the people behind the data.
At AIRINC, our focus is you. Whether you have an advanced mobility program or are just beginning to realize that your company has grown and you need help, we're here for you. Our data, web tools, and advice create an educational experience because your business deserves more than just a one-off solution.
We want everyone to know who we are and what we stand for when we talk about the AIRINC Experience. With a new website and refreshed branding, our message is clear:
Listen. We let the conversation evolve to reveal the specifics before suggesting the answer. The better we know your strategy and objectives, the better our solutions will meet your goals.
Partner. We are your partner, not your supplier. We make sure you understand the issues from all sides and we research the alternatives. We engage with you all along the way.
Deliver. We deliver what you need when you need it. Our tools are highly configurable to enhance your customer and employee experience. The best solutions are those that exceed your expectations.
We invite you to discover the AIRINC difference by clicking below:
---
Want to stay up-to-date on best practices for Global Mobility? Join now!
---