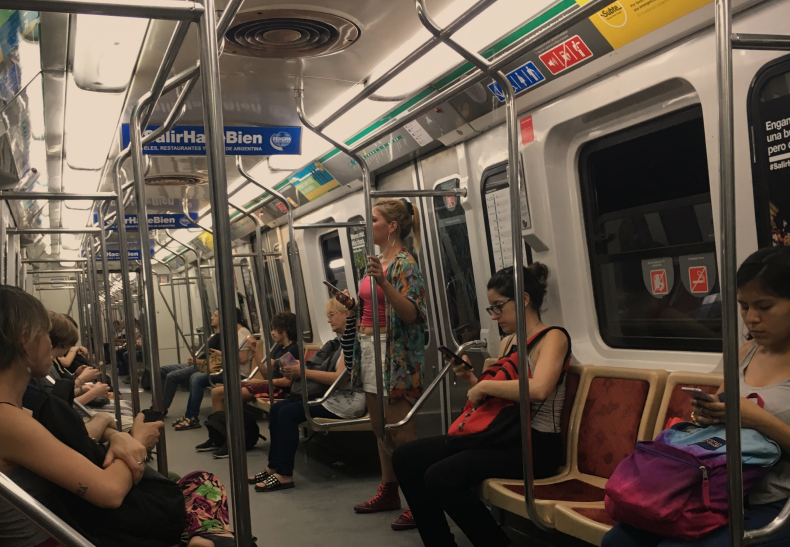 Buenos Aires, Argentina during survey. Photo taken by AIRINC surveyor Amber Chan.
From Hong Kong to Banjul and everywhere in-between
At home in Hong Kong, getting around the city is simple due to our modern subway. When traveling for survey, I get the opportunity to experience the wide spectrum of ease and difficulty found in the world's transportation systems, from "the Tube" and signature double-decker busses in London to poorly-maintained (and often not air-conditioned) taxis in Banjul, Gambia. While the majority of expatriates in Buenos Aires drive, there is a diverse public transit system, consisting of the Subte (subway), Metrobus (bus rapid transit), colectivos (traditional buses), and metered taxis.
---

Trending now:
What are the 10 best places to live and work in 2019?
---
The Public Transit System in Buenos Aires
I found the Subte to be a fairly modern system with a wide variety of murals and artwork, but it does not connect the entire city. Four of its six lines run from the center of the city outwards to the suburbs, including the B and D branches which run between the city and the northern suburbs, and are the most traveled lines in the system. The Metrobus system consists of buses in dedicated lanes with street-level stations, while the colectivos buses cover the rest of the city and run on the streets. During peak hours, the systems can get crowded, and like public transit around the world, it's important to keep an eye out for pickpockets. During my survey, taxis were plentiful and easy to flag down.
Driving around Buenos Aires and the ease of navigating on a grid
While traveling the city by taxi, I could see why so many expatriates feel comfortable driving here. As a taxi driver explained to me, the majority of the city is organized as a grid, with each block approximately 100 meters long. The drivers only need to know the street and the unit number. In most cases, road signs not only include the name of the street, but also the range of building numbers, such as "Sinclair 200-299." For people who have become accustomed the system, it's easy to know how far away a destination is; for example, Bonpland 1300 is ten blocks, and approximately one kilometer, from Bonpland 2300. Most roads are one-way, and to me this seemed to reduce traffic congestion. Thus far in my surveys, I have not encountered another city to be built in such a systematic way.
Global Transportation: Want to learn more?
Many factors, such as traffic conditions and security environment, impact transportation options for expatriates. If you'd like to learn more about expatriate transportation in Argentina or anywhere around the globe, click below:
---

Free trial access:
Accurately plan for employee assignments with the Assignment Cost Estimator (ACE)!
---
On-site Insight and AIRLinc
This post is taken from On-site Insight, AIRINC's in-house global mobility blog. On-site Insight provides AIRLinc subscribers with an exclusive "behind-the-surveys" insight into new and existing expatriate locations based on commentary and photos from our global research team. Included is information on general living conditions as well as changing costs for both goods and services and housing and utilities, along with much, much more! To find out more, click here.
---

Become a member to gain valuable insights!
Global Mobility Insights for your Inbox
---