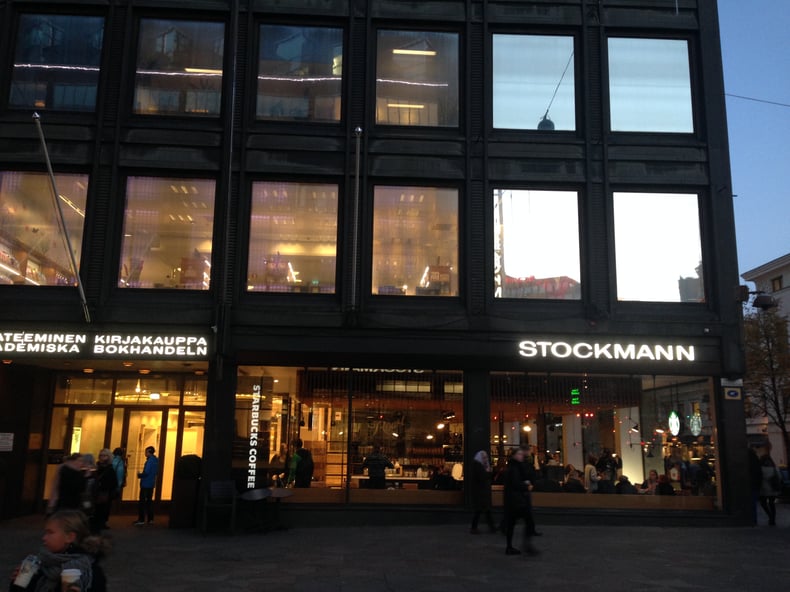 Starbucks in Helsinki, Finland as seen during AIRINC's most recent on-site cost of living survey.
How do caffeine costs compare?
With stores in 70 countries, Starbucks has become synonymous with coffee throughout the world, and we collect the price of a single espresso from just about every country where a Starbucks exists!
As part of AIRINC's data collection process, we travel to over three hundred cities annually to gather prices for a wide array of goods and services – everything from milk and eggs to cars and car repairs.
Check out our Starbucks pricing results below!
Map

Alternative content for the map

Most Expensive Espresso

| | | |
| --- | --- | --- |
| Zurich, Switzerland | 4.77 | USD |
| Munich, Germany | 4.67 | USD |
| Auckland, N.Z. | 3.2 | USD |
| Helsinki, Finland | 3.17 | USD |
| Geoje, Korea | 3.15 | USD |
| Seoul, Korea | 3.15 | USD |
| Ulsan, Korea | 3.15 | USD |
| Muscat, Oman | 3.11 | USD |
| Nicosia, Cyprus | 3.11 | USD |

Least Expensive Espresso

| | | |
| --- | --- | --- |
| Lisbon, Portugal | 1.18 | USD |
| Rio de Janeiro, Brazil | 1.36 | USD |
| Lumut, Malaysia | 1.45 | USD |
| Santa Cruz, Bolivia | 1.46 | USD |
| Miri, Malaysia | 1.47 | USD |
| Fort McMurray AB, Canada | 1.57 | USD |
| Ho Chi Minh City, Vietnam | 1.57 | USD |
| Calgary AB, Canada | 1.65 | USD |
| Vancouver BC, Canada | 1.65 | USD |
| Bangalore, India | 1.69 | USD |
---
Have you seen our Global 150 city ranking? (as seen in Harvard Business Review)
---