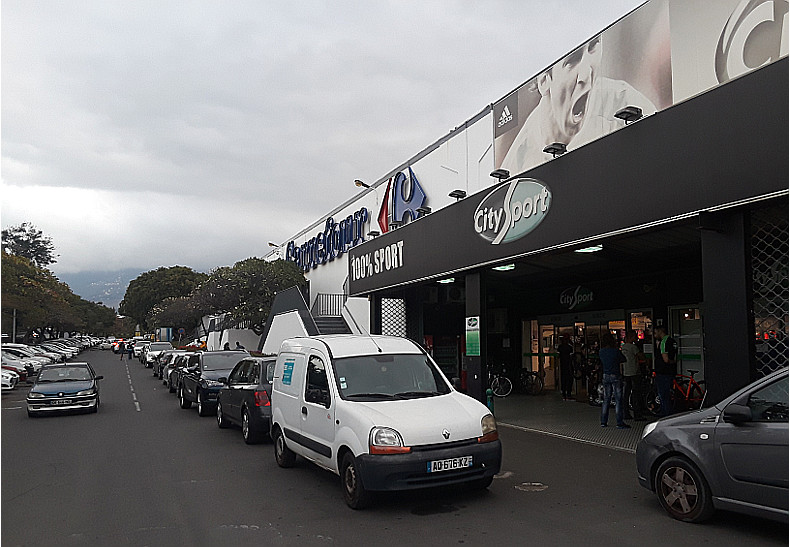 A Carrefour parking lot in Saint-Denis, Reunion. Photo taken by AIRINC surveyor Eugene Kobiako.
A fascinating mélange of French and Creole cultures
This past quarter I surveyed Saint-Denis, Reunion, an isolated island that was a fascinating mélange of French and Creole cultures. Reunion Island is an overseas department and region of France located in the Indian Ocean, east of Madagascar and southwest of Mauritius. Its capital and economic center is Saint-Denis. Since Reunion is officially part of France, everything functions on the island almost exactly like it does in mainland France. Driving is on the right, the official currency is the Euro, and shops and businesses are closed on Sundays. A major difference I noticed, however, is the way public transportation functions, as well as the prices of taxi rides.
Public Transportation in Reunion
Taxis are incredibly expensive on the island, and no mobile rideshare application exists. Upon arrival to Saint-Denis, I took a metered taxi from the airport, which charged me 35 euros for a 15-minute ride to the hotel. For comparison, a similar trip in Paris would cost half the price. Based on advice from previous surveyors, I rented a car to limit costs during my travels around the city. Although an international driver's license is required, I was able to find an automatic transmission vehicle for 45 euros per day, which still came out to be significantly cheaper than taking taxis or hiring a driver.
---
Read more about transportation around the world
---
Slow Traffic and Limited Parking
Traffic moves slowly in the city as there are many one-ways and roundabouts, and the drivers tend to be very courteous. The speed limit in the city is 50 kilometers-per-hour (kph), and 110 kph on highways. Most vehicles are light, two- or four-door sedans, which are typically hybrid or come with environmentally friendly functions, like automatically turning off during stops longer than 3 seconds. Gas prices are nationalized, so there is consistency at every gas station. The only difficulty I encountered was parking in the city center, which can be an issue due to a lack of parking lots and spaces.
Overall, transportation in Saint-Denis is straightforward if driving oneself. Relying on public transportation can limit one to certain areas and an irregular schedule. Taxis are very expensive so either rent a car, bike, or walk when on the island of Reunion!
---
Subscribe for more frequent updates!
---
Transportation Reports: Guidance when and where you need it!
Want to learn more about how AIRINC can help address your global transportation needs? Click below to learn more about our product offerings or click here to start a conversation with your client services representative today.
This post is taken from On-site Insight, AIRINC's in-house global mobility blog. On-site Insight provides AIRLinc subscribers with an exclusive "behind-the-surveys" insight into new and existing expatriate locations based on commentary and photos from our global research team. Included is information on general living conditions as well as changing costs for both goods and services and housing and utilities, along with much, much more! To find out more, click here.