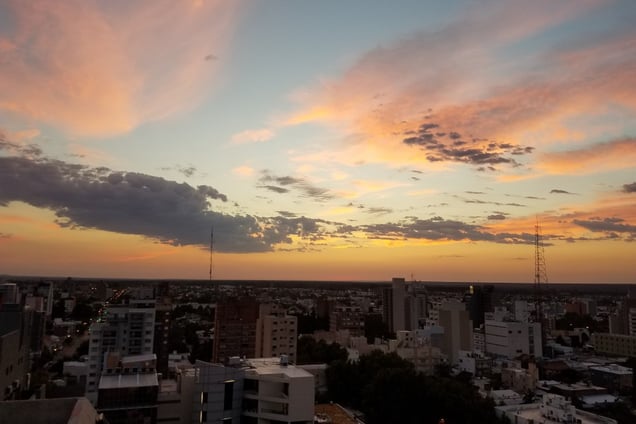 Sunset in Neuquen, Argentina. Photo taken by AIRINC surveyor Meleah Paull.
Neuquen, Argentina
Rents increased in Neuquen due to higher demand and low vacancy rates. Real estate agents have clients on waiting lists for apartments, and rentals are not listed for long before being rented. Construction projects are underway for new apartment buildings, which should help increase the number of two- and three-bedroom apartments. However, with growing expatriate demand, rents may increase over the next six to twelve months.

---

You may also like:
Currency and Payment in Zimbabwe
---
Georgetown, Guyana
The expatriate rental market in Georgetown has seen extremely high inflation over the past year as expatriates arrive to work on the offshore Stabroek Oil Block. Supply of good quality rentals is extremely low. New construction and renovation of existing properties are mostly focused on two- and three-bedroom apartments. Rents are expected to continue to rise over the next six to twelve months in response to strong demand.
Kitimat BC, Canada
Sudden economic growth has significantly increased rents in Kitmat's limited housing market. The new LNG project is expected to increase demand from incoming project managers and expatriates. Current stock consists of mostly townhomes and single to mutli-family homes, though construction of new apartments is expected. Sources said that new building permit requests and new construction projects appear weekly.
---

Trending now:
Domestic Mobility: Should I stay, or should I go?
---
AIRINC's Data Points: Your Global Mobility News
Want to learn more? The above excerpt is taken from Data Points, AIRINC's quarterly newsletter. Data Points brings you the latest updates from our Housing, Goods & Services, and Tax departments based on our expert international surveys, which are conducted by our global data collection team on-location.
---

Our 2019 Mobility Outlook Survey confirms that 58% of firms are seeking ways to improve employee communications regarding the potential financial impacts of assignments/transfers.
Download the 2019 AIRINC Mobility Outlook Survey!
---
Have you seen AIRINC's latest cost-of-living survey results?
---