The Gender Pay Gap is a hot topic for all types of companies
This past April, the U.K. required companies with 250 or more employees to report their gender pay gap. In the United States, asset management companies are putting pressure on companies like Starbucks and Google over gender pay equity.
The Seattle Times reported that the top request from Aflac investors in 2017 was for more information on gender pay equity policies, according to Catherine Blades, a spokeswoman for the insurer. In a June 2017 survey of 1,001 consumers and 100 investors, Aflac found consumers were less willing to forgive a company for not paying employees equitably than for polluting the environment.
"Investors and the public are moving fast," Blades said. "People will go out of their way to penalize companies they don't think are doing the right thing." .[1]
Borderless Pay Insights
Borderless Pay Insights [2] is the only compensation benchmarking database that provides analysis on gender pay.

Some highlights from the recent database:
Overall Pay Gap

–

The overall gender pay gap is

-12%
Pay Gap by Function

– The biggest pay gaps are in

Supply Chain

,

Communications

, and

Business Development

.

Representation of Females by Function

–

HR, Communications, and Compliance have the

highest

percentage of females.

Supply Chain has the

lowest

percentage.

Promotions

– Females were

slightly more likely

to be promoted than their male counterparts.
Borderless Pay Insights collects data for each individual in the top four levels of the organization. While the main purpose is to provide a much-needed database to compare the ever-changing executive roles, the advantage of Borderless Pay Insights is that it provides more granular "detail" by incumbent, including workforce metrics and longitudinal analysis (year-to-year comparisons).
Gender Pay Analysis Dashboard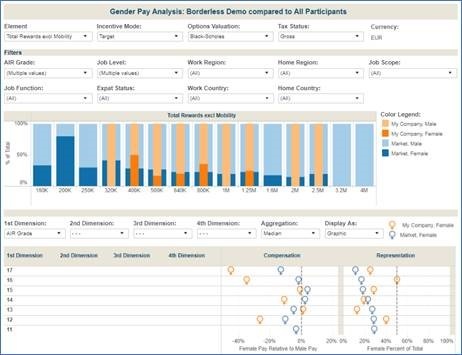 ---
[1] Chasan, Emily "Investors put pressure on Starbucks, Google over gender policies," The Seattle Times [Seatle, WA] 8 October 2017. https://www.seattletimes.com/business/investors-put-pressure-on-starbucks-google-over-gender-policies/
[2] Borderless Pay Insights is a unique executive compensation database and analytic tool. Rather than benchmark standard jobs, participants submit compensation and demographic information for all executives, including function, level, gender, work country (and home country for expatriates). Individuals are tracked over time, which enables participating companies to not only benchmark compensation (by single or multiple countries), but also benchmark gender pay gap and their internal labor market analysis. Want to join the current survey, which is now open? Click here.
---
Stay connected to industry news and trends
---