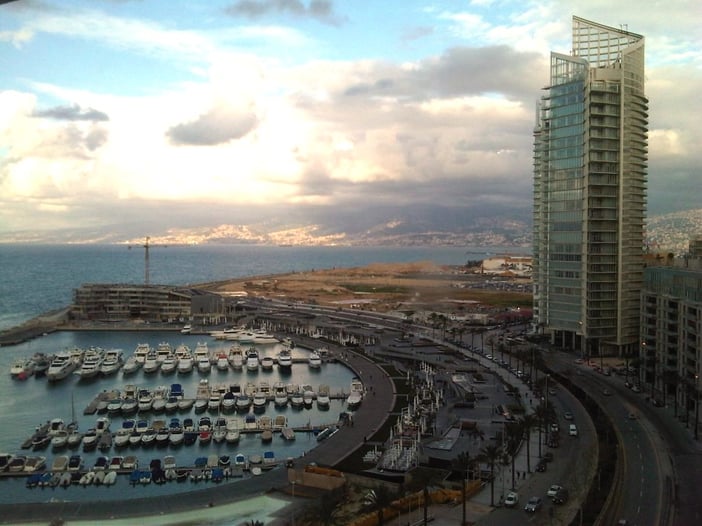 AIRINC archive photo of the Four Seasons Beirut hotel, north of center in Beirut, Lebanon, located 2km from the blast center.
Series of Explosions in Beirut
Warning: Links in this story contain graphic images and video.
On August 4th around 6pm local time, Lebanon's capital city of Beirut was rocked by a series of explosions in the port area of the city. The shaking from the second and largest explosion was equivalent to a 3.3-magnitude earthquake, and there are reports that it was heard and felt as far away as Cyprus, 240km away. Videos of the second and largest explosion quickly began circulating online, as speculation grew as to the cause. Some initial reports linked the blasts to production or storage of fireworks, while other sources (including the U.S. President) suggested the catastrophe was the result of terrorism. In the hours after the explosion, a more likely cause became clear—improper storage of chemicals, specifically ammonium nitrate stored in close proximity to explosive/flammable materials. The scenario (and footage on social media) is strikingly similar to the explosions that rocked Tianjin's Binhai port area in 2015, but the impacts have been, and will be, much more severe.
What are the immediate impacts for expatriates?
Recovery efforts remain underway and a number of foreign governments and NGOs have sent funding, supplies, food, medical equipment, mobile field hospitals, and personnel trained in search-and-rescue and medical fields. Expatriates have already been identified among the casualties. Currently, over 160 deaths and 5,000 injuries have been confirmed but it is widely believed that these figures will continue to grow as search and recovery continue across the city. It is unknown how many remain trapped or missing. Initial response efforts were hampered by nightfall, as electricity has been cut off in many areas and lighting is dependent on generators.
Electricity supply problems are impacting hospitals, which have put out urgent calls for generators, fuel, and blood donations. At least three hospitals in East Beirut were destroyed in the explosion, and many more of the remaining medical facilities have mild to severe damage. With so many casualties, facilities are facing severe overcapacity. In the hours immediately following the blast, officials asked for only those with life-threatening injuries to seek medical care. At that time, streets in some areas were impassable, so injured had to walk, be carried, or arrive via motorbike. The Hotel Dieu Hospital in Achrafieh was quickly filled and had to turn patients away. The American University Hospital in Hamra was in a similar state, and sent all non-critical patients out of Beirut. At the Saint George Hospital, the facility was so damaged that patients were being treated in the parking lot before the hospital was evacuated. With no electricity, patients in the nine-story hospital had to be carried on stretchers down stairwells. Already strained by economic problems and the COVID-19 pandemic, the medical infrastructure of Beirut is in dire condition.
Embassy and neighborhood impact
The radius of damage from the explosion's shockwave is massive. The popular expatriate neighborhoods of Saifi and Achrafieh are near or adjacent to the blast site, where damage is most severe. This video shows the explosion from the Saifi rooftop restaurant Clap while this video shows the blast from the Abdel Wahab 618 apartment towers in Achrafieh. Both are a little over a kilometer from the blast site. A few blocks from Abdel Wahan 618, this video shows the damage in the ABC Mall in Achrafieh, where many expatriate outlets are located.
In Hamra, another popular neighborhood about 2 kilometers from the blast site, windows of cars and buildings were smashed by the shockwave and streets are covered in glass and debris. All of the neighborhoods popular with assignees are within the radius of damage. Over the coming days, the extent of the damage to housing supply, infrastructure, and businesses in different neighborhoods of the city will become more clear.
A large number of embassies are reporting damage, many with injuries to embassy staff. Within 3 kilometers of the explosion, there are at least 20 embassy and consulate buildings, and among them the following have reported damage and/or injuries to staff: Netherlands, Austria, Switzerland, Belgium, Argentina, Austria, Argentina, Japan, Denmark, United Kingdom, Australia, South Korea, Denmark, Norway, and India. Some have updated their websites and social media to announce that offices are non-operational, non-essential services are suspended, and that crisis teams are available by phone for emergencies.
At the Beirut-Rafic Hariri International Airport, nearly 10 kilometers from the blast site, windows were blown out and ceiling tiles dislodged. Flights are continuing to operate for those wishing to leave Lebanon.
What factors will impact expatriates over the next weeks and months?
Housing shortages will be an immediate concern in Beirut, as the governor estimates that about half of homes are uninhabitable and a quarter million have been made homeless. The neighborhoods closest to the site, such as Saifi, are likely to be uninhabitable for a longer period, as some buildings are unsalvageable due to structural damage. Assessment, repairs, and rebuilding across the city may be slow, as supplies of building materials and labor will be under tremendous strain. Many businesses are damaged, so some immediate and short-term needs will be difficult to meet. The government and/or NGOs will have to implement stopgap measures to ensure that people in the city can access food and necessities.
The damage to the port itself will also impact life in Beirut and Lebanon as a whole—although we don't yet know the extent of the impact. The port handles about 60% of Lebanon's imports, and the large structure next to the blast site held the nation's largest grain elevator as well as its strategic grain reserves—all now destroyed. Ninety percent of Lebanon's wheat consumption and 80% of its general food needs are imported. The surrounding warehouses around the port stored imported goods on arrival. Footage from Wednesday morning showed the blast site to be a crater and these warehouses leveled. This means not only billions of dollars of imported goods destroyed, but also future import difficulties as the port now lacks storage. Officials have announced that import operations will shift to Tripoli.
Lebanon was already facing a severe and multi-faceted economic crisis—the value of currency has collapsed, purchasing power has evaporated, inflation is rampant, and businesses struggle to import goods due to the weak currency and shortage of dollars. The central bank has kept the official exchange rate pegged despite pressure, but a few weeks ago began allowing a more favorable rate for importers of food and essential goods, and withdrawals from dollar-denominated accounts.
Unemployment and poverty rates in Lebanon have skyrocketed since the beginning of the year as the broad impacts of the COVID-19 pandemic exacerbate the already dire economic situation. Poverty and economic worries have been a major factor in the increased political instability that Lebanon has seen since October of last year, when widespread anti-government protests erupted. Protests quelled as the COVID-19 pandemic began to spread around Lebanon, but demonstrations began again in earnest in April.
Now after the explosion, in a city without windows, without jobs, and without relief, deepening instability and poor security conditions can be expected. Tensions between the government and the people in Lebanon were already at a breaking point. While tragedies can galvanize and unite populations, this unity is more likely to oppose the government than to include it. Beyond previous anti-government sentiment, the government's apparent culpability in the disaster and anticipated difficulty managing relief and rebuilding may be the breakpoint for Lebanon's people.
If you have questions or need guidance during this uncertain time, please reach out:
---
About AIRINC
Listen | Partner | Deliver. For over 60 years, AIRINC has helped clients with the right data, cutting-edge technology, and thought-leading advice needed to effectively deploy talent worldwide. Our industry expertise, solutions, and service enable us to effectively partner with clients to navigate the complexity of today's global mobility programs. As the market continues to evolve, AIRINC seeks innovative ways to help clients address new workforce globalization challenges, including mobility program assessment metrics and cross-border talent mobility strategy. Our approach is designed with your success in mind. With an understanding of your goals and objectives, we ensure you achieve them. Headquartered in Cambridge, MA, USA, AIRINC has full-service offices in Brussels, London, and Hong Kong. Learn more by clicking here.
---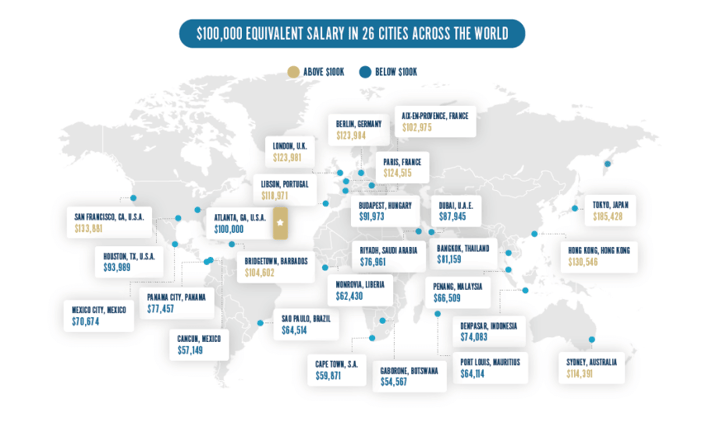 ---