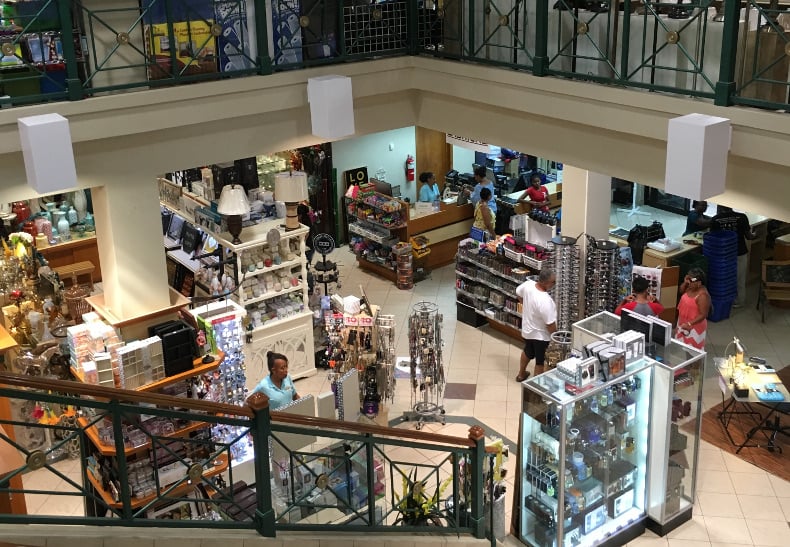 Belize City, Belize as seen during our recent on-site survey. Photo taken by AIRINC surveyor Philli Wong.
Availability and Outlets
Over the past decade of surveying Belize City, availability and outlets in our goods and services survey have changed very little. The same two supermarkets remain the best options in town–Brodie's and Save U. These outlets offer a decent selection of grocery items and some imports, but an assignee may have to visit more than one shop on a shopping trip in order to get particular ingredients. There is moderate availability of personal care goods, and quality furniture and household appliances can be found at outlets such as Court's and Mirab's. Availability of clothing here remains low. It is common to see clothing in grocery stores, but it is of low quality and unlikely to be purchased by assignees. Almost all assignees in Belize purchase new items they need or want while on home leave or on trips to Miami or Mexico, which are conveniently close for weekend trips.
---
Enjoy international findings? Join us!
---
Expatriate Recreation
Weekend trips are common here, as aside from outdoor activities, entertainment is limited in relaxed Belize City. There is one small movie theatre, which is located in a hotel, and typically shows movies from the United States. While in the past new releases premiered later than in the US, most movies now premiere on their US release date or within a few days. There is limited availability for traditional gym fitness clubs outside of those found in hotels, but there is a small yoga studio in town and CrossFit is popular. It is difficult to find sports recreational gear such as golf balls, tennis balls, and board games. While some books can be found around the city, variety is low and no international magazines or newspapers are available. Restaurant selection in Belize City is also very limited and you won't find major chains here.
Product Consistency
Availability (while low) is typically consistent in the country, but there are occasional shortages, such as fuel, medications, medical supplies, and staff. Belize City and Belmopan are typically less impacted than the rest of the country, and for medical shortages, private hospitals are mostly unaffected. Overall, Belize City offers a mild climate, relaxed culture and abundant nature, but a less than comprehensive basket of available goods, and limited entertainment options.
---
Want to read more from our on-site survey team?
---
The Location information you need!
Want to learn more about how AIRINC can help address your global needs? Click below to learn more about our international data and solutions or click here to start a conversation with your client services representative today.
---
This post is taken from On-site Insight, AIRINC's in-house global mobility blog. On-site Insight provides AIRLinc subscribers with an exclusive "behind-the-surveys" insight into new and existing expatriate locations based on commentary and photos from our global research team. Included is information on general living conditions as well as changing costs for both goods and services and housing and utilities, along with much, much more! To find out more, click here.