Brexit and the Year Ahead
Brexit makes 2019 an interesting year for the UK as negotiations come to a head. Most companies have contingency plans, but what additional steps can companies take to plan business decisions against the backdrop of the UK's future relationship with Europe and the rest of the world? For HR and global mobility, there are non-negotiable employment factors to be managed, such as: immigration rules, right to work and settled status requirements and these have been covered extensively elsewhere.
---
---
But, as the world becomes more volatile, mobility professionals face other challenging day-to-day considerations when administering assignee packages.
Each day brings a new fluctuation of the pound against the euro and other currencies and these must be addressed.
Additionally, HR is constantly looking for ways to gain a seat at the boardroom table. This isn't always easy. Brexit is one example where HR, Compensation, and Global Mobility can come together as a cohesive team to offer key analytics and help organisations make wise financial decisions on future strategy.
A small number of European locations are reportedly being considered as strategic alternates to London. Key locations highlighted by the media include: Amsterdam, Dublin, Frankfurt, and Paris. Due to Brexit, many companies are seeking long term alternatives to the UK, and have offered permanent roles or local payroll hires in these new locations. This opens up challenges for companies hiring from another country, such as deciding salaries or how to factor in an existing home country situation.
Let's look at an example. A Spanish employee in Madrid is considering relocating to fill an open position. The position is intended for London. However, with the Brexit uncertainty, the company is reviewing this location against other European locations where they also have an entity.
See more!
Download the full report by clicking below: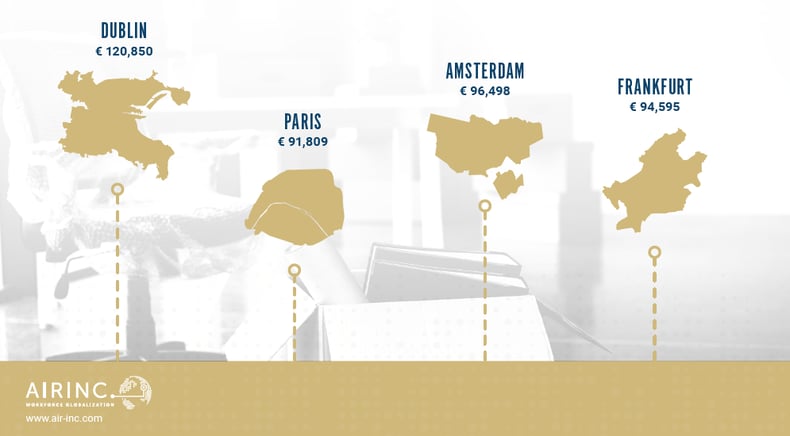 ---
---