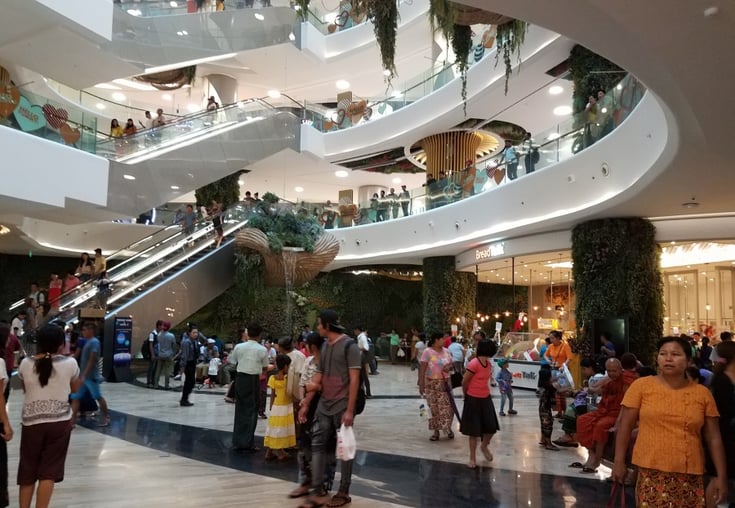 Availability of Goods and Services in Yangon
Economic liberalization in Myanmar over the past decade has brought significant change to the availability of goods and services in Yangon. While expatriates once shopped on home leave or R&R trips, now Mango or Nike are available at the nearest mall.
---

You may also like:
The Economic Impact of Swine Fever in Vietnam and China
---
The impact on telecommunications in Myanmar
The more competitive business environment has also changed prices for some services; the telecommunications industry in particular has undergone a dramatic evolution. A SIM card for a mobile phone was once a rare and prized possession, but the entry of foreign companies has brought the price down to one percent of what it was in 2013. Additionally, in the past couple years the number of internet service providers has exploded and brought down the price of broadband activation and service.
While internet in Myanmar still costs more than comparable plans in neighboring countries, residents can now get online at much faster speeds than before, and for a lower cost. For expatriates trying to keep up with the news and their friends and family at home, a fast and reliable internet connection is crucial.
While some speculate that this price reduction is not sustainable—and indeed, a few companies have already come and gone—odds are that prices will not go back to their pre-2013 levels any time soon. Either way, AIRINC will be there to track developments as they happen.
---

Trending now:
Domestic Mobility: Should I stay, or should I go?
---
AIRINC's Data Points: Your Global Mobility News
Want to learn more? The above excerpt is taken from Data Points, AIRINC's quarterly newsletter. Data Points brings you the latest updates from our Housing, Goods & Services, and Tax departments based on our expert international surveys, which are conducted by our global data collection team on-location.
This quarter's cost-of-living surveys were conducted primarily in Europe, Asia, and mainland Southeast Asia. Click below to see more results from our recent surveys:
---

Our 2019 Mobility Outlook Survey confirms that 58% of firms are seeking ways to improve employee communications regarding the potential financial impacts of assignments/transfers.
Download the 2019 AIRINC Mobility Outlook Survey!
---

Join us!
Have you registered for our upcoming AIRINC Institute webinar series?
---