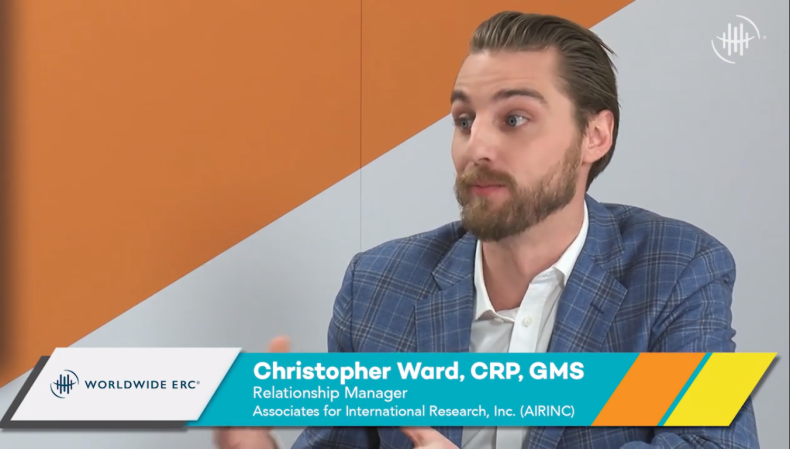 AIRINC's Relationship Manager, Christopher Ward, in an interview with Peggy Smith, Worldwide ERC President & CEO.
Leadership Unplugged with Peggy Smith & Christopher Ward
Worldwide ERC President & CEO, Peggy Smith, SCRP, SGMS-T, talks disruption, innovations, and trends with talent mobility leader, Christopher Ward from Associates for International Research (AIRINC):
---

Educational reading:
The Importance of Good Decision-Making in Global Mobility
---
Key Takeaways from the Interview:
In this interview, you will learn about:
Surprising Industry Trends: The Increased focus on domestic, Intra-country mobility vs. traditional cross-border assignments.
Reflections on leadership: How an organization's mission, vision, values inform leadership decisions
Personal Leadership style: Tips for breaking down barriers and building relationships in business
Chris' joke telling skills (or lack thereof!)
And more!
---

Our 2019 Mobility Outlook Survey confirms that 58% of firms are seeking ways to improve employee communications regarding the potential financial impacts of assignments/transfers.
Download the 2019 AIRINC Mobility Outlook Survey!
---
About AIRINC
We help our clients address expatriate compensation and mobility issues in a complex global environment through advisory services, data services, and technology solutions, while providing our employees with a culture of teamwork, global knowledge, career growth, and interesting solutions to challenging problems.
We understand that people make an organization successful. We empower companies to deploy global talent by leveraging high quality-data, decision-making tools, and thought-leading advice. Our industry expertise, solutions, and consultative approach enable us to partner with clients to deliver value. Learn more by clicking below:
---

Join us!
Have you registered for our 3-part tax webinar series?
---