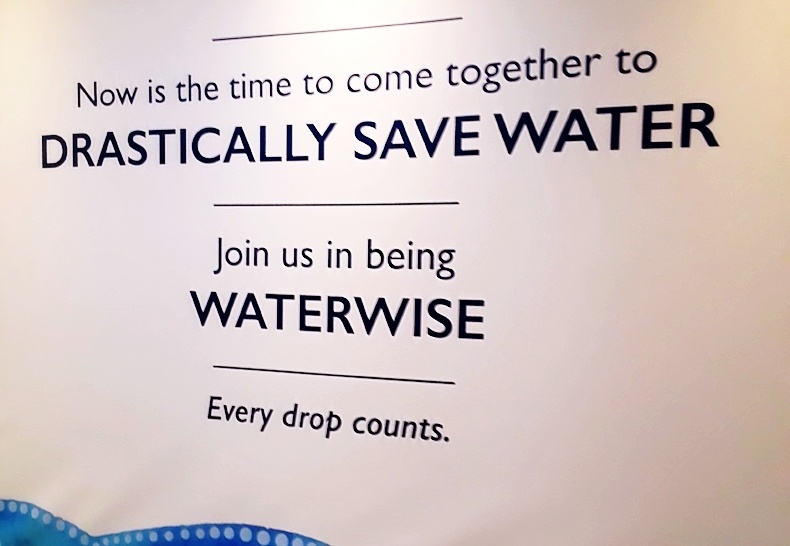 One of many alerts posted around the V&A Waterfront Mall in Cape Town, South Africa. Photo taken by AIRINC surveyor Eugene Kobiako.
Update on the Water Crisis
AIRINC's onsite Surveyors investigate topics of international interest, including hardship situations. My colleague, Yimkwan Tsang, wrote about the water crisis in Cape Town after her February 2018 survey. At that time, Cape Town was expected to run out of water as early as June. However, this event, known as Day Zero, kept getting pushed back. Upon arrival to Cape Town for the August 2018 survey, a large sign greeted me at the airport stating:
"We are in a crisis. Please conserve our water."
After requesting a rideshare and exchanging pleasantries with the driver, I immediately asked him about the water situation. He told me that the city is doing much better now and that the dams are at 56% capacity compared to 10% at its lowest point in August 2017. When checking into my hotel, I asked the receptionist her thoughts on the water crisis and Day Zero. She said that, while the whole planet is enduring a water crisis, it is a purely political problem in South Africa.

---
Subscribe for more frequent updates!
---
"#WaterCrisis: How to use 50 litres per day"
In my room I found several signs and letters asking me to cut back on water usage. I also noticed that laundry services were more expensive, and there were more signs in the lobby and café that asked for water conservation. During my survey, I noticed that supermarkets were well stocked with bottled water, and there were no extra bottles on the floors of grocery stores or long lines of people exclusively buying water. Most people I spoke to, including realtors and relocation agents, took the whole situation very seriously and told me that they take shorter showers and do laundry less frequently. Despite this public concern and the many advertisements for boreholes and large water tanks I saw, the city did not feel like it was going through an imminent crisis.
A National Water Crisis
It was cold and rainy during my time in Cape Town, but people were pleased to see the rain. Taxi and rideshare drivers were happy to be working, and a surprising amount of Capetonians were out enjoying their evenings. Everyone I spoke to commented that "we needed the rain."

Even though Cape Town is at the center of the water crisis in South Africa, other cities in the country joined the efforts to combat the arrival of Day Zero. In Johannesburg, the hotel I stayed at placed several letters asking me to conserve my water usage, and even placed a sign in the bathroom asking to limit my shower to just 3 minutes. They referred to the situation as a "national water crisis" and took it just as seriously as in Cape Town.

The city continues to measure its dam levels and, at the time of writing, it was up to 76%. Day Zero has been pushed back even further!
Evaluating Hardship
Want to learn more about how AIRINC can help address your hardship needs? Click below to learn more about our product offerings or click here to start a conversation with your client services representative today.
This post is taken from On-site Insight, AIRINC's in-house global mobility blog. On-site Insight provides AIRLinc subscribers with an exclusive "behind-the-surveys" insight into new and existing expatriate locations based on commentary and photos from our global research team. Included is information on general living conditions as well as changing costs for both goods and services and housing and utilities, along with much, much more! To find out more, click here.