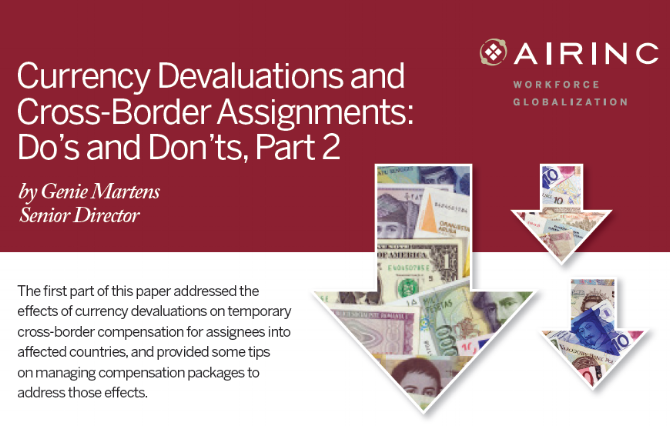 Has your organization been faced with major currency devaluation issues in the past year? Part I of this white paper addressed the effects of currency devaluations on temporary cross-border compensation for assignees into affected countries. Part II continues the discussion on currency devaluation but switches the focus to compensation arrangements for assignees from countries that have devalued their currencies.

Download Part II to learn about the home-based balance sheet approach and the do's and don'ts when using this approach:

Consider a quick COLA update for exchange rate change
Stick to balance sheet principles
Don't let currency conversion issues drive your compensation solution
Consider coordinating salary and COLA adjustments
Think twice about linking pay to host if a career at home or future mobility is expected
Host-based is not always the cheaper solution
Watch out when both home and host countries are economically volatile
Carefully thought-out policies and pay approaches help companies achieve both business and career planning goals, control costs, and minimize exceptions.