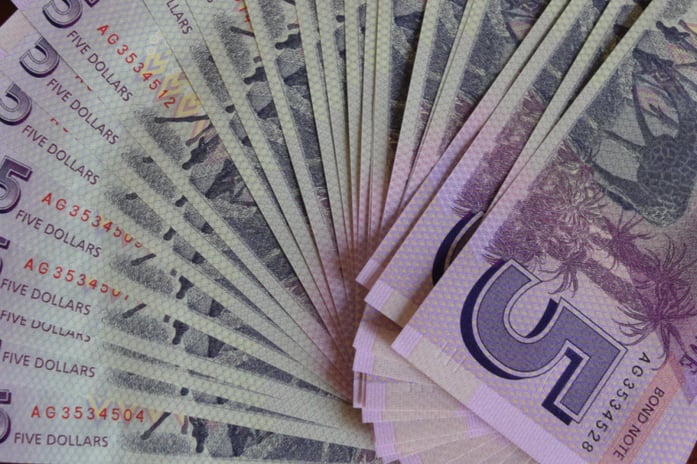 A collection of five dollar bills in Zimbabwe. Photo taken by AIRINC Surveyor Meleah Paull.
Zimbabwean economy in a state of transition
During the August survey of Harare, our visit found the Zimbabwean economy in a state of transition. This June, after a decade of using a mix of approaches but primarily relying on the U.S. dollar for transactions, the Reserve Bank of Zimbabwe announced that a new Zimbabwean dollar (ZWL), also known as the Zimdollar, was the only acceptable form of payment.
Victoria Falls, the major tourist destination of Zimbabwe, and some industry sectors have been exempted from these rules and continue to use U.S. dollars. However, pharmacies, stores, and restaurants in Harare which previously posted prices in U.S. dollars quickly needed to convert these to the local currency. Some shop owners simply left the products without prices and if asked, could quote the price in USD or in ZWL.


---

You may also like:
The Economic Impact of Swine Fever in Vietnam and China
---
Scarcity of physical money impacting everyone
Further complications arose for expatriates and international visitors. International credit cards worked at the supermarket and some hotels but not at restaurants or other outlets. In the course of the survey, four banks or exchange houses were visited and of those, one had coins, one had notes, and two did not or would not exchange for local currency.
ATMs stood empty at the airport and the banks, none were functional. Most locals or long-term expatriates would have a local mobile money account like EcoCash to get around this scarcity of physical money but even this is an imperfect solution due to the electricity outages that occasionally take down the mobile payment network. Our survey found that most smaller vendors would still take US dollars, if necessary, but often exact change was needed. Residents who were interviewed expressed frustration and a desire to return to the USD system.

Since our survey, confidence in the Zimdollar has fallen further. At the beginning of August, the Reserve Bank posted a mid-rate exchange of about 9.5 ZWL to 1 USD. In late September, the value has deteriorated to 15.8 ZWL to USD and the black-market rate is closer to 20 to 1. The government has taken steps to bolster the local currency but annual inflation as published by the government in August was 288.5%.
---

Trending now:
Domestic Mobility: Should I stay, or should I go?
---
AIRINC's Data Points: Your Global Mobility News
Want to learn more? The above excerpt is taken from Data Points, AIRINC's quarterly newsletter. Data Points brings you the latest updates from our Housing, Goods & Services, and Tax departments based on our expert international surveys, which are conducted by our global data collection team on-location.
---

Our 2019 Mobility Outlook Survey confirms that 58% of firms are seeking ways to improve employee communications regarding the potential financial impacts of assignments/transfers.
Download the 2019 AIRINC Mobility Outlook Survey!
---
Have you seen AIRINC's latest cost-of-living survey results?
---