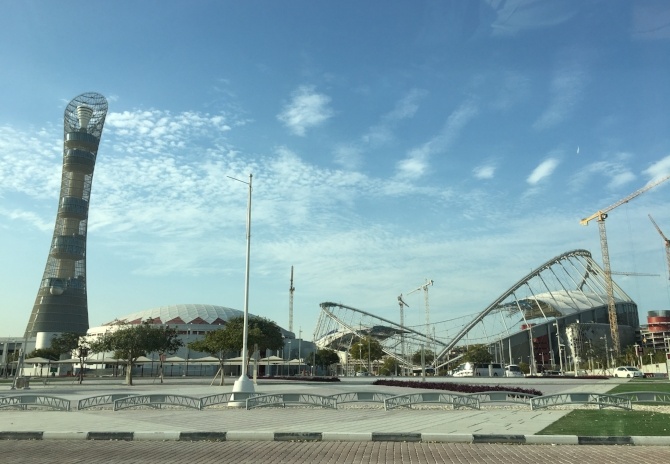 In the week following the Saudi Arabia-led blockade against Qatar, the original five countries participating has expanded to nine. The blockade of Qatar has many components, including the closure of land borders and airspace as well as shipping ports in participating countries, the expulsion of Qatari citizens from participating countries, and a ban against Qatar Airways.
The Ban's Impact on Expatriates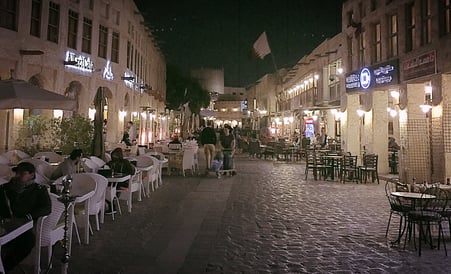 These actions have the potential to impact expatriates, whether they are living in Qatar, are a Qatari citizen expelled from a blockade country or simply flying into or out of the region. While KSA, Bahrain, and the UAE have prohibited their citizens from traveling to Qatar and have issued directives for their citizens to leave the country, Qatar has announced that those who wish to stay will not be expelled or retaliated against.
The Availability of Goods
Availability and pricing of food goods in Qatar was a focus of initial concerns for residents, as the country imports as much as 80% of their goods from countries participating in the blockade. Grocery stores developed long lines and shortages on the day of the blockade announcement. By the next day, however, stores were restocked.
The Ministry of Economy and Commerce (MEC) issued information via their Twitter and Instagram accounts underscoring confidence that the blockade would not cause major disruptions due to strategic food reserves, ability to diversify import partners, government coordination with importers and the aforementioned price restrictions in place for Ramadan. They have also posted photos and videos in various grocery stores showing full availability of goods.
Changes in Trading: Turkey and Iran
As food reserves decreased, Qatar secured import deals with Turkey and Iran. As dairy and poultry imports arrived from Turkey late last week, the MEC provided a graphic with common Turkish translations. On Monday June 12, Iran announced that it had sent five cargo planes with over 400 tons of vegetables, three ships with 350 tons of other food items and was prepared to continue to act as an import partner.
Prices have also remained steady from most markets due to price restrictions enacted by the MEC for the ongoing holy month of Ramadan, when food purchases typically rise about 25%. While pricing is largely unaffected at this time, there have been some limited reports of illegal price increases in smaller local markets. It has not yet been announced whether Ramadan price restrictions will be lifted at the end of the holy month on June 24. For the time being, assignees should not experience food shortages or significant price increases.
Airspace Restrictions: Rerouting and Delays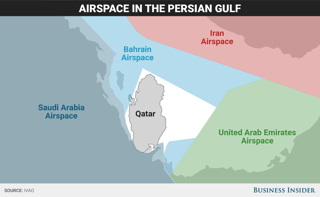 Airspace restrictions and sanctions against Qatar Airways and airlines flying into and out of Doha have increased travel times within the gulf region and for flight connections serviced though Doha. Qatar's airspace is completely surrounded by the airspace of blockade countries, and Bahrain has restricted Qatari airlines to a single route into Iranian airspace, causing further congestion in airline schedules and sharply increasing flight times, particularly for flights bound west of Qatar.
Flights from Doha to Sao Paulo, which previously took just over fourteen hours, must now fly east into Iranian airspace and circle north to Athens, Greece before heading to Brazil, increasing the travel time by over two hours. Future effects on ticket prices are uncertain and remain to be seen. What is certain is that a major hub of international travel has become isolated under some of the busiest skies in the world.
Strategic Reserves and Economic Stability
So far, Qatar has proved able to weather major economic aspects of the current conflict. With $335 billion in sovereign wealth funds, Qatar's strategic reserves of cash have proven able to dampen impacts to food availability and exchange rate. The Qatari Riyal has seen only slight fluctuation in the last week, and the country's balance sheet suggests that Qatar could maintain their official peg of 3.64 riyals to 1 US dollar for years.
AIRINC and the Value of an On-site Perspective
AIRINC has leveraged the expertise of local contacts to monitor ongoing changes that may impact expatriates, and we will be back onsite in August for our regularly scheduled survey. If you'd like to learn more about us and how we can help you and your international assignees, please click the button below: