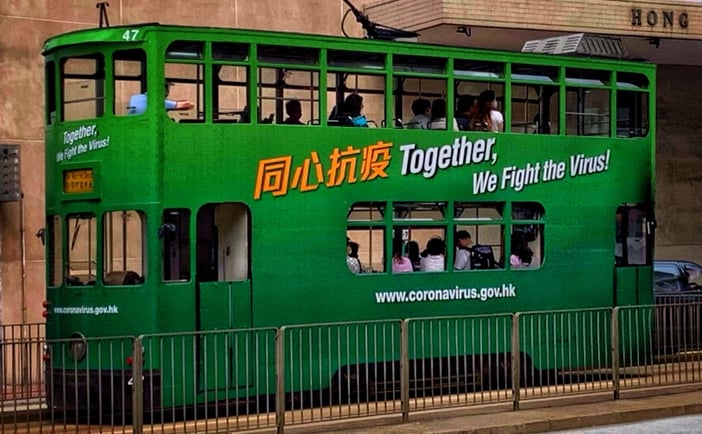 Bus in Hong Kong displaying pandemic information. Photo provided by AIRINC's International Research Manager, Andrew Morollo.
Fear of the Unknown: Hong Kong and the Coronavirus
On July 15th here in my hometown, Hong Kong enacted its most stringent Covid-19 lockdown to date. The number of cases here has continued to rise over the past ten days with many of the new infections coming from unknown origins.

This third wave of cases has resulted in the government again shutting down gyms, outdoor sporting facilities, beauty parlors, cinemas, and bars. Restaurants can now only operate at fifty percent capacity during the day and will be forced to close entirely to patrons between 18:00 until 05:00 with only delivery options available during these hours. Thankfully, schools are already on summer recess.
Working from home again in Hong Kong
On July 16th, authorities requested that companies allow employees to work from home again, after many were able to return to offices in previous months. Unlike earlier restrictions that allowed civil servants to work from home or stop coming into offices, the government has decided to keep civil servants at work to prevent interruptions of much-needed public services.

COVID-19 was first confirmed in Hong Kong on January 23rd, and the current surge of cases is the most severe outbreak Hong Kong has yet experienced. With so many of the cases unable to be traced, uncontrolled community spread is indicated and there are worries that this is the start of a massive, sustained local outbreak.
The personal impact of this recent COVID-19 outbreak
In the city I call home, one that has dealt so well with the virus and which has maintained a gold standard with very low levels of cases (1,714 confirmed cases and 11 recorded deaths in total as of July 17th), this all feels disheartening to say the least. I do remain grateful however; I'd eaten multiple times during the past two weeks at a local Dim Sum restaurant near AIRINC's Hong Kong office. This past weekend, the restaurant revealed they had confirmed Covid-19 cases. I was informed of this outbreak late on Sunday night and by early Monday morning I was seen at a local hospital. They conducted a deep throat saliva test and then contacted me directly with negative test results in less than 10-hours.
I also remain thankful to live in a city where the citizens themselves have acted so swiftly, collectively, and efficiently to tackle the virus, keeping in mind that there are so many other cities around the world faring much, much worse. And I'm surely glad to live in a place where the panic buying of toilet paper and rice will simply not be tolerated.
---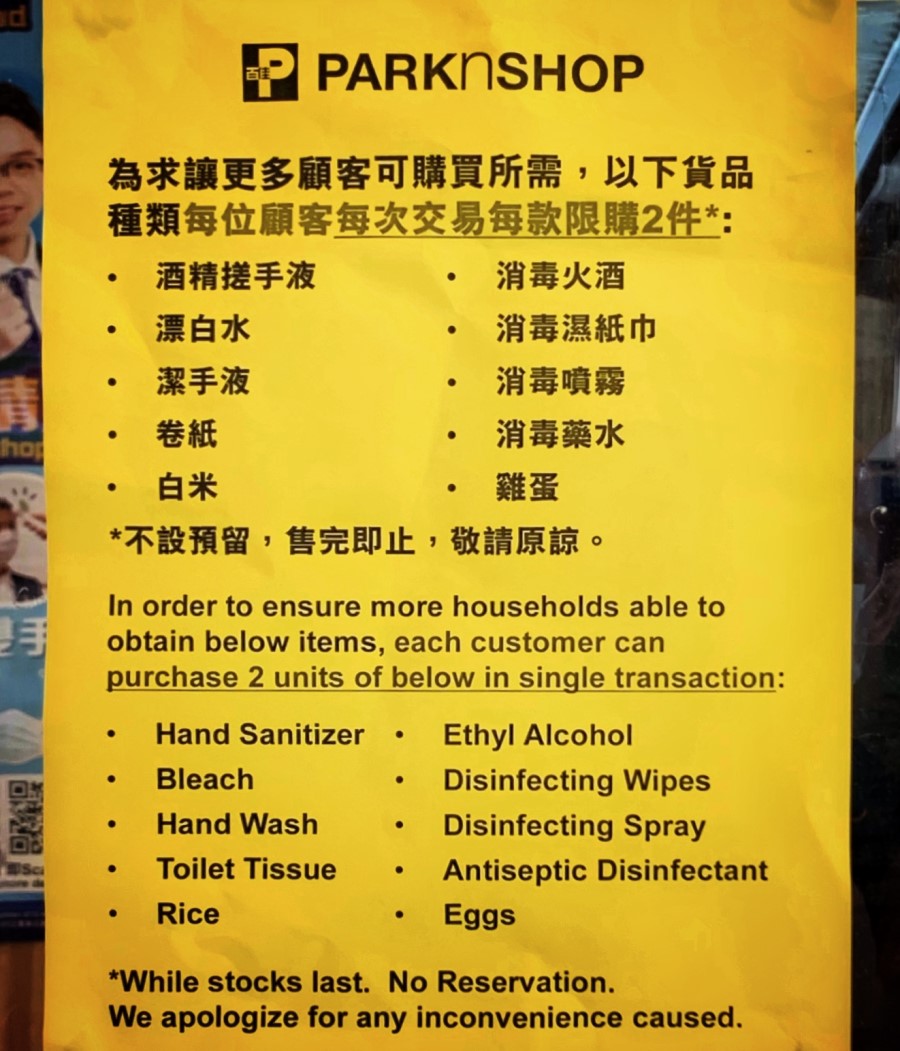 Purchase limits sign at Park and Shop. Photo provided by AIRINC's International Research Manager, Andrew Morollo.
---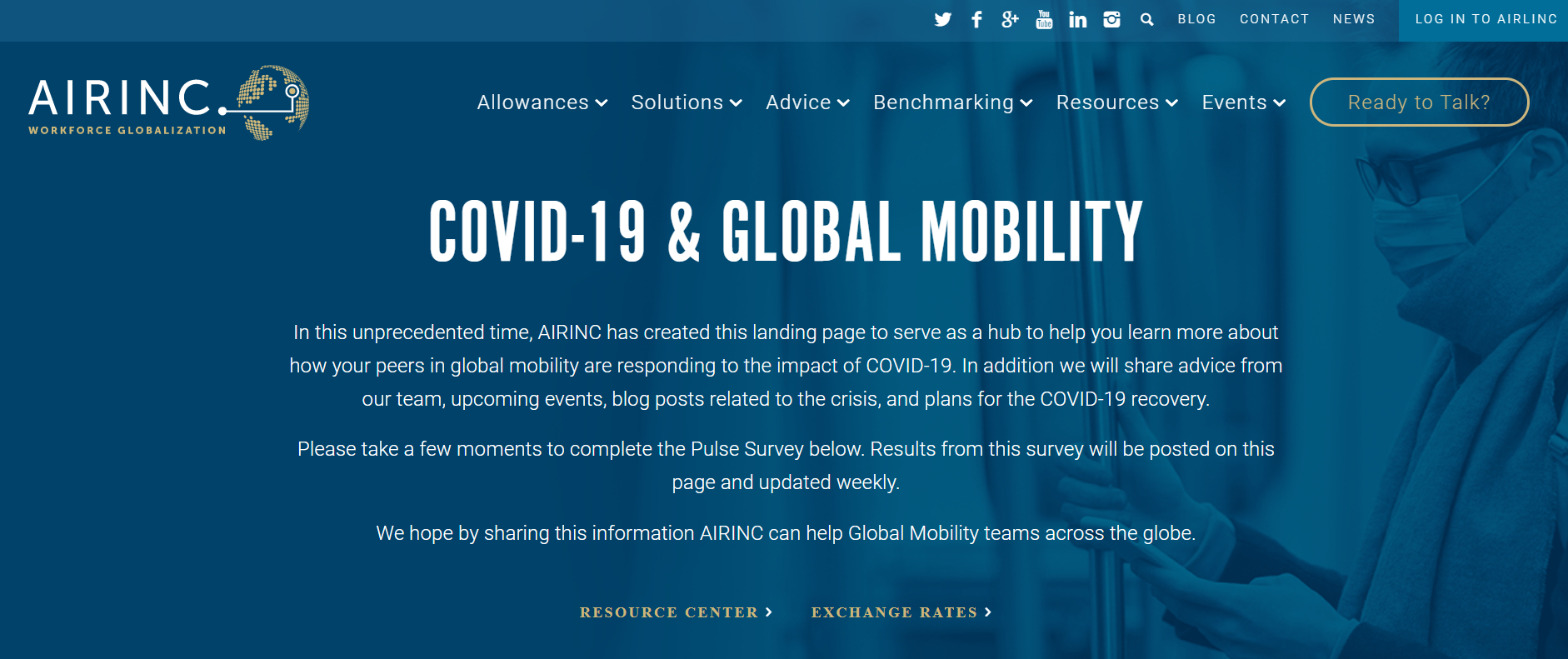 Visit AIRINC's COVID-19 Global Mobility landing page to read the best Mobility-related sources aggregated into one place.
---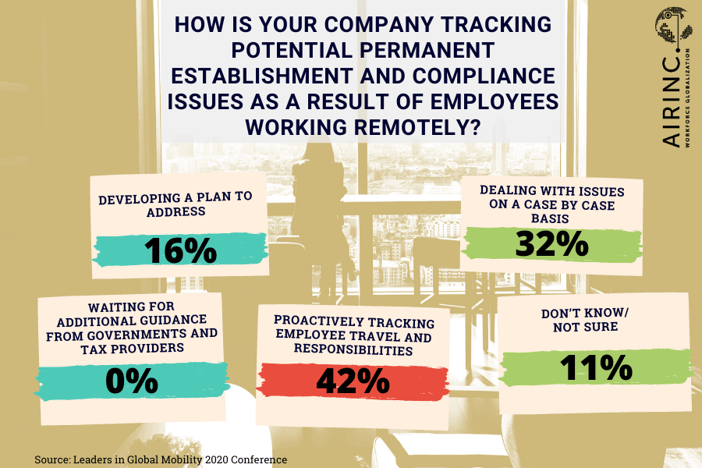 ---
About AIRINC
Listen | Partner | Deliver. For over 60 years, AIRINC has helped clients with the right data, cutting-edge technology, and thought-leading advice needed to effectively deploy talent worldwide. Our industry expertise, solutions, and service enable us to effectively partner with clients to navigate the complexity of today's global mobility programs. As the market continues to evolve, AIRINC seeks innovative ways to help clients address new workforce globalization challenges, including mobility program assessment metrics and cross-border talent mobility strategy. Our approach is designed with your success in mind. With an understanding of your goals and objectives, we ensure you achieve them. Headquartered in Cambridge, MA, USA, AIRINC has full-service offices in Brussels, London, and Hong Kong. Learn more by clicking here.
---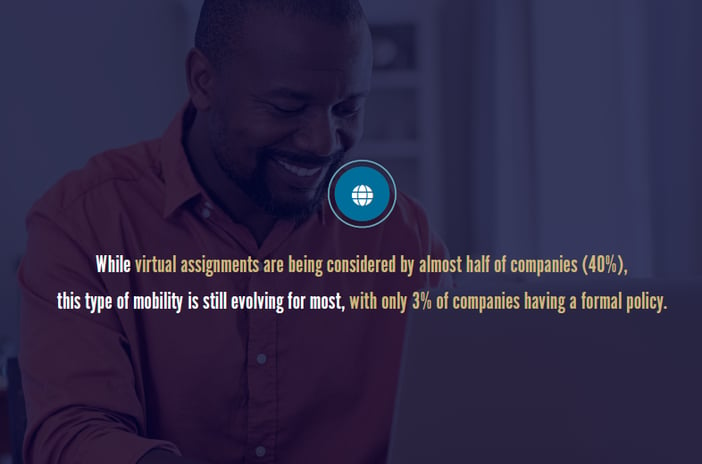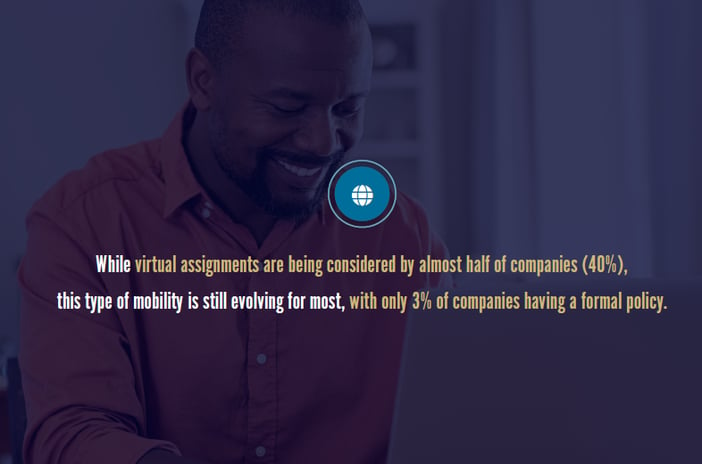 ---