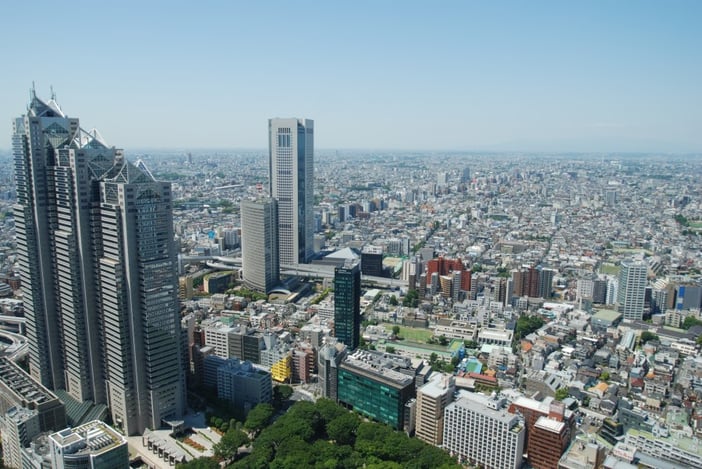 View from the Tokyo Metropolitan Government Building. Photo taken by AIRINC Surveyor Samuel Pearl Schwartz.

Japan is increasing the Consumption Tax
Japanese consumption tax is an indirect tax on goods and services, similar to value-added or sales taxes. Tax increases in Japan are notoriously unpopular and changes to the consumption tax have faced long delays and political battles. On October 1, the general consumption tax rate in Japan was raised from 8% to 10%, with a secondary tax tier of 8% for food products meant to be consumed at home. This increase had been delayed multiple times since its initial implementation date in 2015. The last consumption tax increase, from 5% to 8% in 2014, had been the first in 17 years.

Our survey found that restaurant prices, automotive supplies, and personal care goods had the highest inflation. For the majority of goods and services as well as utilities, inflation is in line with the consumption tax increase. During survey, stores were still updating their signage. Some retailers have switched to displaying pre-tax pricing only, while some others showed both pre-tax and post-tax pricing, sometimes with outdated post-tax prices. The two-tier system has caused confusion for some shoppers, as some items can fall under either tier depending on whether food or drink is taken to-go (8%) or for consumption on premises (10%).
---

Trending now:
Are you getting the most out of your Global Mobility Network?
---
AIRINC's Data Points: Your Global Mobility News
Want to learn more? The above excerpt is taken from Data Points, AIRINC's quarterly newsletter. Data Points brings you the latest updates from our Housing, Goods & Services, and Tax departments based on our expert international surveys, which are conducted by our global data collection team on-location.
Expatriate Trends & Survey Data Highlights
Rents rising in

Berlin,

Madrid, and

Busan
Rents dropping in

Hong Kong

and

Chennai
Pork prices in

China

are making headlines as swine disease sweeps through the country
An increase in the general consumption tax rate in

Japan
...and more!
---

---

ALERT on the Coronavirus:
ALERT: Latest Updates on China and the Coronavirus
---

Trending:
The 2020 International Business Travelers Benchmark Report [Download]
---

Related:
2020 Global Mobility Playbook [Download]
---