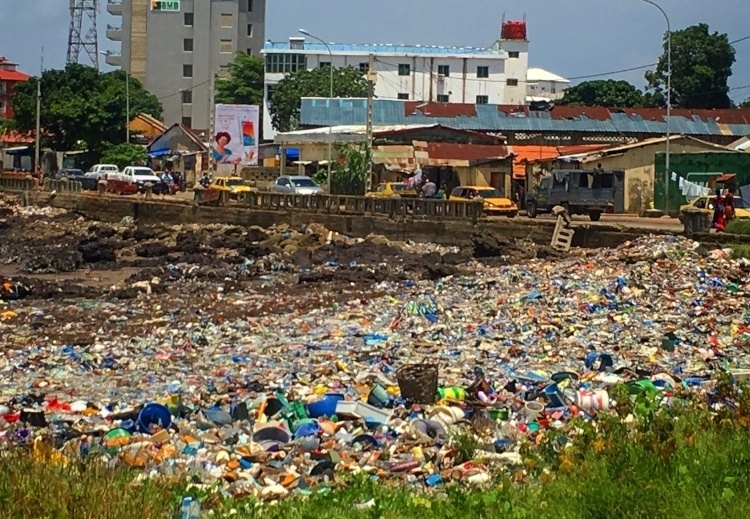 Arriving at Conakry International Airport
I was not quite sure what to expect as I flew into Conakry this past August, it being nine years since my last visit in August 2008. As I disembarked from the plane and walked toward the arrivals hall, I felt anxious as my previous experiences at the old Gbessia International Airport were not great, and some of my other past West African immigration experiences have been a little daunting. I was pleasantly surprised however to find a nicely air-conditioned arrival hall, and the official who then inspected and stamped my passport was nothing but smiles and genuine bonhomie.
The Conakry airport had been renovated in 2010, which was a hopeful sign that improvement here had occurred. My initial impressions, though, as I stepped outside into the steaming heat and got into my taxi, were that little had changed over the past decade. Besides the renovated airport, the recently opened Sheraton Grand Hotel, and the city center Noom Hotel (2010), everything else looked and felt the same, if not worse, than it did during my previous survey.
Traffic, Debris, Flooding, and more
Pot-holed streets, garbage-littered avenues, diesel drenched traffic jams, drainage canals littered with sewage, and the knee-deep flooding of streets during rainy season – just as I'd remembered it; these are the things that keep Conakry ranked as one of the most unclean capital cities in the world. The 2014 Ebola crisis, which started in Guinea, along with dwindling commodity prices in recent years, have done little to stimulate the Guinean economy, and investment in the capital city has been lacking. Many large multinational companies have sold off their stakes in mining concessions and have left the country altogether.
Improvement: Electricity and Availability
After a few days on-site, however, I found positive signs in the city including a more stable electric grid resulting from the Kaleta hydroelectric dam. Not a single blackout occurred in my hotel during this trip. By contrast, during my last trip, it was difficult to watch television in the evening because the electricity continuously shut down, leaving the now defunct Novotel Hotel in darkness until their diesel generators kicked-in. An additional sign of improvement was the recently inaugurated Prima Center Mall, which opened in late 2016 in Kipé. It hosts a few restaurants and cafes, a dry cleaner, pharmacy, salon, and a large hypermarket called RS Marché.
Looking to the Future
With presidential elections being held in 2020, the consensus among expatriates and Guineans alike is that expectations for any significant economic growth should be kept in check for now. Everyone is hoping for a peaceful election in 2020 and a continued increase in bauxite, diamond, and gold prices, which will allow Guinea the opportunity to move forward as a nation.

Photo of a pool at the former French Embassy