BRUSSELS, Belgium - I woke up Tuesday morning, like any normal weekday: shower, breakfast, and I checked the weather. It was ten degrees so I opted for my spring jacket for the first time in weeks.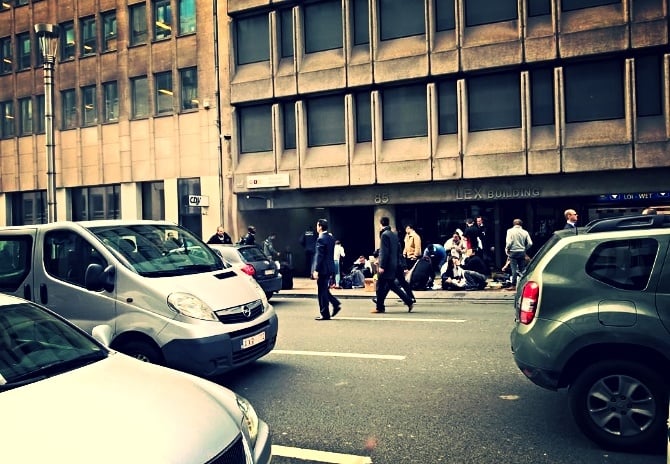 The scene in front of Maalbeek metro station on Tuesday.
Walking from my home, I debated whether to take the metro or Villo, the shared public bike system. With a partially blue sky and milder temperatures, biking seemed the way to go. Disappointingly, the Villo app showed no bikes available at my local station, so I continued on to the metro. On my way, I received a message from a French friend saying that her thoughts were with us.
Then I saw the news on my phone: Two explosions in the Brussels Airport.

I arrived at the metro, started down the steps, and realized my wallet was still in my winter jacket. As I emailed my office to tell them I'd be late, I saw a message from my manager warning to avoid public transportation.
By the time I retrieved my wallet, the Villo station had a bike available. I rode down Schuman, passing the European commission, then headed down Rue de la Loi, which was extraordinarily crowded. I assumed it was a traffic jam.
Approaching the Maalbeek metro station, I saw a cloud of dust coming out from the metro exit. People exiting the underground were wounded. There were women sitting on the ground with blood on their faces. Some nearby men looked as if they were deafened by a noise.
No police and no ambulances were there; I'd arrived moments after the metro explosion. That very same metro I would have taken if I'd remembered my wallet.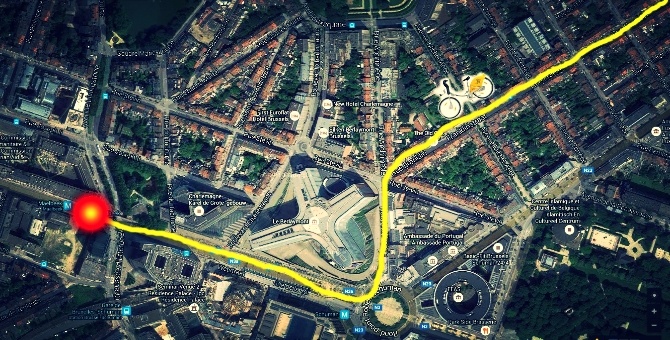 The bike route to my office in Brussels.