The latest AIRINC white paper "Brexit and Mobility: Take action now" is here! Learn about how a proactive review of your firm's mobility program - your pay approaches and your policies to address volatility - may enhance mobility of assignees both in and out of the U.K.
Areas of focus:
Your pay approaches and facilitating the right kind of mobility
Protecting assignees against volatility
Avoiding mobility program overspending
Download the complimentary white paper to learn more.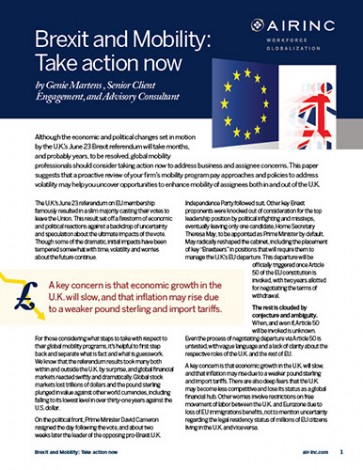 The U.K.'s June 23 referendum on EU membership famously resulted in a slim majority casting their votes to leave the Union. This result set off a firestorm of economic and political reactions against a backdrop of uncertainty and speculation about the ultimate impacts of the vote. Though some of the dramatic, initial impacts have been tempered somewhat with time, volatility and worries about the future continue. For those considering what steps to take with respect to their global mobility programs, it's helpful to first step back and separate what is fact and what is guesswork.