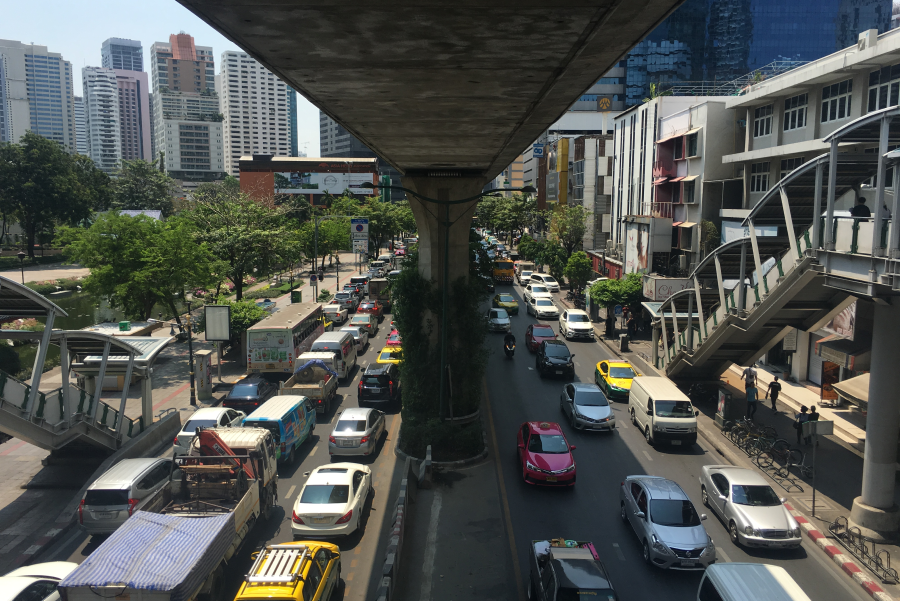 A view of traffic in Thailand, Bangkok. Photo taken by AIRINC Surveyor Samuel Pearl Schwartz.
The multiple transportation systems in Bangkok, Thailand
During my survey of Bangkok, I found the multiple transportation systems available for use extremely helpful, especially in comparison to other Southeast Asian cities. In Yangon, Hanoi, and Ho Chi Minh City, I was entirely dependent on taxis and rideshare apps, as there are no functioning rail systems, the buses are difficult for foreigners to use, and the cities are not particularly pedestrian friendly. Conversely, in Bangkok, I used a much more balanced mix of rideshare, metro (MRT), Skytrain (BTS), and walking.
While it is true that Bangkok had the worst traffic of any of the cities I surveyed (especially in the Sukhumvit, Siam, and Silom districts), the variety of transportation options mitigated any traffic related frustration, and I always looked at rail options first if I had a meeting during peak hours.
I also found the Skytrain and metro stops to be placed very strategically for the needs of expats and for the collection of AIRINC's market basket. Most high-end hotels, malls, and international grocery stores are within a few minutes' walk of a station and many are directly connected. Given that Sukhumvit remains the most popular area to live for expatriates without children, public transportation is a viable commuting option for those without cars or drivers.
---

Recent post:
Traveling with Public Transit Apps in Central Europe
---
Global Transportation: Want to learn more?
Many factors, such as traffic conditions and security environment, impact transportation options for expatriates. If you'd like to learn more about expatriate transportation in Thailand or anywhere around the globe, click below:
---

Related:
The Daily Frustrations of using Taxis and Rideshares in Cairo
---