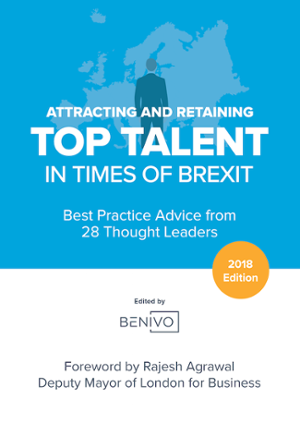 Contributions from 28 of the sharpest minds in British Recruitment, HR, and Global Mobility
We are pleased to announce that AIRINC's Kay Hall, VP EMEA, recently contributed to "Attracting and Retaining Top Talent in Times of Brexit." Below are some highlights from this new book that contains what your team and company need to know to make Brexit a success:
Input and advice on strategies to confront uncertainty among candidates to ensure a healthy talent pipeline.
Perspectives to help you formulate your approach to attracting and retaining top talent in times of Brexit.
Insight on how your peer companies are thinking about their approach to talent attraction in 2018.
Non-political discussion and assessments about managing business priorities.
---
"Our most immediate concern is retaining the EU-27 employees who are currently working under a permanent UK employment contract. 40% of our UK office staff are EU nationals. Approximately 60% of shortlisted candidates for open positions have a non-UK nationality, mostly from Europe. " Kay Hall, VP EMEA at AIRINC
---
Click below to download a FREE eBook now: