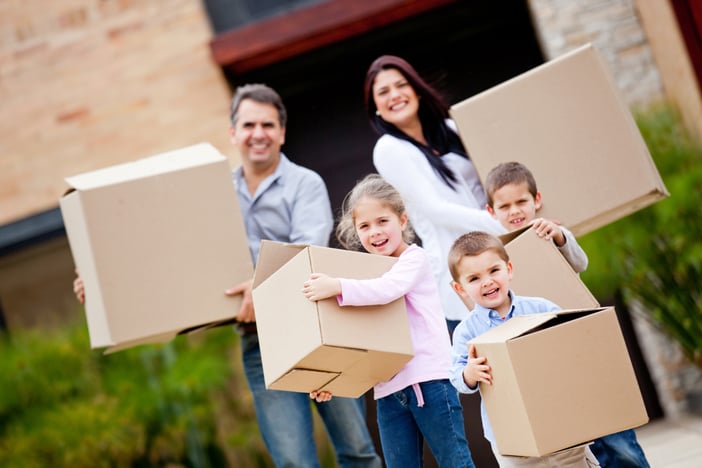 1. How has COVID-19 impacted buying and selling real estate in the United States and Canada?
Typically, the hope is for a linear path for the homebuying and home selling process. Most of the time, there will be at least slight deviance from the path during the process. Currently, there's more deviation than is standard, but the real estate market is resilient and somewhat surprisingly resilient in the current times.
2. Is it a good time to buy or sell?
As the old phrase goes, "real estate is local." Overall, we've observed that it is a good time to buy and sell. The information coming out of Q1 shows that the market was off to a strong start and the combination of a few factors are holding it steady:
1. Interest rates: With historically low interest rates, buyers are finding that their money goes further
2. Supply and demand: Historically low supply continues in most markets and, while the pandemic might be moving some buyers out of the market, there are still plenty of buyers looking for the right opportunity amid this continued dearth of supply.
3. State and local government support: Most states have deemed real estate as essential and are doing their best to keep the market moving.
3. How is COVID-19 changing the real estate market for buyers and sellers?
As a relocation company, we are tasked with tracking all 50 states and Canada. What we are finding from our local contacts is that real estate is deemed essential everywhere (outside of New York, Michigan and parts of California) and that different states are adapting in different ways.
Four key components of buying and selling – title, inspections, appraisals and agents – all remain mostly functional and some unique innovation is coming out of the adaptation. Online notaries are allowed in 20 states currently and there's been widespread growth of mobile notaries, including drive-through notaries at banks.
---
Online notaries are allowed in 20 states currently and there's been widespread growth of mobile notaries, including drive-through notaries at banks.
---
Inspections are happening as needed for the most part with little interruption.
Appraisals are happening in both traditional and non-traditional ways, with virtual appraisals being allowed in some states, hosted by the homeowner virtually walking the appraiser through the house.
Agents are one of the key human-to-human components that has shown signs of hesitation from both sides. With the pervading fear of face-to-face contact, the door has opened wider to many technologies that leading agents and agencies were already incorporating, like detailed floor plans, 360-degree photos, and 3-D and live virtual tours. Technology has helped bridge the fear-gap instilled by the pandemic, and we are seeing consistent market action as a result.
4. Has COVID-19 made it a buyer's market?
While many people may think it's a buyer's market, we are seeing record low inventory right now. Although the market has slowed, there are still active buyers out there – who are ready, willing and able to purchase in today's market – and we are still seeing many housing markets around North America where days-on-market [DOM] is short and multiple bid situations are common.
When global and local business begins to return to normal, there may be anything from a trickle to a flood of supply because many sellers are holding back right now. The important question accompanying this, though, is: For each added saleable unit held back and then released after the lockdown, how many willing and able buyers will there be? We are guessing that there will be quite a few.
---
The resiliency of the real estate market is one of the key takeaways
---
The resiliency of the real estate market is one of the key takeaways that we are seeing now and, though challenging to predict, it will likely all hinge on the global, domestic, and local economies, and their ability to recover and maintain or grow employment. After all, unemployed buyers are no longer buyers.
5. Is risk associated with Jumbo Loans having an impact on the upper levels of the sales markets?
We are seeing an aversion to risk in the mortgage markets, especially with Jumbo Loans because they are not federally secured. Demand for higher down payments and lower debt-to-income (DTI) ratios has increased, and many issuers of these loans have paused them altogether in these uncertain times.
6. With all the uncertainty in the market right now, how do you support and reassure clients? What is unique about Plus Relocation?
In today's market, we put safety at the forefront of our counseling. We need to first understand if our clients are comfortable engaging with others and what the logistics of inviting people into their home will look like. Once we are ready to proceed, Plus has a global network of real estate professionals to partner with to ensure we are gathering the best data to help our relocating employees make informed decisions on how to create the best strategies for buying or selling homes in today's market.
Plus provides a dedicated Real Estate Counselor who will guide the relocating employee from end-to-end of the real estate journey. Our end-to-end support and wide network of professionals across the real estate world gives us the reach to resolve even the trickiest of relocations during these challenging times.
---
About the Expert
---

Kelly House – Manager Real Estate Services
Email: khouse@plusrelocation.com
Direct Dial: +1.952.512.5500
Kelly is responsible for leading Plus's Real Estate team, which provides the world's best experience in counseling relocating employees throughout the real estate transaction. He provides strategic guidance to his team and helps Plus continue to be a leader within the real estate profession.
Kelly has 13 years of relocation experience and 18 years as a licensed real estate professional. He has vast experience across a multitude of market conditions and locations. He has received the ERC®'s Relocation Appraisal Training Certificate, as well as a B.S. in Business Administration.


About Plus Relocation
---
Plus Relocation designs and implements completely personalized mobility solutions with flawless execution for companies of all sizes, including some of the most-recognized brands on the planet. We've been in business since 1968, and our innovative, game-changing approach has propelled us to a full-service, global mobility powerhouse with offices located around the world. Our tri-regional model allows us to deliver seamless mobility services in more than 150 countries. To learn more, please visit www.plusrelocation.com.
---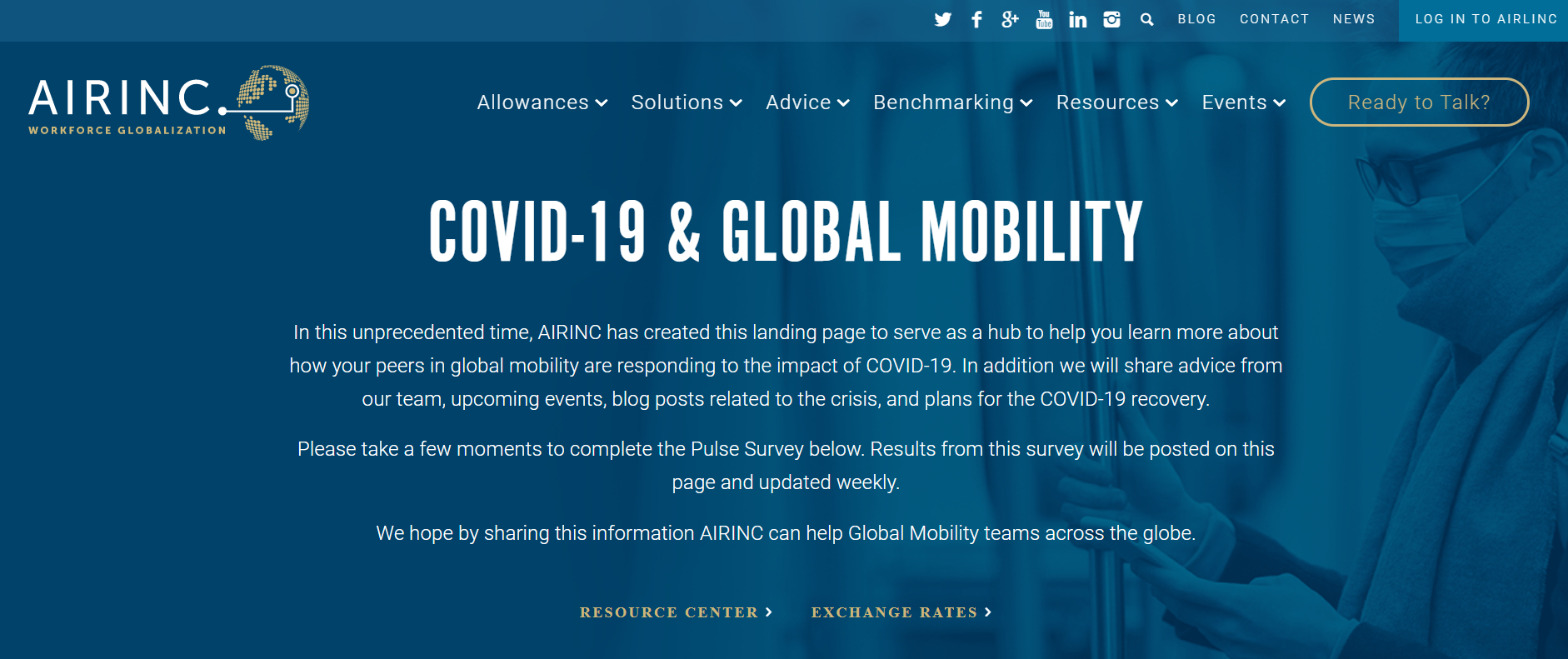 Visit AIRINC's COVID-19 Global Mobility landing page to read the best Mobility-related sources aggregated into one place.
---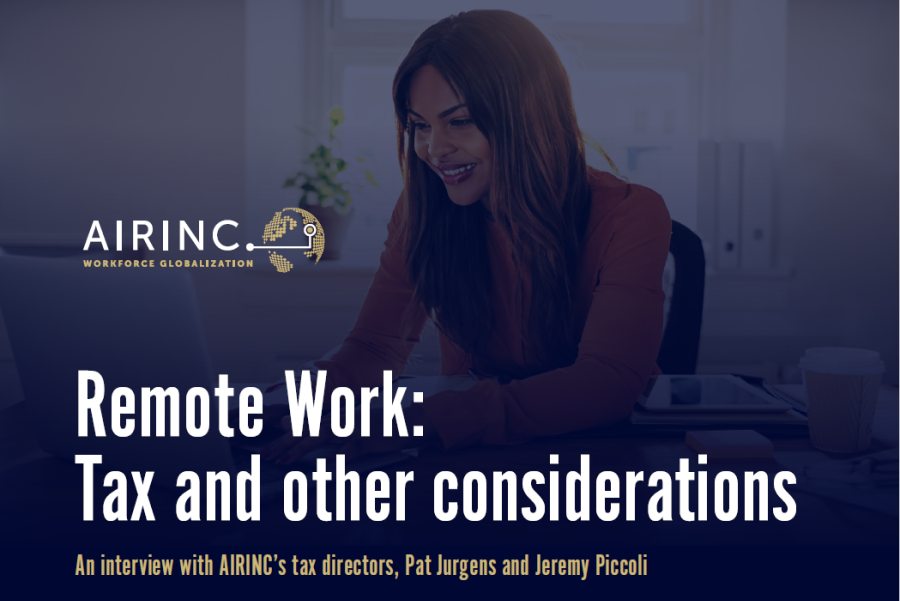 ---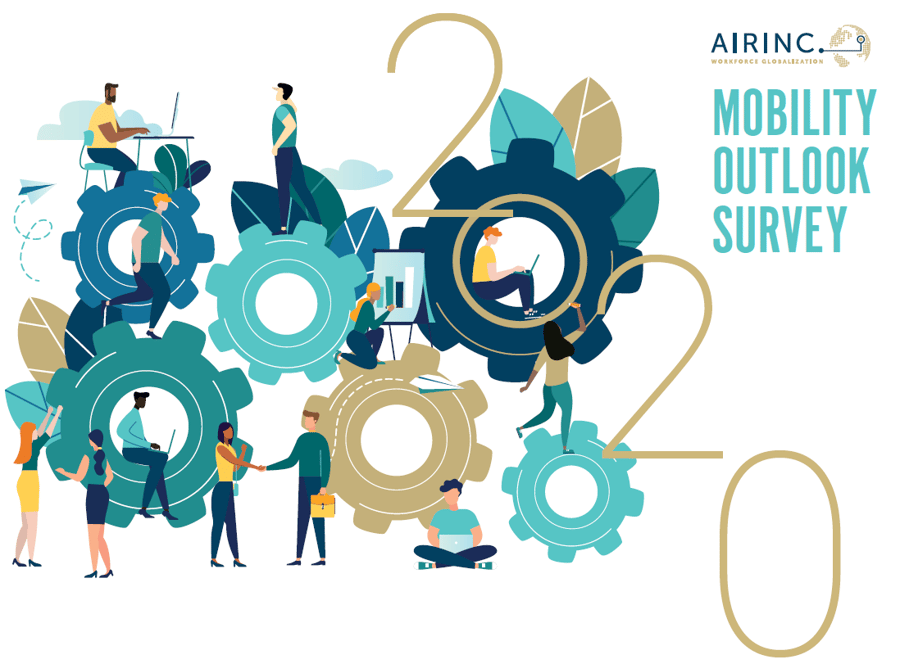 ---
About AIRINC
Listen | Partner | Deliver. For over 60 years, AIRINC has helped clients with the right data, cutting-edge technology, and thought-leading advice needed to effectively deploy talent worldwide. Our industry expertise, solutions, and service enable us to effectively partner with clients to navigate the complexity of today's global mobility programs. As the market continues to evolve, AIRINC seeks innovative ways to help clients address new workforce globalization challenges, including mobility program assessment metrics and cross-border talent mobility strategy. Our approach is designed with your success in mind. With an understanding of your goals and objectives, we ensure you achieve them. Headquartered in Cambridge, MA, USA, AIRINC has full-service offices in Brussels, London, and Hong Kong. Learn more by clicking here.
AIRINC's Salary Evaluation Tool is now supporting Domestic Moves. Learn about this great tool in the video below:
---