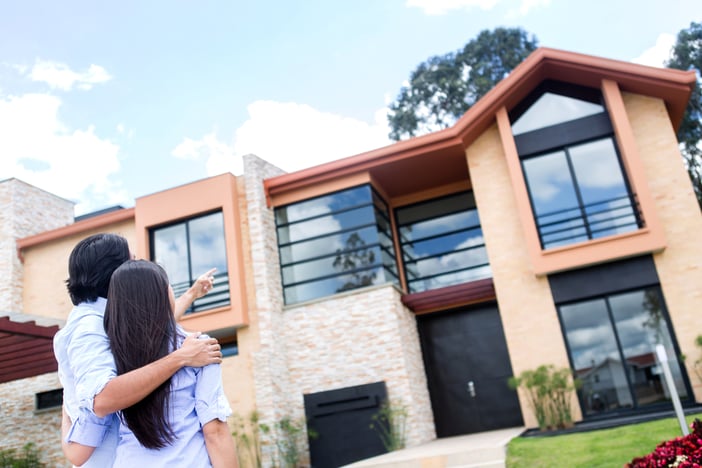 1. What is the most common question you are facing with home sales/purchases and how are you addressing it?
Are things still closing? The resounding answer is "yes, they are, but…"
We've seen some declines and many delays year-over-year in home sales and home purchases, but closings are happening and prices remain steady because of the historically tight inventory availability.
We're seeing a lot of competing forces in the market as we discuss best approaches with clients. The question of "what should I do?" comes up time and again, but the vital question is "what does your transferee need and what do you/the business need?"
The key word is collaboration – the employee, the business, and the RMC – working together to ensure communication is clear and the important needs are addressed. Just keep in mind that since most states have classified real estate as an essential service, homes can be listed, inspected, appraised, mortgaged, and sold.


---
The key word is collaboration – the employee, the business, and the RMC – working together to ensure communication is clear and the important needs are addressed.
---
2. How do you set realistic expectations during the COVID-19 pandemic?
Aires has found that the best way is check in with clients, share status updates of what they have in the pipeline, and talk through things that we are seeing in the industry at this time. With transferees, we are setting the expectation that the process will differ from any past real estate experiences that they may have had and that almost all steps in this process could require more time to complete due to the nuances of our current environment, so we plan our timeline accordingly.
Clients that are really impacted by the COVID-19 pandemic and resulting shutdown are finding creative ways to delay the move while still supporting the business needs. They are doing this by reviewing business objectives with their RMCs. For example, we had a situation where an employee in mid-relocation (house to sell under contract and lease signed on a new property) presented the option to their employer that they could do this job remotely and not move.
Aires responded by evaluating all aspects of the transaction to present to the client the full picture of the situation and legal aspects of removing the employee from the contracts. We also looked at the financial impacts of the termination of these contracts and discussed alternatives with the client. Ultimately, the client agreed that they would assist the employee in terminating these contracts, and we were able to cancel with minimal cost to the client and little disruption to the employee.
This is just one outcome. We have had many situations, all with different outcomes, and all are unique to our clients and transferring employees. The key is to listen, evaluate, and collaborate.
3. What trends are you seeing in North American housing markets?
In the middle of the country, central USA, moves have been easier as people are moving about more freely. New York, on the other hand, has been challenging. Extensions of leases have been common because assignees can't return home from assignment due to travel restrictions.
One of the biggest things to know right now is that there is no "one-size-fits-all" solution. But, working with an RMC, a solution will be found that best fits your company's specific needs. We're finding that our clients that are willing to embrace flexibility are finding the way to both practical solutions and happy assignees that feel supported.
---
One of the biggest things to know right now is that there is no "one-size-fits-all" solution.
---
The National Association of Realtors reported that pending home sales were down 16.3% year-over-year in March, and I expect the decline to continue in April. Local regulations always prevail as it relates to how many people can enter a property for a showing, use of PPE, and electronic or virtual document signatures. There are many other examples of how the processes may have changed, but the resiliency of the market – and of people in the market – has really been a bright spot.
4. What is the biggest stumbling block in the real estate market right now?
The local municipalities – of all the moving parts of real estate transactions and transferring employees – have been one of the biggest stumbling blocks. If they aren't online, they aren't online. While many have moved quickly to keep the economy and real estate market moving, they are not necessarily moving fast enough. In these markets, the closings are happening, but there are a few extra hoops to jump through before making the end result happen.
Title companies are working but might have limited hours. In the Northeast, real estate attorneys are somewhat of a stumbling block because of the fear that the changes happening now may result in a long-term loss of business. Most of the country uses title companies for closing, and the current shift to virtual closings works in their favor. There could be a shift away from using closing attorneys in the Northeast United States.
In general, though, every person involved in the transaction is a potential stopping point – it's all very human and unique to the conditions surrounding those people. Many appraisers and inspectors are in the at-risk demographic and this can put a hard stop on transactions in especially vulnerable areas.
But, as much as there are stopping points, RMCs are there to ease these issues by using their vast networks to tap alternative options and bring about amenable solutions.
5. What is the most important point for a company to be aware of when moving (or considering moving) talent?
You need to know the raw objective. Is it absolutely essential that this employee be on-site where you want him or her to work? And, if so, is it essential for it to happen now and can it start remotely and then happen later down the line? These and other questions need to be sharply defined, and your RMC can help find these answers.
---
Is it absolutely essential that this employee be on-site where you want him or her to work?
---
Lender regulations have been a struggle in some areas as they figure how best to adapt to current conditions. For example, Jumbo Loans are being heavily scrutinized. The same goes for new construction. Anything that is higher risk is facing increased scrutiny right now.
All in all, though, home sales are closing, real estate markets have pent-up demand, interest rates are extraordinarily low, and our month-over-month reports are showing little change. Though we are in an uncertain time, the North American real estate markets are navigating forward with success for now. I think China's recovery is making everyone tentatively hopeful and is also providing a blueprint for how we come out of this.
6. With all the uncertainty in the market right now, how do you support and reassure clients? What is unique about Aires?
Flexibility is the key, and a willingness to explore different/alternative solutions. That is why it's important to rely on your RMC. Aires is positioned to leverage our technology-driven support and vast network to make any move happen successfully even in the most challenging climate.
---
About the Expert
---
Elizabeth Boschert, CRP – Director, Shared Services
Email: ebosche@aires.com
Direct Dial: +1.203.702.9005

Elizabeth joined Aires in 2003 with 15 years of previous relocation industry experience. In her role, she is responsible for all real estate training, policy and procedure, and risk management. She also manages the Aires home marketing and inventory teams; immigration, and temporary housing teams.
In her time at Aires, Elizabeth has also served as a Policy & Property Consultant Team Lead and Manager of Real Estate Services. Prior to joining Aires, she held numerous positions with competing relocation firms, including Client Services Manager, Corporate Trainer, Team Leader, Policy & Property Consultant, and Policy & Property Consultant Support. Her credentials include the Certified Relocation Professional designation from Worldwide ERC®.
About Aires
---
Aires delivers best-in-class global and domestic relocation solutions and mobility program management. Having been recognized by Inc. Magazine, The Forum for Expatriate Management, and the International Business Awards for organic growth methodology, excellent client/vendor partnerships, and leading-edge proprietary technology, and achieving certifications and registrations with FIDI-FAIM, C-TPAT, and ISO, clients are assured a focus on quality and customer service excellence when partnering with Aires. For more information, please visit aires.com.
---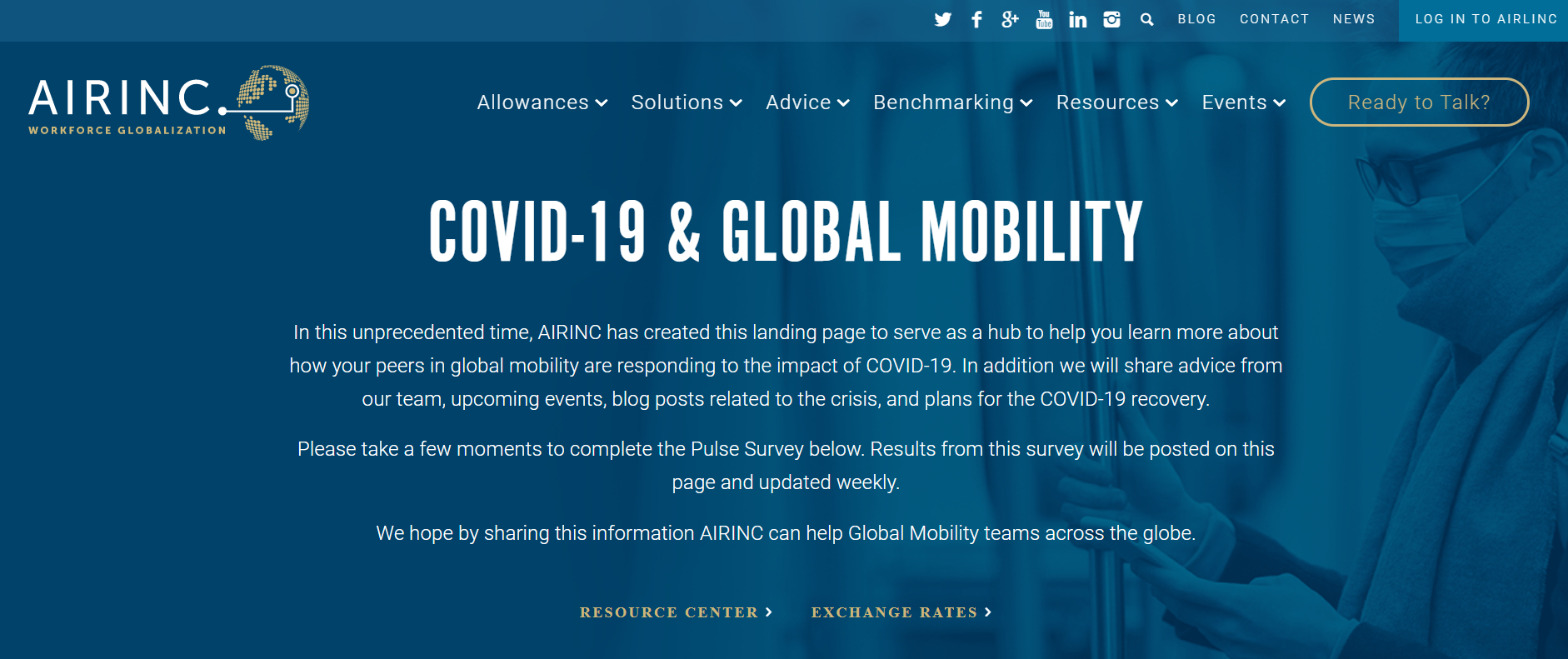 Visit AIRINC's COVID-19 Global Mobility landing page to read the best Mobility-related sources aggregated into one place.
---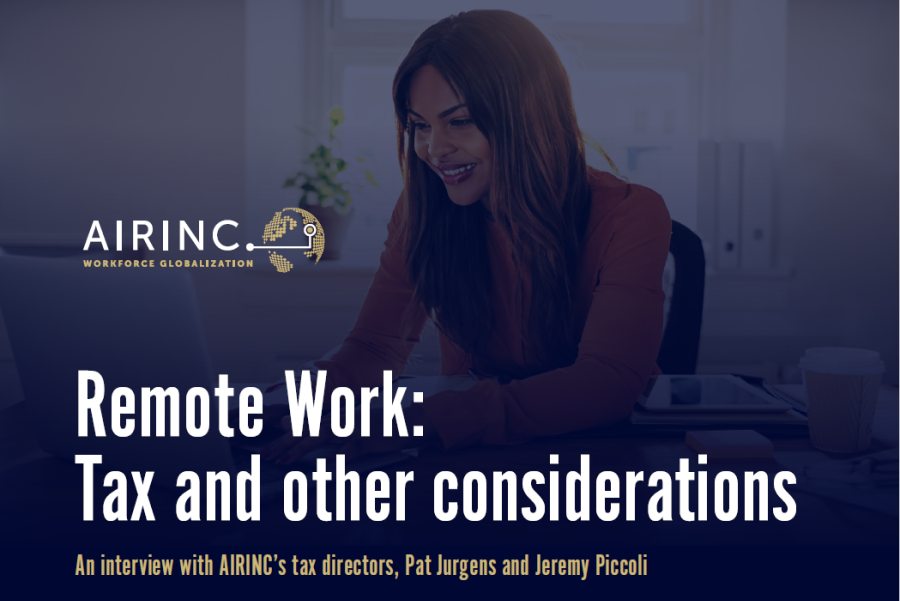 ---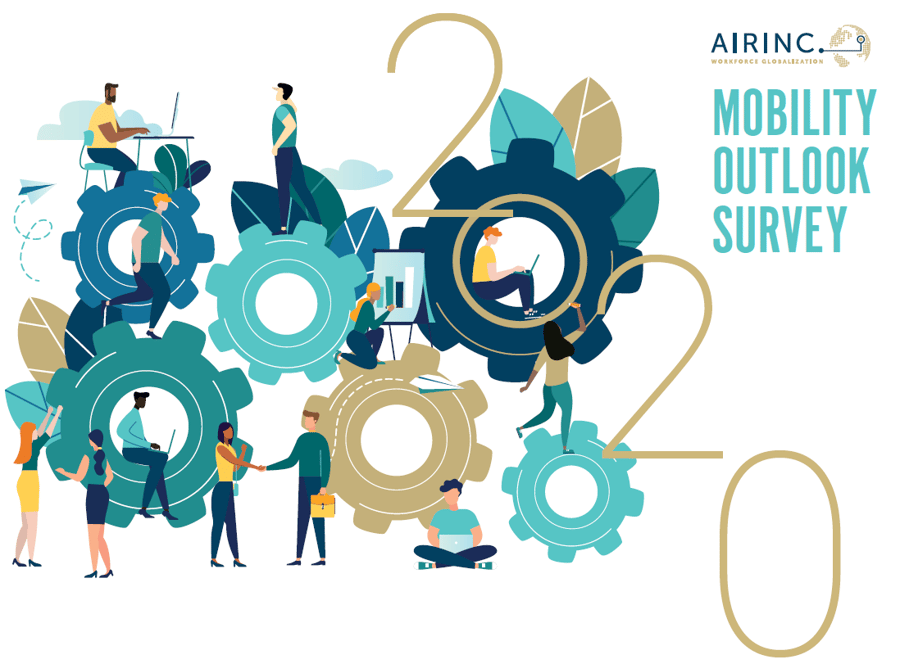 ---
About AIRINC
Listen | Partner | Deliver. For over 60 years, AIRINC has helped clients with the right data, cutting-edge technology, and thought-leading advice needed to effectively deploy talent worldwide. Our industry expertise, solutions, and service enable us to effectively partner with clients to navigate the complexity of today's global mobility programs. As the market continues to evolve, AIRINC seeks innovative ways to help clients address new workforce globalization challenges, including mobility program assessment metrics and cross-border talent mobility strategy. Our approach is designed with your success in mind. With an understanding of your goals and objectives, we ensure you achieve them. Headquartered in Cambridge, MA, USA, AIRINC has full-service offices in Brussels, London, and Hong Kong. Learn more by clicking here.
AIRINC's Salary Evaluation Tool is now supporting Domestic Moves. Learn about this great tool in the video below:
---