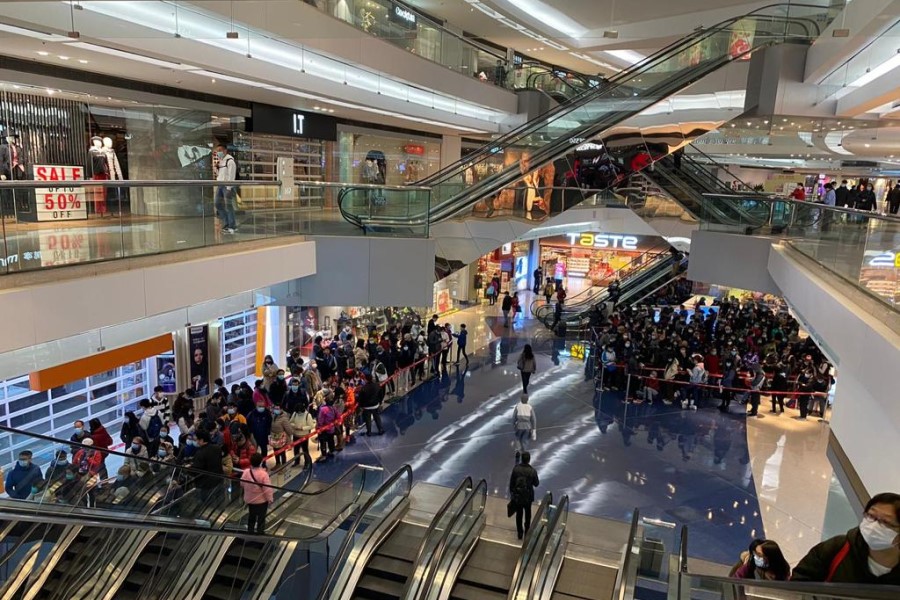 Crowds queuing for hours to buy masks in a shopping mall in Kowloon Tong ( Festival Walk).
The continued spread of the Coronavirus
Novel Coronavirus (2019-nCoV) has continued to spread over the past week and the World Health Organization named the virus a Public Health Emergency of International Concern (PHEIC) on Thursday, January 30. As of Friday morning in China, there were 9,776 confirmed cases and 213 deaths. The WHO stressed in their Thursday press briefing that 99% of cases are in Mainland China. 60% of cases and 96% of deaths are in Hubei province, the epicenter of the outbreak where Wuhan is located. Isolated cases are still emerging internationally, with confirmed cases in Thailand, Hong Kong, Japan, Singapore, Australia, Taiwan, Malaysia, Macau, South Korea, United States, France, Germany, United Arab Emirates, Canada, Italy, Vietnam, Cambodia, Finland, India, Nepal, Philippines, and Sri Lanka.

In the WHO's announcement of a PHEIC on Thursday, the organization stated that international travel restrictions weren't necessary. Regardless, many countries and organizations have preferred to take a cautious approach. Official government warnings against travel to China are now widespread, including the US State Department, UK Foreign Office, Japanese Ministry of Foreign Affairs, and more. Hong Kong, Singapore, Greece, Czech Republic, and others have partially or fully restricted travel from China. Announcements of full or partial land border closures have rolled in, including Mongolia, Pakistan, Russia, and Laos. Airlines around the world are reducing or eliminating flights to and from China, some until March and others indefinitely.
The travel lockdown and temporary operation pauses in China
A large number of companies are temporarily pausing operations in China, shuttering offices and factories or extending Lunar New Year break periods. Some companies are allowing workers to work remotely, but others have instructed workers to leave China. Many companies have restricted non-essential travel to China for assignees based elsewhere.

For assignees in Wuhan, where the Chinese government has instituted a travel lockdown, some foreign governments are organizing evacuation flights for citizens, subject to approval by the Chinese government. South Korea, Japan, the United States, and others have successfully repatriated at least a portion of their citizens from the city, and more than 7 other countries have plans to do the same. However, logistical issues with reaching the airport, limited capacity, and restrictions to those with citizenship (rather than residency) have hampered efforts for some foreign nationals to leave. While Wuhan has the highest numbers of foreign workers, Xiantao, Ezhou, and Yingchang are also under lockdown, and assignees based in these and other Hubei locations may have no way to travel to Wuhan Tianhe International Airport should a spot on an evacuation flight become available to them.

More information about the virus itself is becoming available each day, but the shifting conditions of intra-China travel, goods availability, and international restrictions pose an increasingly large challenge to assignee populations and assignment policies.
Pulse Survey: China Coronavirus Countermeasure
Do you have assignees based in China? If yes, what are you planning to do with assignees disrupted by the Coronavirus? Many of our clients are seeing an increase in calls from concerned assignees asking to discuss their situation, including:
Specific actions such as working from home, distribution of masks, and additional medical support
Emergency/evacuation plans
Impact on accompanying family members
And more
As these discussions progress, stakeholders also need to consider the impact of these options on assignment policy.
Please complete a brief 7 question pulse survey on how your company is addressing the situation. By participating in the survey you will receive premier access to the results. Click below now to participate:
---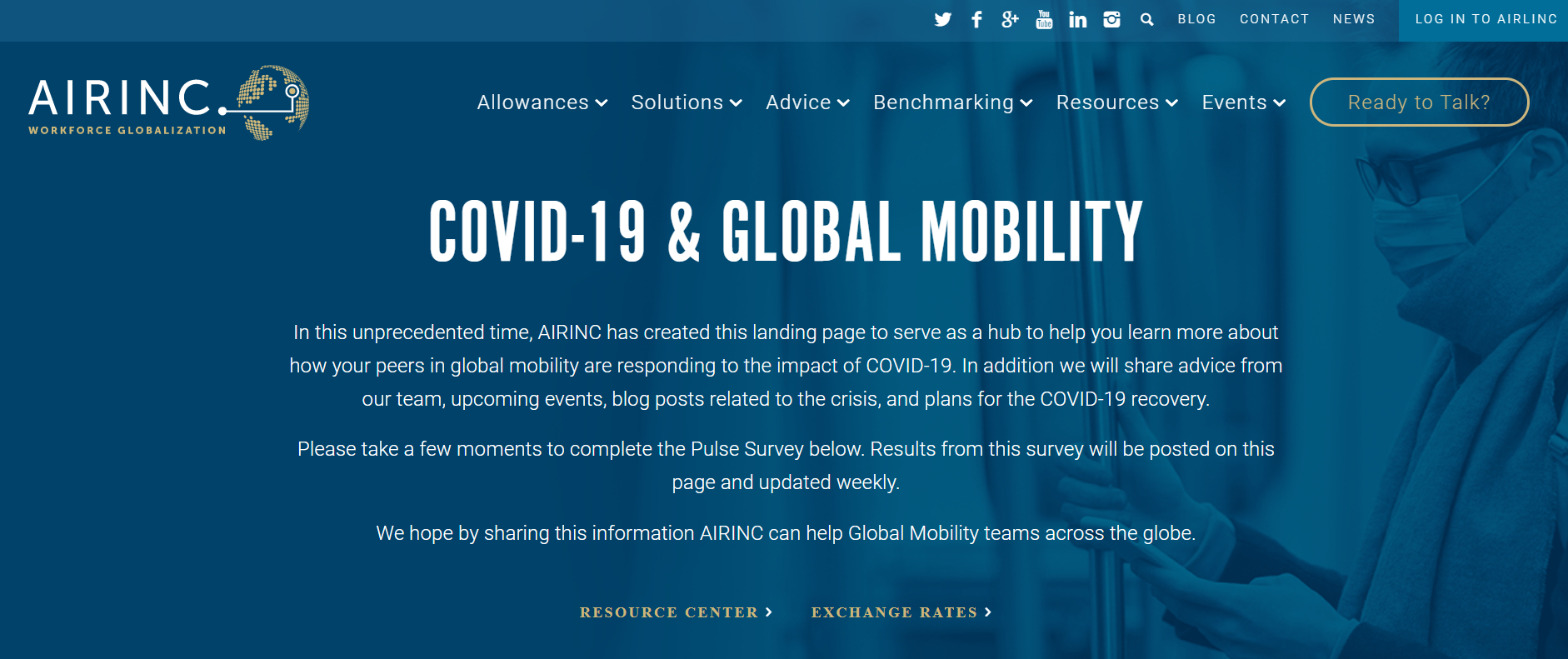 Visit AIRINC's COVID-19 Global Mobility landing page to read the best Mobility-related sources aggregated into one place.
---
About AIRINC
For over 60 years, AIRINC has helped clients with the right data, cutting-edge technology, and thought-leading advice needed to effectively deploy talent worldwide. Our industry expertise, solutions, and service enable us to effectively partner with clients to navigate the complexity of today's global mobility programs. Our approach is designed with your success in mind. With an understanding of your goals and objectives, we ensure you achieve them. Learn more by clicking here.
---

Trending now:
2020 Global Mobility Playbook [Download]
---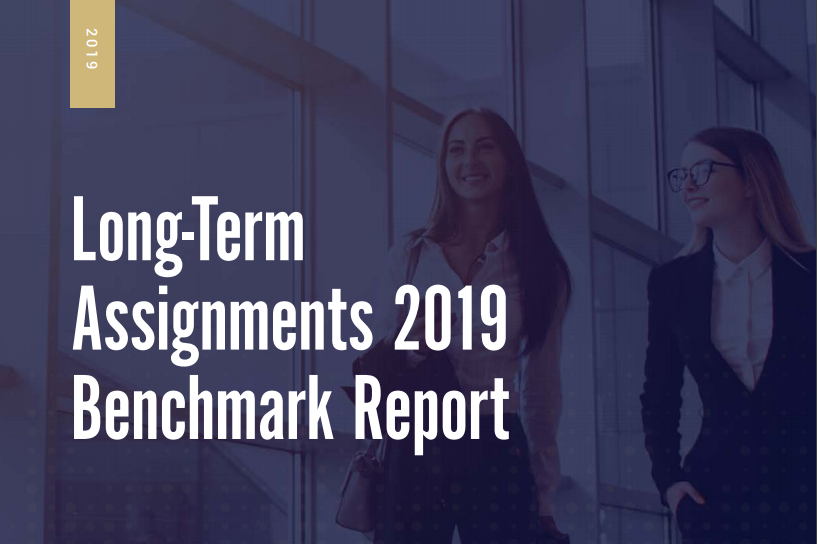 The 2019 LTA Benchmark Report provides a comprehensive overview of policies and practices for temporary long-term international assignments.
---
"Hands down the most detailed and useful benchmark report I have seen from any vendor to date."
- Senior Executive Reward Manager, FMCG firm, U.K.
Download your copy now by clicking here.
---