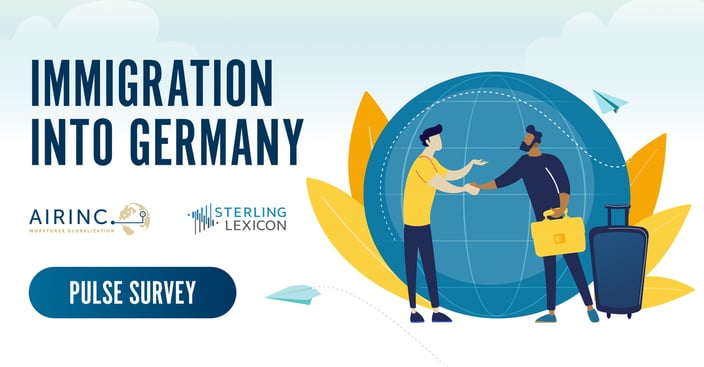 Participate now in AIRINC & Sterling Lexicon's
Pulse Survey:
Immigration into Germany!
Getting the right talent to the right place at the right time requires many different compliance considerations. Mobility professionals deal with these challenges on a daily basis.
Whether or not you are a German company, if you get involved in hiring people to work in Germany, (even if you yourself/your company are based outside of Germany), then your input into this survey will be relevant.
In recent years, Germany has taken huge steps to make its immigration system more open and efficient for labour migration. In 2023, new measures will provide even more options for those who want to hire internationally and all data shows that, alongside many other types of talent acquisition, the trend towards international hires continues.
This complimentary survey by AIRINC and Sterling Lexicon should take no more than 10 minutes to complete. Your answers will be aggregated and completely anonymous, and you will receive premier access to the results. The survey will remain open until 10th March.

Click here to complete the survey.
More for you: