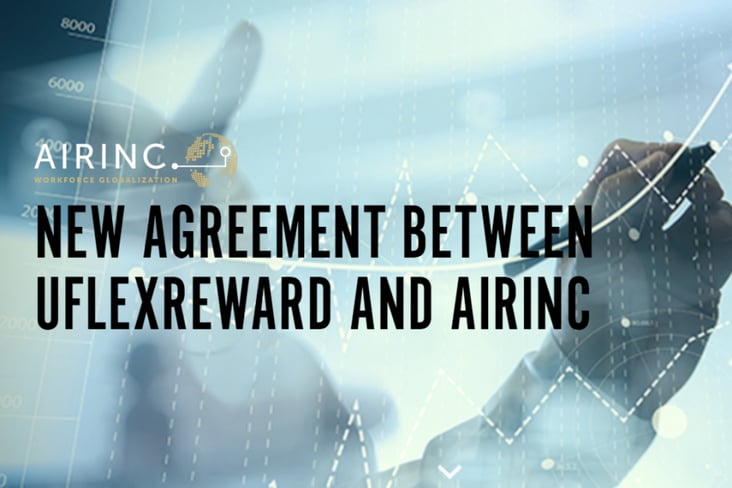 What is the agreement?
AIRINC, the leading provider of talent mobility data, and uFlexReward, an exciting new HR software company with a unique digital solution for reinventing total reward, have signed an agreement to embed AIRINC data into the uFlexReward solution via AIRINC's proprietary API.
How will this agreement benefit Global Mobility?
Within the uFlexReward system, managers and employees will use this data for comparative estimates on cross-border assignments from a gross and net perspective.
Ken Charman, CEO of uFlexReward, stated "We became familiar with AIRINC and their mobility data while reviewing their service to Unilever; we feel their data will be extremely valuable to managers and employees of our clients to help them make informed and better decisions using our solution with AIRINC data."
Steve Brink, CEO of AIRINC, commented "uFlexReward is a next generation total reward solution. It provides employees with flexibility and an empowering user experience, and raises their engagement with their employer. If you want a system that contains all elements of total rewards, uFlexReward is the only system available to provide complete actionable insight on the total spend on employees of an organization while also providing employees with an easy-to-use tool to understand their personalized rewards."
About:
uFlexReward is a recent spin-off company based on Unilever's global digital reward system. Employees have direct access to their personalized total reward package via an online total rewards statement. Employers gain insight and clarity through digitalization and consolidation of all reward into a single, real-time, integrated global environment. For more information on this state-of-the-art HR system, go to: https://www.uflexreward.com/

For over 60 years, AIRINC has helped clients with the right data, cutting-edge technology, and thought-leading advice needed to effectively deploy talent worldwide. Our industry expertise, solutions, and service enable us to effectively partner with clients to navigate the complexity of today's global mobility programs. Our approach is designed with your success in mind. With an understanding of your goals and objectives, we ensure you achieve them. For more information about AIRINC, please visit: www.air-inc.com
---

Our 2019 Mobility Outlook Survey confirms that 58% of firms are seeking ways to improve employee communications regarding the potential financial impacts of assignments/transfers.
Download the 2019 AIRINC Mobility Outlook Survey!
---

Did you miss the AIRINC Institute?
Access the recordings for the complete series by clicking here!
---