In our ongoing series, AIRINC Insider, we interview our mobility all-stars to share some of their unique insights after years of workforce globalization experience.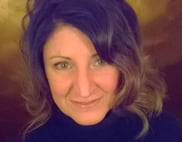 Laura joined AIRINC in 1989 as an Account Analyst for clients in the Petroleum and Business Consulting industries. In 1993 Laura was promoted to Account Manager and spent several years in this role, assuming responsibility for a variety of important accounts. Laura began working on technology solutions development in 1997 and has been working in this field ever since, putting her 20+ years' experience in Global Mobility consulting to effective use. She now heads up the Technology Solutions area of the company, with a focus on solving clients' data flow and decision making needs through thoughtfully designed software tools. Laura received her B.S. in Mathematics and Statistics from the University of New Hampshire in 1987.
1. What is your job title?
VP of Technology
2. How do you and your team help our clients?
My team creates and maintains a suite of over twenty data tools and mobility products used by AIRINC clients. On any given day, AIRINC tools help hundreds of mobility professionals manage their global workforce.
In addition, we are responsible for the analytical and production systems used internally to support our clients' mobility data needs.
3. What is the most unusual client request that you've received?
Years ago when I started out in Client Engagement, I had a client request that we adjust all allowances at all levels for their expatriates into Korea. The reason: trash bags! Assignees had to buy special trash bags for their rubbish and it cost an extra 20 USD per year.
4. Can you give an example of a recent client challenge that you've addressed?
We have a client who uses our Assignment Cost Estimator to determine and communicate the costs of the assignment to the business unit and to the employee. For business reasons, they send many employees on assignment over the course of a year – so there are many assignees at the various stages of an assignment.
Upper management needed to determine the appropriate budget for all of their assignees for the next fiscal year, taking into account both actual and anticipated costs. Working closely with this client, we've created an extension of the Assignment Cost Estimator that will assist in mobility budgeting and cost containment. This new service has the potential to assist all of our clients with proactive budgeting and planning. We recently launched our Program Cost Forecast service as a result of this unique client inquiry.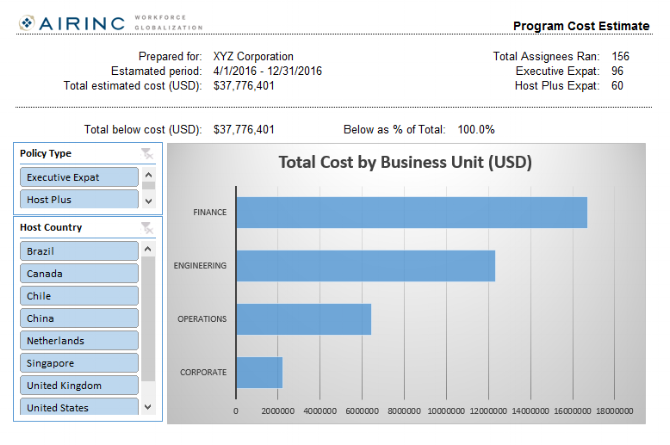 5. What recent advances in technology can help mobility teams?
Assignment management systems track and manage all of the information related to assignees. These systems range from internal home-grown tools to 3rd party software, from simple to highly configurable. We've helped our clients assess their mobility program and prioritize their requirements as they evaluate and select an assignee management vendor.
Web services enable the exchange of information between technology systems. We've made AIRINC's global mobility calculators available as web services. Our clients can streamline their workflow by integrating AIRINC data and analytics directly into their assignment management system. This integration eliminates the time spent on manual steps of importing/exporting data, and also minimizes human error.
The power of data! Business Intelligence tools provide interactive data analytics that supply mobility professionals with strategic insights about their programs. For example, AIRINC has leveraged Tableau to deliver our Housing Assessment Tool which provides a graphical representation of housing costs as compared to budget. By showing the costs visually on a map, it's easy to see where assignees are choosing to live, how expatriate housing costs are changing in each area of a city, and the impact of changes to your budget.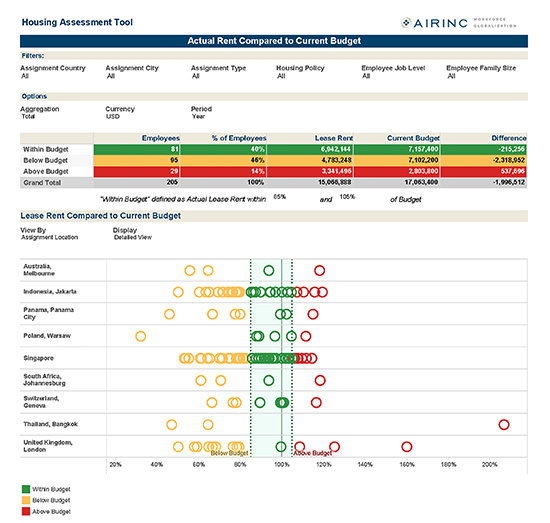 6. What have you learned about global mobility, business and technology needs since you started at AIRINC?
Flexibility and simplicity: striking the balance so that our end users can easily understand and optimally use our tools to fill their needs whether they are operational or strategic. No two clients are the same; the assignee management and deployment infrastructure varies greatly by company. If our standard products can't solve the problem out of the box, we can often configure or customize our technology to better fit the client's policies and workflow.
Our approach is to listen closely so that we can find the right ways to meet our client's best interests. We have clients who have worked with us for decades – which is a testament to how we help solve their problems, and great source of pride for me personally and for AIRINC.