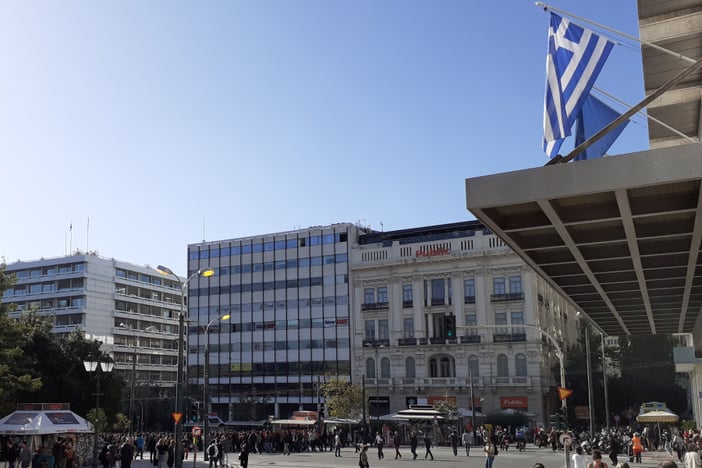 View of an unplanned protest in Syntagma Square. Photo taken by AIRINC surveyor Eugene Kobiako.
Unplanned protests in Athens, Greece
During a recent survey quarter, I had the pleasure of surveying Athens, Greece. While I was on-site, I encountered several protests and demonstrations, which allowed me to really feel like an assignee, navigating the change of social disruption.

The first night, I checked into my hotel not far from Syntagma Square, where the Greek Parliament overlooks the city. I was warned that there was a protest in front of the US Embassy scheduled for that Sunday. This is an annual event meant to commemorate the Athens Polytechnic Uprising of 1973. As an American, I was told to keep a low profile and avoid any crowds.
Navigating Athens with limited transportation options
The next morning, I had to travel to a housing meeting on the other side of the city. Due to the protests, it was unreachable by public transportation, so I called a taxi. As I approached the lobby to wait, I saw hotel staff rushing to close-up the glass doors and windows with solid metallic coverings as if to protect the building from any damage. Sure enough, the staff were told to protect the building as an unannounced demonstration was happening right outside, on its way to the Greek Parliament. I checked my taxi application and the driver was still a few minutes away, stuck in traffic due to this unexpected demonstration.
Fortunately, the demonstration ended quickly and without much violence. Once I arrived at my meeting, I explained why I was late and what happened. Our real estate source was understanding and explicitly warned me that the Monastiraki area, an old flea market neighborhood and shopping area, is best avoided. Because it is popular with tourists, there are many pickpockets and petty criminals.
Overall, I would still say the city feels safe and I was not harassed for being a foreigner. The very few basic words in Greek that I did use were appreciated, and most people knew English phrases which helped with my work and getting around. All the housing sources were welcoming, polite, and knowledgeable, and using rideshare apps made travel easy, safe, and convenient. Of course, the city has security issues like any large capital, but overall, they tend to be small and mostly avoidable.
---

Download now to optimize in 2020!
2020 Global Mobility Playbook [Download]
---
Global Transportation: Have you seen AIRINC's Commuter Calculator?
Are you traveling, working, or living abroad and need to know the most cost-effective means of getting around? AIRINC has developed a calculator to help you make an informed decision. Take it for a test drive now by clicking below: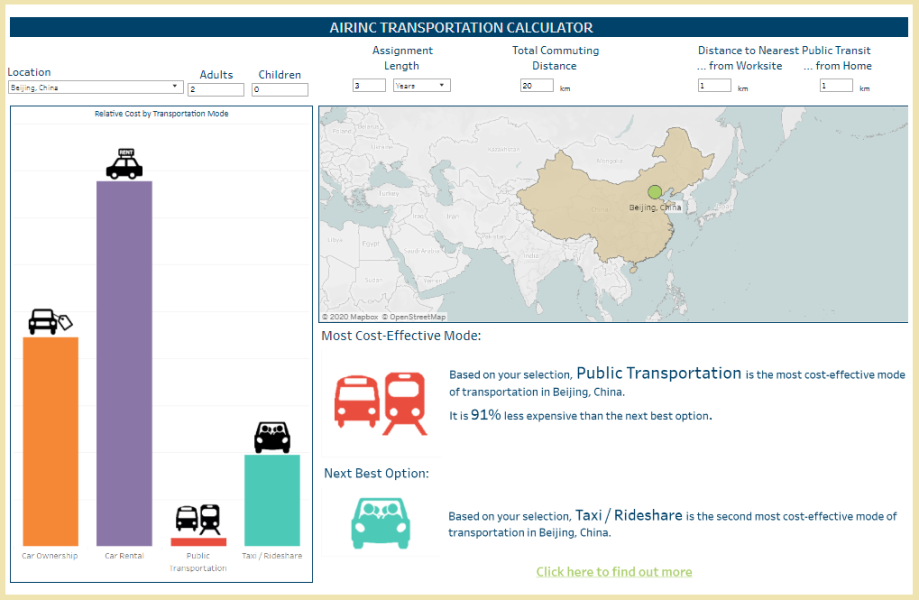 ---


Trending article:
Are you getting the most out of your Global Mobility Network?
---

Trending download:
The 2020 International Business Travelers Benchmark Report [Download]
---
2019 Long-Term Assignment Benchmark Report [Download]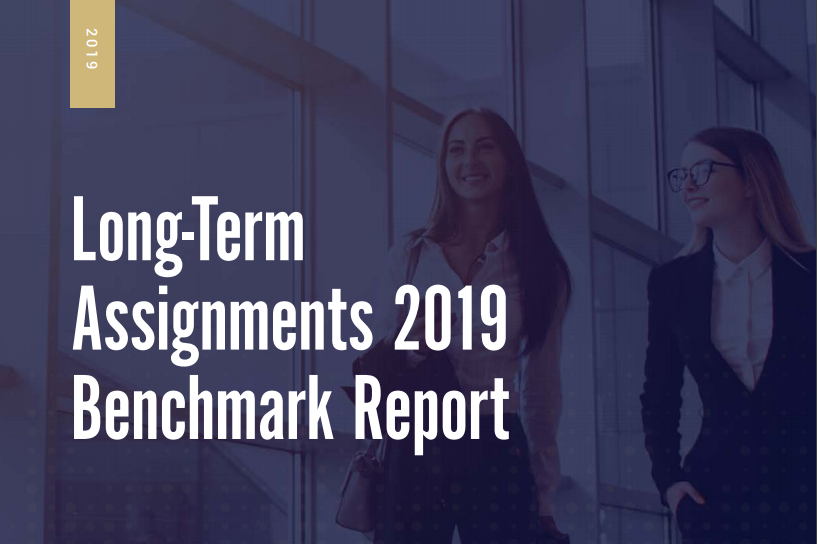 The 2019 LTA Benchmark Report provides a comprehensive overview of policies and practices for temporary long-term international assignments.
---