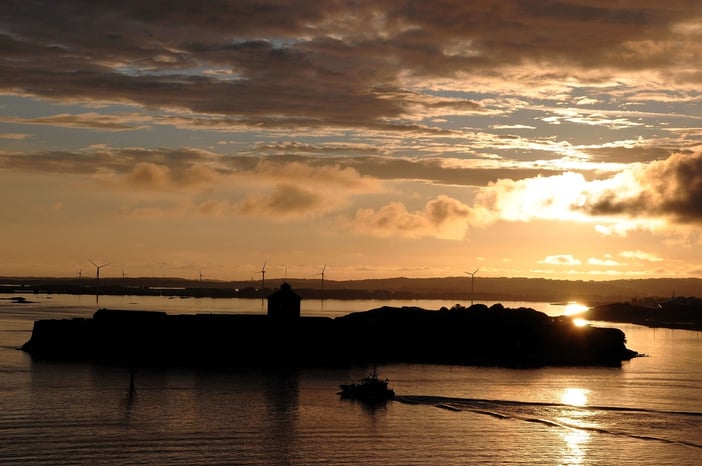 Cross-border, intra-company transfers
The increasing use of cross-border, intra-company transfers to meet global staffing needs is presenting new challenges to compensation professionals. Comparing the pre- and post-transfer compensation offering is generally straightforward when the move is domestic, but can become complex when two different countries are involved.
Global differences in pay levels, benefits, currencies, taxes, and living costs can make it difficult to assess whether a particular pay offer might be attractive to a candidate living and working in another country.
Too often, the primary focus is on the market rate or the after tax net. Companies net down the salary in the current home country, net down the proposed salary in the host country, and compare the two, often using an exchange rate conversion. But this is not the whole story. What often happens is further down the line and, once the employee has relocated, they find they cannot afford to live in the new host country as their new net salary does not go as far as it did at home.
Case Study
AIRINC recently helped solve a client issue in finding the right compensation to persuade a key talent target to move from their existing company in Gothenburg, Sweden to a new permanent position in Basel, Switzerland, while also not undermining their established host country salary structure.
The individual earned SEK 900,000 in Gothenburg and, having conducted their own research, had determined they needed around CHF 140,000 to replicate their standard of living in Basel. However, the company wanted to offer around CHF 100,000 for the position as per their salary structure and market data for this role.
Using AIRINC's intuitive Salary Evaluation Tool (SET), we were able to net down the existing and offered salaries for taxes in both home and host cities. Just focusing on the tax the employee would have CHF 15,000 higher net in the host country, as taxes were much lower, therefore the company believed the 100,000 offer was appropriate. However, if we cost adjusted the salary to also factor in the difference in cost of living and housing between Gothenburg and Basel, the picture was different.
---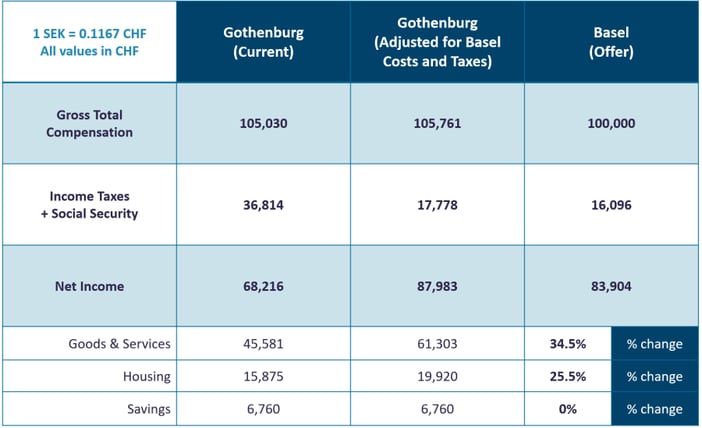 ---
The Case Study Results
As you can see in the chart above, Goods and Services were 34% higher in Basel than in Gothenburg and housing around 25% more expensive. The net effect of lower taxes, but higher cost of living and housing, meant the company needed to pay around CHF 106,000 for the key talent to have the same savings capacity in Basel as compared to Gothenburg.
The company decided to increase their offer to CHF 110,000, but crucially did not offer the employee the desired CHF 140,000. As well as the salary market data, they now had a robust method of comparing the value of pay across borders to guide their decisions, demonstrate to the employee that the new offered salary was fair, and also did not impact on their salary structure. The employee accepted the position.
Can our tools help you?
For more information on AIRINC's Salary Evaluation Tool (SET) and Host Pay Calculator (HPC), plus other tools related to international compensation, please contact Michael Joyce for further information.
---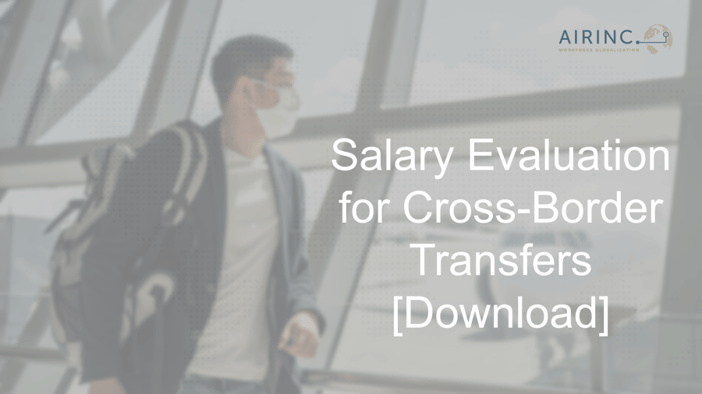 ---
About AIRINC
Listen | Partner | Deliver. For over 60 years, AIRINC has helped clients with the right data, cutting-edge technology, and thought-leading advice needed to effectively deploy talent worldwide. Our industry expertise, solutions, and service enable us to effectively partner with clients to navigate the complexity of today's global mobility programs. As the market continues to evolve, AIRINC seeks innovative ways to help clients address new workforce globalization challenges, including mobility program assessment metrics and cross-border talent mobility strategy. Our approach is designed with your success in mind. With an understanding of your goals and objectives, we ensure you achieve them. Headquartered in Cambridge, MA, USA, AIRINC has full-service offices in Brussels, London, and Hong Kong. Learn more by clicking here.
---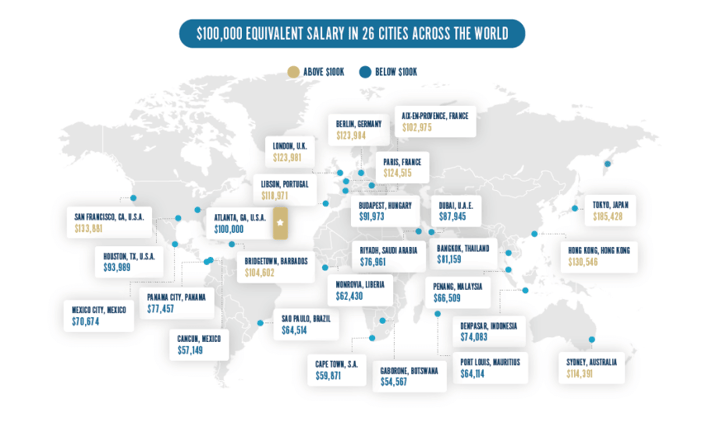 ---